Showbiz
10 pioneering women of Latin rock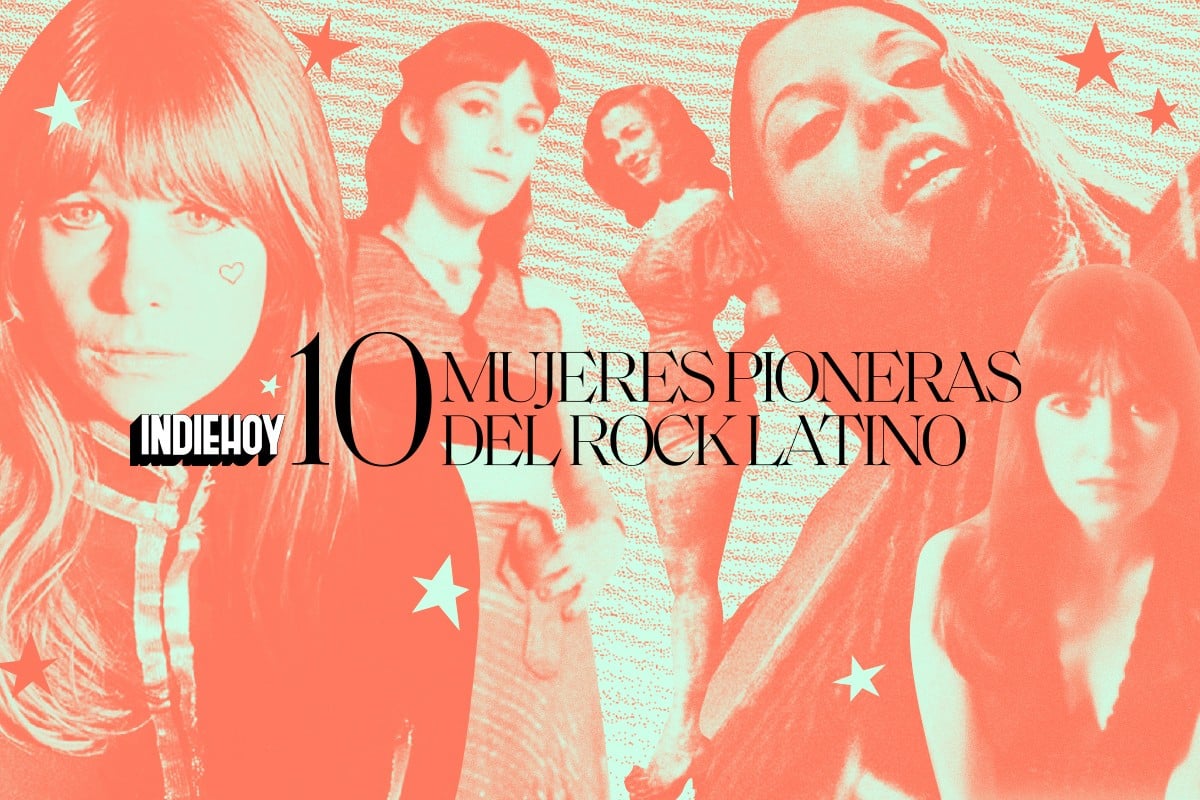 The erasure of the role of women in the media that document the different human expressions, whether scientific or cultural, is a fact and rock is no exception. It is curious, in fact, if you consider that rock itself was born in part wanting to break with the established, to challenge the forms and contents through which music should manifest. However, history repeats itself: from the massively documentary, which obviously includes not only academic material but mainly the record of the media, Within the history of rock, compared to men, the figure of a woman appears to a much lesser extent.
This is due to a multiplicity of factors that made the industry and those who were responsible for recording records and that, in the end, with greater or lesser awareness, what they sought was to maintain the image and the idea of ​​women doing "things of women ", on the margins, inside the houses, in charge of care tasks. For the media, rock, especially in its early fifties, as controversial as it was, still had a stage mainly for men. However, thanks to revisionism in recent decades, it is known that this was not the case, women have always been part of rock culture. The omission process happened anyway not only in the United States and Europe but on a planetary level. The case of Latin America was also marked by the successive military governments that censored a good part of the regional rock production. Even so, as said, the woman was and from the first moment.
Next, we remember 10 women who were key during the early days of Latin American rock.
Gloria Rios
Although his parents were Mexican, Gloria Rios He was born in 1928 in Texas, United States, and at the age of 16 he left for Mexico where he began his career in music and acting. From his search in jazz and rock and roll, in 1956 he formed the group Gloria Ríos and her Rhythm Stars, turning into the first person to record not only the music but also the lyrics of a rock song in Spanish: the Latin version of "Rock Around the Clock" by Bill Haley and His Comets, which he translated as "El Relojito". Later he also performed songs by his partner Mario Patron, such as "La rocking chair" and "Tú y tu tía".
María Antonieta Lozano and The Mary Jets
On July 11, 1933 in Mexico City, the pianist was born Marie Antoinette Lozano. After graduating from the National School of Music, in 1956 he began to play jazz with different groups in the bars of Mexico City. However, little by little he began to form and found what would be one of the first rock bands formed entirely by women, not only from Latin America but from the world. Accompanied in this endeavor, yes, by the saxophonist Refugio "Cuco" Valtierra, who among other things would provide the space for the first rehearsals, she met the guitarist María Teresa Astroga in a jazz group called Frenesí. Then joined María Luisa, María Teresa's sister on bass, Yolanda Espinoza on drums and Judith Rolón with her voice. They were going to be called "Las 5 Marías" but Columbia Records, with whom they signed a contract, named them "Las Mary Jets". His first hit was "El rock del aratón", Valtierra's original theme, but from 1960 it was Lozano who would translate the rest of his hits from English to Spanish. Among the best known are "Roulette", "Chatanooga" and "Sweet nonsense".
Jolly land
Born in the Argentine city of Rosario in 1929, Yolanda delisio, better known as Jolly Land, began singing jazz in the mid-1950s. Later, her role became important both as a singer and as a promoter, especially of the country's leading rock figures and bands. In fact in 1958, and like a true visionary, she was already driving At Jolly's at 20, television space where he commented and broadcast young music, before even the most recognized and famous program The Clan Club, of which he also participated later anyway. Some of the songs that still like a lot of pop and twist embody the spirit that would later gain great strength in later rock bands and soloists are "El Ladrón", "Perrito Pekines" and "Mira como me balance".
Violeta Rivas
From The Clan Club, that television program that, influenced by "the new wave" of Latin America, was in charge of showing young music and pop in Argentina, the figure of Ana Maria Adinolfi, better known as Violeta Rivas, also a native of Rosario but born in 1937. She began studying lyrical singing but then turned to the rhythms of her time. In that sense, Although his productions were still more pop and twist than rock, in certain themes, provocative in both music and lyrics, just as Jolly Land was paving the way for those who would come later. Among his most significant songs as a precursor to rock, we can name the famous "What luck!", But also others less known as "Kisses of paper" and "Surfin of the girls", a pop-twist with tinges of rockabilly.
Cecilia Pantoja
Also part of "the new wave" the Chilean artist Cecilia Pantoja began singing melodic style from the end of the fifties with different groups, but In 1962 he launched himself as a soloist and his success was instant and massive, leading rankings and record sales at just 19 years of age.. From his second release, in 1965, he has the homonym "La incomparable"; And it really was, not only because of his talent as a singer but also because of his charisma and attitude in his live performances, where he provoked with his short hair, clothes, way of dancing and attitude. She challenged the ways in which a woman should look, move and perform on stage during her time, becoming an icon of sexual liberation for many young people of the time.. Among his greatest hits are "Dilo Calladito", "Sea bath at midnight" and "Mashed potatoes"
Baby Batiz
Born in the Mexican city of Tijuana, Baby Batiz began with his brother Javier in 1961 as the singer of the rock band The TJ's, being just a teenager. In parallel, as well as in Argentina Jolly Land and Violeta Rivas went through The Clan Club, in Mexico there was Discotheque Orfeon A Go-gó, a TV program where Baby also left her mark as an icon and figure of young music of her time, in a more pop rock tone. In 1964 he published his first solo album, Advise me mom. Now, unlike Rivas, Land and Pantoja, over the years Bátiz began to turn to harder rock and blues as well, collaborating with various groups and even sharing the stage with bands like Deep Purple. She currently has eight solo albums and her fame continues, since she was recently summoned as a jury in the Mexican version of the famous television music contest. The voice.
Mayita fields
Mayita fields was born in Santiago de Chile and in the mid-sixties he migrated to Mexico, where he became one of the first exponents of the Latin American rock garage. He did various solo works and also, although always leading, had different groups whose rhythms took a more bluesy course over time. The novelty with Mayita and other women of her generation is that she In addition to singing, he began to compose the lyrics of his songs in full.. That was quite a challenge since, in addition to the fact that the majority of singer-songwriters in those years were men, in any case it was already difficult to be recognized singing in Spanish. In English, Campos recorded songs by Bob Dylan and Joan Báez. In the 70s he met Baby Bátiz and together with her and Norma Valdez they formed the musical project The Loquettes. Among his best known songs as a soloist and in Spanish from what was his first period, stand out "Slowly", "Señor Locutor" and the fierce blues rock "Mi ouramento".
Cristina Plate
In case of Cristina Plate, Argentine singer and poet, is known – or little known – for the difficulties that arose and, according to her own account in some interviews, for not complying with the commercial rules imposed by the Buenos Aires production companies when making music in the late sixties. Also a model, actress and radio presenter, Plate has her own musical work that is not vast but highly representative, among other things because it is the first woman to record for Cassava. That was one of the most famous record labels in the country between the late sixties and early seventies, diffusing music such as that of Manal, Vox Dei and Miguel Abuelo, among others. From the EP with Cassava, Plate left pure poetry and soft rock with "Paz en la playa" and "Para darte todo".
Denise Corals
Denise Corals She began to be interested in music since she was little and had already had some solo recordings linked to the twist and the gogó, but its importance lies in having been the first Chilean woman to lead a rock band: Aguaturbia. Beginning in 1969, singing at first in nothing but English, she became not only the vocalist but also the main figure of this great psychedelic rock band. On the other hand, Denise took the surname of her husband, with whom she also married in 1969 and co-founded Aguaturbia, saying in several interviews that although she loved him, at that time the air of revolution still coexisted with certain conventions, such as that of that to leave the parental home a woman must first marry. Be that as it may, her provocative attitude, which among others can be seen on the cover of the second album naked and crucified (quickly censored by the Chilean government), has made her an icon in herself and to this day.
Rita Lee
The singer and multi-instrumentalist Rita Lee It is recognized worldwide to this day and at the time it was the Brazilian counterpart of Denise Corales: led the acid rock band called Os Mutantes. Perhaps the difference is that Rita, in addition to being a soloist later, led the band in all its aspects: she was one of the founding members and vocalist, but she also composed much of the group's music and lyrics. With regional and international fame, admired among others by Kurt Cobain himself, Os Mutantes had Rita from its beginnings in 1966 until 1972, thus being part of more than half of his discography and fulfilling a central and fundamental role in its development. . And as said, Lee was not only a vocalist but also composed and actively participated in the musical performance of the band., playing many instruments, from guitar to zither, flute, drums and harp, among others. It also had an absolute influence on the different performances that the band did when playing live. His solo career was also and is quite successful.But her role as one of the first Brazilian women to lead a rock group had already made history.