Entertainment
"2001: A Space Odyssey" (1968), by Stanley Kubrick | Theater director Julián Cnochaert chooses his favorite movie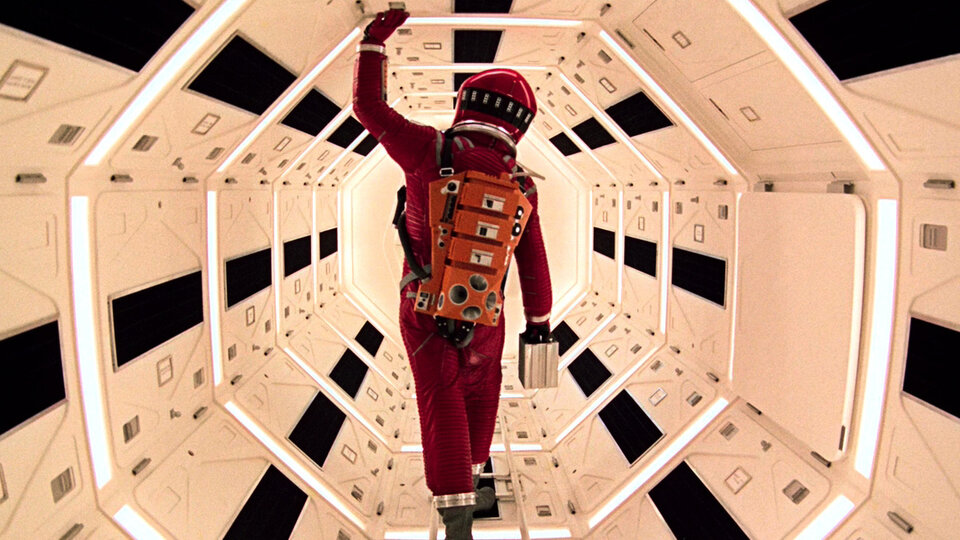 I'd never seen 2001: A Space OdysseyBut what he had read about it was enough to be sure that seeing it on the big screen would be a valuable opportunity. That is why I proposed to my friend Victoria to go to the BAMA cinema on a Saturday in August, which had scheduled a cycle dedicated to the work of Stanley Kubrick.
Victoria and I have known each other for over 20 years. Precisely from the blue room, when for me she was the girl who cried out loud every time her mother had to drop her off at school and go to work. We didn't hit it off right away. It was only in fifth grade that we made the decision to be best friends. Over the years, we have become a symbiotic and inexhaustible duo. Victoria's presence in my life has influenced my psyche, my language, my sense of humor and my entire sensitivity. I can't even imagine what would become of me today if I hadn't grown up with him.
No description I attempt to sketch would do justice to what is seen and heard in 2001. The argument is just a skeleton, an excuse to display sensory elements and outline some themes, although without offering hypotheses or revealed truths. In my first-time eyes, what Kubrick was doing was raising the possibilities of audiovisual to its maximum power. That combination of plastic and sound constituted a fiery, chilling and transcendental entity. It was immediately apparent to me that what was projected on the screen had found its just and exact form in film. No other device would have lived up to the ambitions of its creator.
The following year to see 2001 for the first time, I started taking classes with Lisandro Rodríguez. His creation and stage experimentation workshop was a complete break in my head. My curious youth was ideal for the effervescence of those encounters. The space was a powerhouse of action and thought, where the task carried out was as intellectual as it was visceral. Lisandro's ideas and the exchange with my colleagues opened up paths without stopping to take a breath. Lisandro insisted on assuming the specific materiality of our praxis. Once he asked us why we did theater and not something else. I did not know what to answer.
Since then, the question of specificity has hovered over me.
If you want to tell a story, you can write a story or a script. If you want to say things out loud, just recite poems or find a radio studio. If what you want is to act, it can well be done in series, soap operas, advertisements and movies. Perhaps there are those who do theater because what they want is to be looked at. Well, social media already takes care of that.
So why theater and not something else?
I have seen works that could have been Instagram stories, intimate journal confessions, poetry fanzines, pamphlets from a party group. I am enthusiastic about the specificity, especially when it produces the feeling that leads to the certainty that what is happening on stage is an event that could not have been configured on another medium.
"The best literature is the untranslatable," my writing teachers have said more than once. There are texts whose operations on language are so sophisticated and complex that they destroy any possibility of versioning them. I think about Horse skin by Ricardo Zelarayán when we have the information. On The obscene bird of the night scored by José Donoso. They are books that are not limited to narrating, but make language such a resounding instrument that they push literature towards a limit point and without return.
Today I dare to affirm two things about the theater.
1) The theater lives on the edge of a precipice. It happens in the present and, therefore, it is fading all the time. Rubén Szuchmacher defines it as "unattainable." That condition fills you with adrenaline and makes you susceptible to failure. The power can go out, an actor can have a heart attack while delivering a monologue, a spectator can stand up in the middle of the performance and remove a revolver from his briefcase. However, we got on with it. Theater is a matter of courage, truth and faith. Of game and commitment.
2) Being an act in the present tense, it performs an operation on time, which cannot be paused or reverted. Unlike other arts, such as literature and plastic arts, where whoever reads or watches determines how much time to give to the work, the stage event establishes its own way of passing. By advancing linearly on the timeline, the theater moves from one point to another. In that journey there may be no text, there may be no movement, there may even be no performances. But surely there is time. Time passes, bad that we weigh. If I am aware that something is happening, I will be able to surrender to something happening to me. The theater is an opportunity for something to happen to me.
When the movie ended, we were the last to get up from our seats. In the red-curtained corridor-tunnel that led to the exit, all we could do was hug each other and cry with laughter. Our speech barely managed to be stammering. Outside, a warm and welcoming night awaited us, despite being the middle of August. The downtown area of ​​Buenos Aires was presented in a ghostly version because of its silence and alien because of its light, as if the odyssey had transported us to outer space. That calm was impossible for a weekend night a few meters from the Obelisk. It was a different world. If our destiny was indeed predetermined, that moment confirmed the existence of the supernatural force that had decided that our lives would intersect. Something had happened to us and we were together. It was not our place to be elsewhere.
Julian Cnochaert He was born in Buenos Aires on September 19, 1996. He is an actor, playwright, theater director and translator. His work Scarlet pampa won the 2019 Raw Operas call of the Rector Ricardo Rojas Cultural Center. Scarlet pampa It is presented on Saturdays at 2 in Area 623 (Pasco 623, CABA). Tickets can be purchased at the following link: https://www.eventbrite.com.ar/e/pampa-escarlata-tickets-193575979967