29 ARTS IN PROGRESS Gallery is pleased to announce the exhibition entitled MICHEL HADDY: BEHIND THE FASHION, the first major solo exhibition in Milan of the French-Algerian photographer Michel Haddy.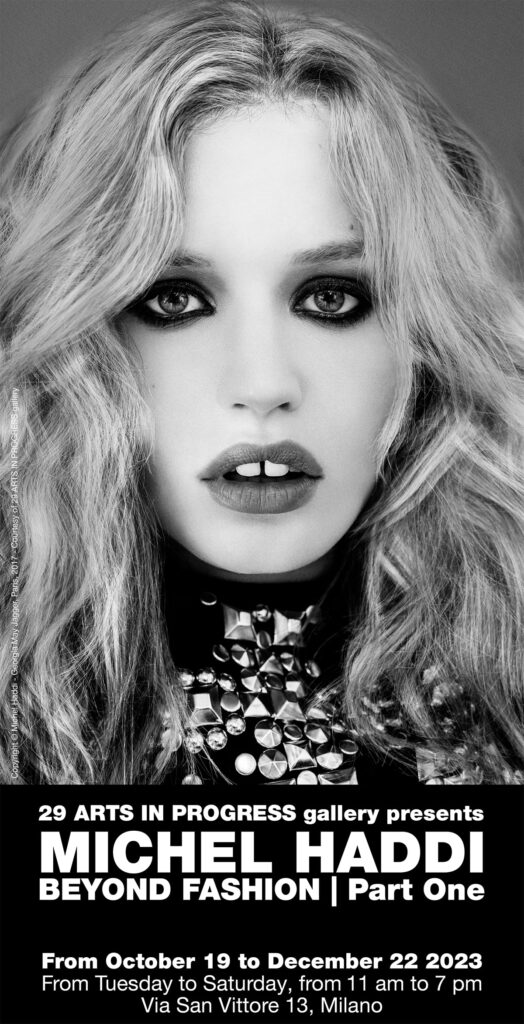 29 ART IN PROGRESS gallery I'm glad to announce the exhibition'MICHELLE HADDY: BEYOND FASHION', the first major solo exhibition of French-Algerian photographer Michel Haddy in Milan.
The exhibition project will develop in two events: first from October 19 to December 22, 2023 and second from January 16 to March 16, 2024.
The exhibition presents the most representative images of a career spanning more than 40 years, part of an endless archive of celebrities, top models, icons and legends of music and art. From Liza Minnelli to David Bowie, Cameron Diaz to Jennifer Lopez and Angelina Jolie, past the unexpected Naomi Campbell and Kate Moss, Linda Evangelista, Stephanie Seymour, Yasmine Le Bon and Veruschka, to name just a few.
Huddy portrayed countless faces that managed to capture the spirit of their times through personalities that brought to life the history of fashion, film and music. An intimate, personal, unconventional portrait of almost his entire career, far removed from that of a classic fashion photographer: having survived a turbulent childhood with the dream of becoming a photographer, Huddy dedicates his life to telling the story of some of the protagonists of the historical changes and cultural events of the last century with a rare ability to capture and then restore the deepest the essence of their stories.
The exhibition's two-part itinerary will allow the public and collectors to capture the essence of Huddy's work in both his most exquisite black-and-white studio images and his most extraordinary, soulful stills. but also irony and sensuality, emphasizing the multifaceted personality of the Artist.
In order to pay tribute to the vast body of work, the second phase of the exhibition will present to the public not only nudes and unpublished photographs, but also impressive images with bright colors and a tropical American atmosphere of the nineties, often associated with some of the emblematic advertising campaigns created by Huddy. for such international brands as Versace, Chanel, Armani, Yves Saint-Laurent.
Haddi, whose literal translation from the Semitic language is "one who sees," succeeded in the difficult task of seeing the true nature of those who posed for him behind the lens – actors, models or ordinary people – and creating an image. sometimes ironic, sometimes profound: all his photographs have their own story, because they are authentic images that play with the most ordinary human emotions and for this very reason become indelible.
The two stages of the exhibition will be enlivened by live events with Michel Haddi, aimed at encouraging interaction and dialogue between the artist and the Milanese public. Details and how to participate will be updated later.
The first phase of the exhibition will open to the public on Thursday, October 19, 2023, at the gallery at Via San Vittore, 13 in Milan.
Michel Huddy (Paris, 1956)
Born to a French soldier he had never met and an Algerian Muslim woman, Haddi had a turbulent childhood, living in an orphanage from the age of six. During this period, his mother brought him copies of Vogue magazine, which delighted him since childhood with the published photographs of the great photographers of that time. He dreams of leaving Paris and becoming a photographer himself. In 1970, after a trip to Saudi Arabia, Michel began a career as an assistant to various photographers. In London, he met his mentor Victor Herbert (designer) and in 1980 opened his first studio, where he began collaborating with such famous publications as American GQ, Jardin des Modes and British Vogue. In 1981, Vogue Hommes commissioned him to do a photo shoot, which marked the beginning of his work in Italy, where in 1985 he met Franca Sozzani, future director of Vogue Italia and then director of Lei e Per Lui, who asked Haddi to join him. his team. Huddy began to travel a lot and began many important collaborations (including with The Face, GQ, The Sunday Times, Tatler, British Vogue). In the early nineties he lived between New York, Los Angeles, Paris, London and Milan, working for over 30 years as one of the world's leading fashion photographers. His work has been published in the most important magazines in Europe, Asia and the USA, including Vogue Italia, Glamor Italia, L'Uomo Vogue, Vogue France, Vogue Hommes, British Vogue, Mademoiselle, Tatler, GQ, Allure, Vanity. Fair, Face, Arena, Interview, Details, Rolling Stone, Vibe, Elle, Premiere, Stern, The Sunday Times, The Washington Post, Harper's Bazaar and Marie Claire Germany. He has created advertising campaigns for Armani, Yves Saint-Laurent, Emilio Pucci, Lancetti, Replay, Lee Jeans, Saks Fifth Avenue, Macy's, Bloomingdales, Guerlain and many others. Clint Eastwood, Martin Scorsese, David Bowie, Uma Thurman, Francis Ford Coppola, Cameron Diaz, Faye Dunaway, Nicolas Cage, Johnny Depp, Heath Ledger, Angelina Jolie, Janet Jackson, Jennifer Lopez are just some of the celebrities he has photographed in your years. In the United States. Photographer and director Huddy currently lives in London, where he also runs MHS Publishing, where he publishes his books.
29 ART IN PROGRESS gallery
29 ARTS IN PROGRESS is a large photographic art gallery located in the heart of Milan, in the historical district of Sant'Ambrogio. The gallery presents the work of internationally recognized photographers and has a special focus on portrait and fashion photography. Since its opening, the gallery has curated exhibitions in collaboration with public and private museums, including: the Victoria and Albert Museum, London; Hong Kong Arts Centre; Royal Palace and Milan Triennale; Lugano Cultural Museum and Nicola Erni Collection in Switzerland.
MICHELLE HADDY: BEYOND FASHION
Via San Vittore 13, Milan
October 19, 2023 – March 16, 2024
Copyright © Michelle Huddy
Georgia May Jagger, Paris, 2017
Photo: © Courtesy of gallery 29 ARTS IN PROGRESS