Sports
3 premieres to fully immerse yourself in the world of Maradona – Come and see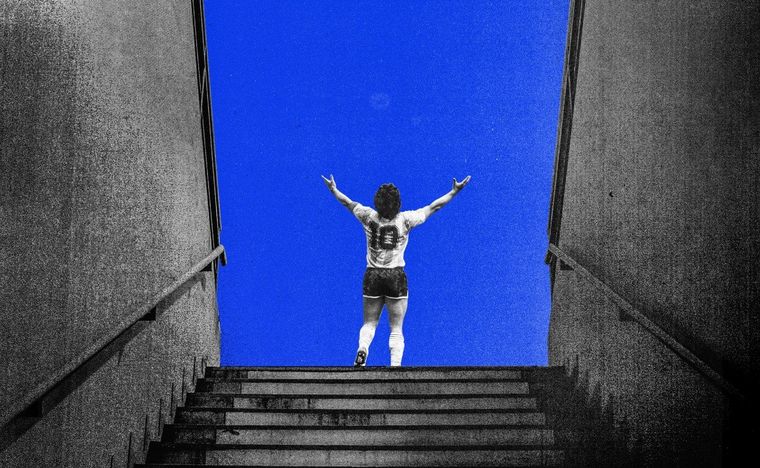 This Thursday marked a year since the death of Diego Armando Maradona and the world remembers him with emotion.
The life of the soccer star was reflected in many ways in film and television, and in the context of the first anniversary of his death, several streaming services took the opportunity to make new releases linked to "Ten".
/ Embedded Code Home /
/ End Embed Code /
Next, we review some that allow you to fully immerse yourself in the world of Maradona, with the good and the bad that happened in his life:
"Diego, the last goodbye" (documentary available on HBO Max)
It is a journalistic documentary directed by Sebastián Alfie and with a script by Juan Pablo Martínez. It recounts the last year and a half of Maradona's life. He reviews facts that remained in history and tells his journey beyond football with stories of people who crossed paths with the star in his life.
The production includes testimonies from her inner circle, such as brothers, nephews, colleagues, a psychologist, a cook, and friends. It also seeks to show the joys that it caused many people and the sadness that it generated when leaving.
/ Embedded Code Home // End Embed Code /
"Maradona was more than a football idol, he was practically a legend, a hope and a symbol for thousands of people. The void left by his death is – and will be – impossible to fill," the synopsis advances.
"It is a special day for many Argentines and football fans around the world, it is the first anniversary of Diego's departure and from HBO Max we want to honor him with special and highly emotional content. When we see the tributes Diego received in each stadium who he visited in his last year of life in retrospect, it really gives the feeling that he was, in one way or another, saying goodbye. The focus of this new documentary is precisely that connection that Diego always generated with his fans and how, with his football and his magic, gave joy to many people"Said Tomás Yankelevich, head of content for WarnerMedia in Latin America.
"Maradona: Blessed Dream" (series available on Amazon Prime Video)
The new series on the life of Diego Maradona waited until this November 25 to launch its last episode: "D10S".
In this chapter, Maradona prepares his tribute party with Guillermo Coppola. He resumes his friendship with Carlos Ferro Viera and returns to a forgotten habit. The distance between him and Claudia grew and apparently is irreconcilable.
/ Embedded Code Home /
/ End Embed Code /
At the same time, in 1986, Argentina made an excellent campaign in the World Cup, winning all the games it played. He faces England on the field and the mythical "Hand of God" is born. It surprises the press and soon begins to be the favorite team.
The Amazon production recounts the life of the star from its beginnings to its difficult moments as an adult, retired from soccer and after having overcome a hospitalization that left him on the brink of death in Punta del Este.
/ Embedded Code Home // End Embed Code /
Diego is played at different stages of his life by Nicolás Goldschmit, Nazareno Casero and Juan Palomino. The series has an important cast including Peter Lanzani, Leonardo Sbaraglia, Mercedes Morán, Rita Cortese, Claudio Rissi, Nicolás Furtado and Julieta Cardinali, among other figures.
Beyond Diego (documentary series on Star +)
Disney's adult platform added a documentary created by BTF Media that reviews his life and also analyzes his impact as an emblem of culture in the world. His significance, the myth around his figure and his role in the expression of Argentineanness are dealt with in "Beyond Diego".
The production is directed by Chilean Hernán Caffiero (winner of the International Emmy for the series "A necessary story") and has three chapters of 42 minutes each.
/ Embedded Code Home // End Embed Code /
The documentary draws on archive images, unpublished records, and testimonies from friends, family, colleagues, trainers, and journalists. One of the interviewees, for example, is Ronaldinho, who had not given testimonies for three years.
In turn, the same platform added the documentary produced in Italy by National Geographic called "Maradona Confidential", which explores Diego's intimate side and his history.
In addition, sports channels such as TyC Sports, DirecTV Sports, TNT Sports and DeporTV will honor the star in their programming. There will also be an interview special on Public TV from 11pm.
Bonus track: "Maradona", by Asif Kapadia
It is a must-see documentary that is available on HBO Max. What better way to remember "Ten" than with the masterful piece by Asif Kapadia, who was also in charge of other biographical productions such as "Amy" and "Senna".
"On July 5, 1984, Diego Maradona arrived in Naples after a record payment. The most iconic footballer in the world and one of the most passionate and dangerous cities in Europe formed an ideal duo", details the synopsis on the focus of the documentary , which focuses on the experience of the star in Napoli.
/ Embedded Code Home // End Embed Code /