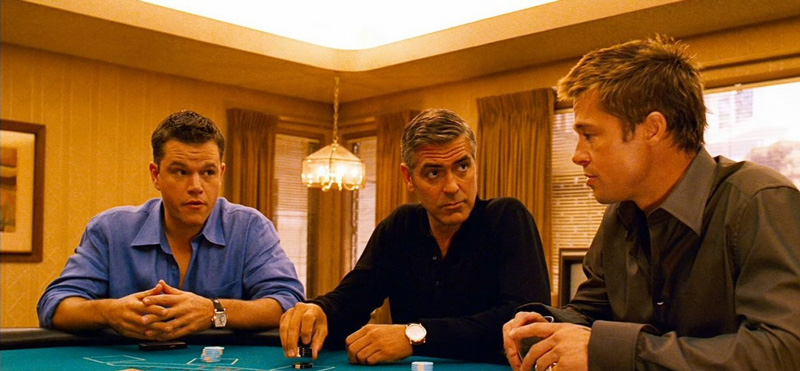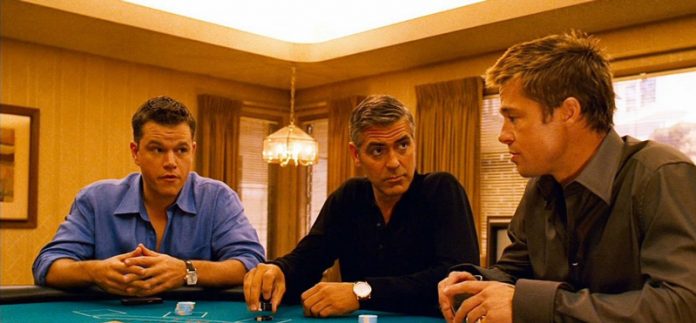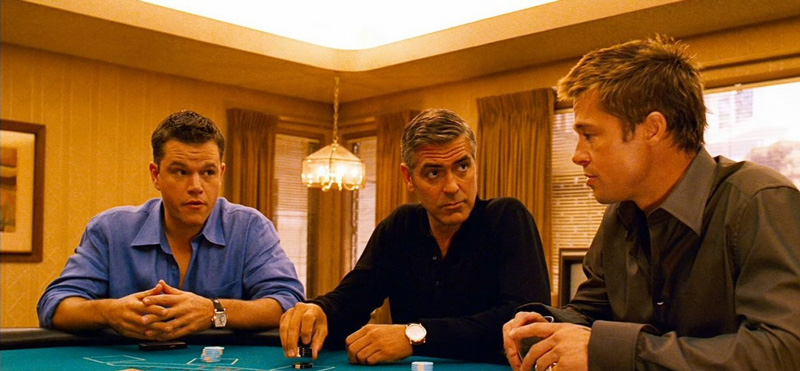 Gambling-inspired films have excellent cast and have enjoyed huge commercial success. And in this article you will find 5 titles that are worth seeing.
Here are these:
Ocean's 11 (2001) – A film with an excellent cast, which includes big names like George Clooney, Matt Damon, Andy Garcia, Brad Pitt and Julia Roberts. With such sound names, the chances of a bad movie coming out were pretty slim. On the contrary, Ocean's 11 was a major commercial success, grossing over $ 450 million on a $ 85 million budget. Ocean's 11 also kicked off a successful franchise, which had two more sequels and a spin-off. In Ocean's 11, George Clooney and his friends staged a robbery that affected three Vegas Strip casinos: Bellagio, Mirage and MGM Grand. They all had the same owner: Terry Benedict, who was the boyfriend of the character's ex-wife played by Clooney. The action is at a high level, and Ocean's 11 is a film not to be missed, given that the plan is to rob a safe in which there are over 150 million dollars.
Rounders (1998) – A film that fans will surely love Poker and not only. In Rounders, the story focuses on the character Mike McDermott, played by Matt Damon. He is forced to return to poker out of a desire to help a friend who was in financial trouble. Rounders is a film full of suspense, in which you can discover at the same time the charm of the poker game. In fact, Matt Damon later confessed that he loved poker even more after the role in Rounders, and he is a big fan of this game, so at one point he was also involved in the famous Molly Bloom games. Aside from this aspect, Edward Norton and John Maklovich can also be seen in Rounders. The film's budget was $ 12 million, and the revenue was about $ 23 million.
Casino (1995) – The cast of this film includes Robert De Niro, Sharon Stone and Joe Pesci, while directed by Martin Scorsese. It's a movie about mobsters who end up running one of the most important casinos in Vegas, Tangiers. The Chicago Mafia appoints Sam "Ace" Rothstein to take care of this, but at the same time he receives his friend, Nicky Santoro, as his help. His arrival in Vegas upsets the peace, and at the same time Ace Rothstein's relationship with the beautiful Ginger begins to deteriorate. This is how the problems arise and the action takes an unexpected turn. Casino had revenues of over $ 116 million and has an 8.2 rating on IMDB. Sharon Stone also received a Golden Globe for her role in Casino, so it's a movie worth seeing in her spare time.
21: The chance of his life (2008) – This film is inspired by a real story, even if the way it was made gave a new and quite changed connotation to the events that took place in reality. 21: The Chance of His Life tells the story of MIT students who became known around the world after setting fire to casinos in the United States because they counted the cards in blackjack. Endowed with excellent mathematical qualities, they used their skills to win at blackjack, to the displeasure of casinos. The story in the film focuses on the character of Ben Campbell, played by Jim Sturgess, who is recruited by Professor Micky Rosa (played by Kevin Spacey) to be part of the student team. He has thus changed his lifestyle and is enjoying new opportunities until problems start to arise. 21: The chance of his life was about 160 million dollars, with a budget of 35 million dollars.
Casino Royale (2016) – For many people, this is a reference title when it comes to James Bond movies. And in Casino Royale there is a scene inspired by gambling. Thus, Agent 007, played by Daniel Craig, comes face to face with the financier of terrorists around the world, Le Chiffre. And the two settle the dispute at a heavy money poker game, this being one of the most interesting moments in the film. Casino Royale is a film that had revenues of over 616 million dollars, and the cast also included Eva Green, Mads Mikkelsen, Jeffrey Wright and Judi Dench. Casino Royale has a rating of 8 on IMDB out of over 600,000 votes cast, and Empire magazine ranked it 3rd in the best films of 2006.