A man was left with 10,000 T-shirts in stock trying to make money from the case of singer Britney Spears. He wanted to print them with the slogan of the "#FreeBritney" campaign, but it was misspelled "#FreeBrittany", a mistake all the more amusing as Brittany is the English name of Brittany, a region in the extremity northwestern France. But beyond this funny incident, there is an alarm signal: the mass production of such articles dedicated to causes can do a lot of harm to the environment.
Karl Baxter, a British entrepreneur with a wholesale warehouse, immediately thought of ordering 10,000 T-shirts after seeing the "media storm" around Britney Spears. The 39-year-old pop star is fighting in court to get rid of the controversial guardianship over the fortune. Since 2008, the singer's father – Jamie Spears – has largely had complete legal control over her fortune, but also over other aspects of her life and career. Fans immediately rallied around Britney Spears, launching the "#FreeBritney" movement, a campaign that aims to end what they consider to be abuse.
Karl Baxter saw an opportunity and thought of taking advantage of this case by inventing commercial products related to this movement. He pledged to donate 20% of the proceeds to the #FreeBritney campaign.
However, it seems that the entrepreneur is not very friendly with writing and spelling. Instead of writing "Free Britney" on the T-shirts, "Free Britain" came out. And the problems he has with spelling were confirmed in a post explaining all the nonsense: "After hearing and reading all about Britney's struggle to end guardianship, I said I would do something to help. this cause, appealing to my young client ", wrote Baxter making a new spelling mistake, he misspelled" client "in the genitive – client's – instead of the plural for "client", which is written clients – no).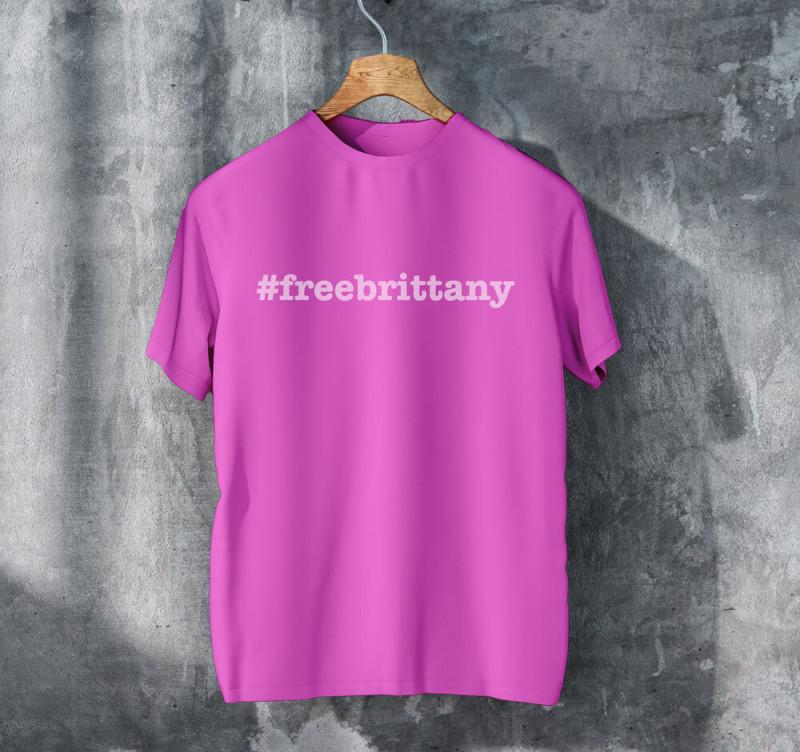 Now, the entrepreneur is appealing to Britney Spears fans to help him, given his good intentions: "I'm stuck now with a stock that probably won't get anywhere, so I'm appealing to any fan of the movement to invest and buy a T-shirt ".
Trying to recoup some of the money invested in this unfortunate adventure, Baxter now hopes to sell some of the T-shirts – at a discount, of course. from 12.87 euros to 4.67 euros.
The cotton T-shirts were made in Bangladesh, and Baxter claims to send everything left in stock (and other products) to developing countries. He assures that he never sends unsold products to garbage or to be destroyed. "There is always a way to recycle," says the entrepreneur.
Why activism should not be supported by specific clothing items
Although this was undoubtedly a funny mistake, it sends an alarm signal about the mass use of clothes produced especially for campaigns that support certain causes, Euronews points out.
The fashion industry is one of the world's leading polluters, accounting for one-tenth of total carbon emissions. The textile industry consumes about 100 million tons of oil every year.
On average, a consumer throws away 60% of new clothes in the same year they buy them. Undoubtedly, the clothes associated with activism and certain strictly topical campaigns will be among the items thrown away.
"There is a joke in the charity sector – that more T-shirts are produced than concrete actions to raise public awareness about a certain issue. And the #FreeBritney movement is no different ", draws the attention of the fashion journalist Frankie Leach.
"Exploiting a money-making movement, donating only 20% of the profits to the cause you chose, shows how stupid the whole process is," said Frankie Leach of the British entrepreneur. "10,000 T-shirts do no good to the planet, especially since most charity T-shirts end up in landfills as soon as a new crisis arises that requires a new set of such items of clothing," she says.
What a solution a band found
It is also a problem facing the music industry, as the commercial products dedicated to the bands quickly become obsolete when a new album is announced or a new tour begins.
The band "The 1975" from Manchester, who previously collaborated with environmental activist Greta Thunberg, found an ingenious way to address the issue of waste related to commercial promotion.
The band has promised not to make new T-shirts because it is "unsustainable", instead inviting fans to bring any old T-shirt with "The 1975" or any favorite band to be reprinted for free at their concerts.
When it comes to charities, encouraging customers to donate directly to certain movements is a much better option than producing new clothing from scratch, Frankie Leach points out.
Editor: Luana Pavaluca