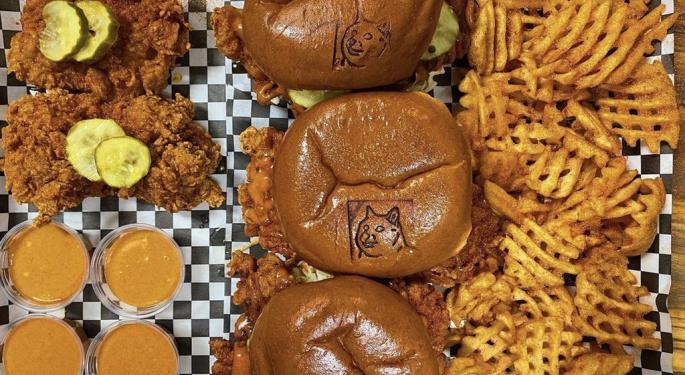 2 min read
A ghost kitchen in Los Angeles, California, has been the latest to take advantage of the growing interest in Dogecoin (CRYPTO: DOGE).
About Doge Chicken
Located at 3212 E. Olympic Blvd in Los Angeles, California, Doge chicken It is open from 2:00 p.m. PST to 9:00 p.m. PST every day. Customers can order takeout and home delivery at the restaurant that promises "delicacies in a sandwich".
The initiative offers options such as a Doge chicken sandwich, chicken fillets and Doge fries. Each sandwich features a bun with the Dogecoin logo stamped on it.
Topping fries include coleslaw, tender fried chicken chunks, pickles, and Moon Sauce.
The concept was thrown out by a team of four in the Bay Area, who noted that they were lucky enough to get into Dogecoin soon and secured a large amount of funding for the restaurant via cryptocurrency.
What will happen next?
The restaurant's plans include adding additional venues, accepting Dogecoin as a form of payment, and adding merchandise.
"Our company is what is known as a ghost kitchen. This means that we do not have an entrance area for customers, "the company tweeted. "The main reason we decided to stick with a ghost kitchen is that the cost of building a regular restaurant was too much for us."
The company plans to launch additional regular locations around the world with "amazing signs and incredible decor."
Doge Chicken plans to accept Dogecoin as a form of payment and is also exploring offering discounts for customers who pay with the coin. meme.
The company plans to sell its Moon Sauce online, with Dogecoin being the only accepted form of payment. With the money raised through it, the company is exploring the launch of an NFT project.
"Most likely we will implement a profit sharing of the project or the business as a whole for the owners of NFT," said the company.
Photo: Courtesy of Doge Chicken