Business
a spectacular conversion with more than 600 CV
The Plymouth Satellite is a muscle car from the 70s that, as American canons dictated, rode a gigantic V8 of up to 6.3 liters. Project Electrolite is a curious project in which They have restored and electrified a '72 Satellite, with the engine and brakes of a Tesla Model S.
In addition to changing the engine itself and including a 100 kWh battery, the interior of the car has been restored with a modern display with a GPS speedometer, although respecting most of the original elements of the Playmouth.
A reconversion with the smell of Tesla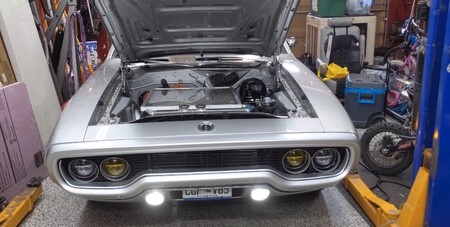 Kevin Erickson is the person behind this curious project, in which the engine block and rear subframe of a Tesla Model S Plaid have been fitted and adapted to a Plymouth. Engine, brakes, half shafts … This muscle car inherits much of the technology from the best Tesla, becoming an even more powerful car than it already was.
In the place of the V8 engine there is now a huge 100 kWh battery and, yes, the vehicle is fully functional. To adapt it to the times, a central screen with GPS speedometer has been mounted, and digital controls for air conditioning, although the original aesthetics of the model have been respected.
To support this new electric motor and turn it into a more current sports car, the suspensions have been changed, electric power steering has been incorporated, new wider wheels, steering column, etc.
The entire project is documented in this YouTube playlist, in which you can see how the process of converting this classic from the 70s into a supercar with the heart of a Tesla has been.
Track and image | Electrek