"We gave the world an original. You gave us back a thousand" is the new global platform of the Adidas Originals brand.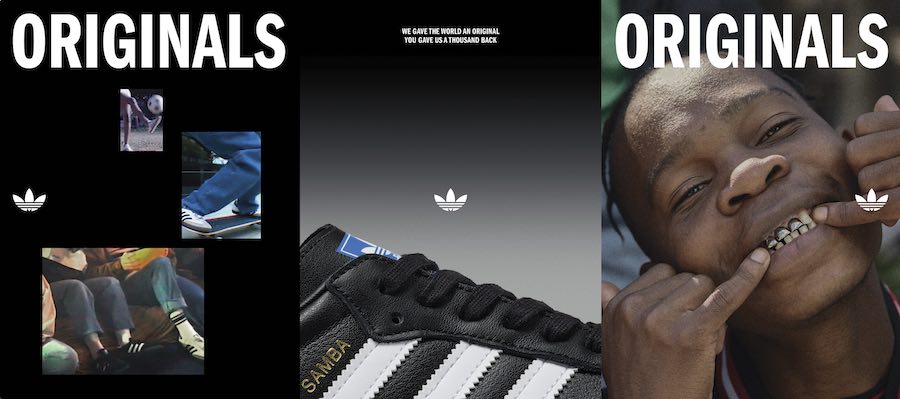 With its new campaign, Adidas Originals wanted to pay tribute to all the people – no matter who they are, athletes, cultural figures – who wear the clover brand, making them live thousands of lives.
"We gave the world an original. "You gave us back a thousand" is actually the name of a new global brand platform curated by the Johannes Leonardo agency, divided into three films dedicated to three "historical" shoe models: Superstar, Gazelle and Samba.
Each of them highlights different silhouettes and stories of products that, born for sport, are adopted, interpreted and absorbed by culture again and again.
The Superstar film is being directed by Daniel Wolf, founder of production studio LoveSong, who serves as a guide for two other first-time directors. In the film, we see footwear created for basketball being adopted by hip-hop, with the emergence of the group Run Dmc, who wore Shell Toe sneakers on their feet.
Instead, Gazelle, directed by Will Dorn, is about bringing the lightweight suede, rubber-soled sneaker to skate parks around the world. We see the young protagonist move between eras, dressed in archival Adidas clothing, in precise chronological order, meeting professional skate duo Mike Arnold and Miles Silvas along the way.
Finally, samba, born for football and becoming a subversive symbol, told Justina Obasi.
Each film is accompanied by a set of three photographs of Chadwick Tyler, featuring the brand's partners, collaborators and friends, including Zinedine Zidane, Jenna Ortega, Pusha T, Anitta, Hoyoung Jung, David Beckham, Jennie Kim, Stormzy.
The campaign is based on extensive research in the company's archives, and to ensure the authenticity of the footage, items were used from the personal collection of Nick Galway, Adidas Senior Vice President of Creative Leadership, housed at Herzogenaurach headquarters in Germany, as well as vintage items. recovered in Los Angeles and the UK.
Music also plays an important role in the films: "Tears" by Giorgio Moroder was chosen for Superstar, "Runner" for Gazelle by Johnny Klimek, Reinhold Heil and Tom Tykwer, and "Space Dancer" samba by T. Rex.