Ella Sueddeutsche: "I have a personal stylist who keeps me informed about trends and the fashion world, it's fun to get to know a different side of me."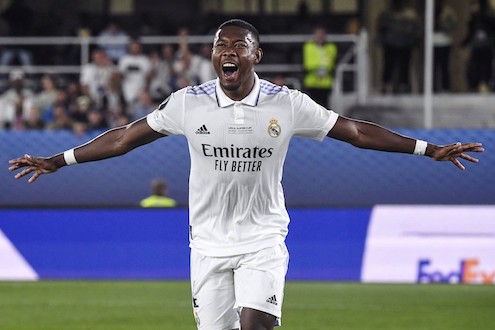 HELSINKI (FINLAND) 10/08/2022 – European Super Cup / Real Madrid-Eintracht Frankfurt / Photo imago / Image Sport in the photo: David Alaba celebrating the goal Only Italy
Sueddeutsche interviews Real Madrid defender David Alaba. The topic of conversation is fashion, with comments from Alba on her best-dressed colleagues, the outfits footballers wear, and their travels during fashion week. Starting with Serge Gnabry, who had a number of problems with Bayern management when he went to Paris Fashion Week in January. Alaba was asked if Real Madrid are too lenient in tolerating their players' obsession with fashion. He answers:
"To be honest, I've never spoken to our president or the Fashion Week coaches, but I think they look great on her."
Why are football players so interested in this topic?
"I think it is a combination of things. Firstly, as a footballer you are often around the world, you move a lot and you draw inspiration from that. At some point you automatically become interested in fashion. There are undoubtedly people in the locker room who care more than others."
When players come into the locker room for training with a beauty case under their arm, do they comment on how they're dressed?
"Yes, of course. After all, there are 20 people in a room. Through social media, you also get to know what certain players are wearing in private."
Who do you consider best dressed among your current or former co-workers? Alaba:
«Mario Gomez has always had his own style in Monaco. Jerome Boateng, Serge Gnabry are also very interested. In Madrid, Karim Benzema is definitely someone who cares a lot. Or Eduardo Camavinga. I also talk to Antonio Rüdiger about fashion from time to time. He already understands a lot, but is still reluctant to dress accordingly."
Have you always been interested in fashion? Alaba:
"As far as I know, yes. Since my roots are in Africa on my father's side, Asia on my mother's side and I was born in Europe, I think there have always been many different influences in my life. Also, my father has a musical background and has been on the road for a long time. This too influenced me from a young age.
Your first design that you bought with your salary as a footballer?
"A burgundy leather jacket from Dolce & Gabbana. It must be somewhere in Munich too.'
Now almost every player has a personal stylist?
"I don't think so. But I have one."
Why does this save time? Alaba:
"At least. I realized years ago that I was really into fashion and wanted to learn, dig a little deeper. That's why I called on someone who could tell me about trends and the world of fashion." His name is Marco Helbinger. It's been very exciting to me and sometimes it's fun to get to know a different side of me through different things."
You once said that you also see parallels between the worlds of fashion and football. Which one? Alaba:
"At Fashion Week I am always amazed by how many cultures come together in this space. It's the same in the dressing room, one is from Brazil, the other is Spanish or German, you have very different mindsets and yet everyone has to work together. I find it inspiring."
Which is more exhausting: a two-hour photo shoot or 90 minutes of the Champions League?
"Obviously it is hard to compare. Football is my life, my passion. Fashion shoots have always been unfamiliar to me before, but now I'm used to it and I'm really enjoying it.
Alaba continues:
"We live in an age where there is no longer just one type of human being. Even in the dressing room, there are more relaxed people, more friendly people, everyone can show it to the outside world with fashion. Personality is reflected in the dress.
But especially in the world of football the image of men is still quite classic. In the Bundesliga, no one walks around with dyed pink hair or pigtails like Antoine Griezmann of Atletico Madrid. Nail polish like Harry Styles has never been seen on any sportsperson. Not to mention the public release.
"Much has already happened, but much remains to be done. Everyone should be able to present themselves as they want and be accepted for it. I definitely try to be a role model and I especially want to encourage the youth to live their dreams and stay true to themselves. Even though now I am a father and obviously I have more responsibilities.
Which outfit do you feel best in?
"I feel as comfortable in Lederhosen as in a suit. I think I might wear that too."
Real Madrid's next kit features a golden color 'Preloved Yellow'. Are players really interested in the design of the season?
"We don't care about it at all. We want to shine on the pitch. So mainly at football level, but also with the shirt. It was a year in Monaco when we had our say. So far, of course, I've always been lucky with the shirts I've been allowed to wear."
napolista
Ilnapolista © reproduction reserved