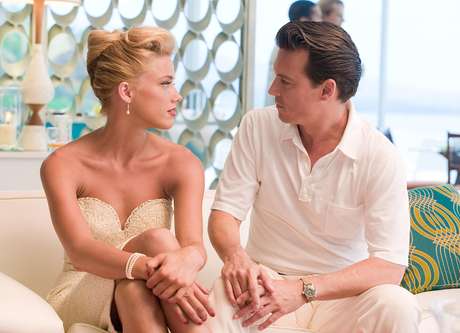 Actress Amber Heard was confronted by Johnny Depp's lawyer, Eleanor Laws, about her alleged infidelity during their marriage, in the lawsuit, the actor is filing against the British newspaper The Sun for defamation.
Depp is suing News Group Newspapers, which publishes Sun, over a 2018 report in which he was called "wife spanker", a term used by the tabloid to question his lineup in the children's franchise "Fantastic Beasts and Where to Find Them".
On his second day at court, Heard denied that he had an affair with billionaire Elon Musk, actor James Franco or anyone else while he was married to Johnny Depp.
"No, not that it matters a lot," she said in court, saying she only began to have contact with Musk, owner of the electric car company Tesla and the Space X space program, in 2016.
The court was told that Heard exchanged text messages with Musk in May 2016, after Depp reportedly became violent and hurt her by throwing a phone over her face.
The lawyer also showed closed-circuit footage of Heard taking actor James Franco to a penthouse one night. Asked why the two appeared so close, Heard said, "He was saying to me 'my God, what happened to you?'"
The images were taken the day after she was allegedly injured in the face by Depp.
She claims that the "Pirates of the Caribbean" star attacked her on at least 14 occasions, threatening to even kill her and that she was slapped, punched and kicked during Depp's violent and jealous explosions, caused by excessive drinking and drugs.
Depp, 57, denies assaulting Heard and says the charges, including testimonies and photos of the actress's bruised face, are a scam.
After hearing the lawyer's exposition about the actress's possible betrayals during her marriage, the judge in the case, Andrew Nicol, said he did not find such evidence of jealousy useful in reaching the final conclusion.
The defamation case is its third and, in principle, last week of testimonies at the London Supreme Court.
Depp and Heard divorced in 2017 after 15 months of a turbulent marriage. In a deal to speed up the divorce, Heard dropped his domestic violence charge and Depp gave him $ 7 million. The actress donated the entire amount to several associations.
But after that, Heard said he was a survivor of domestic violence, which made the actor decide to sue her. This trial has nothing to do with the lawsuit against the British newspaper and is yet to take place in the United States. In it, Depp wants to receive $ 50 million from Heard for libel and defamation.