World
An exceptional Roman mosaic found in the UK | Represents part of the history of the Greek hero Achilles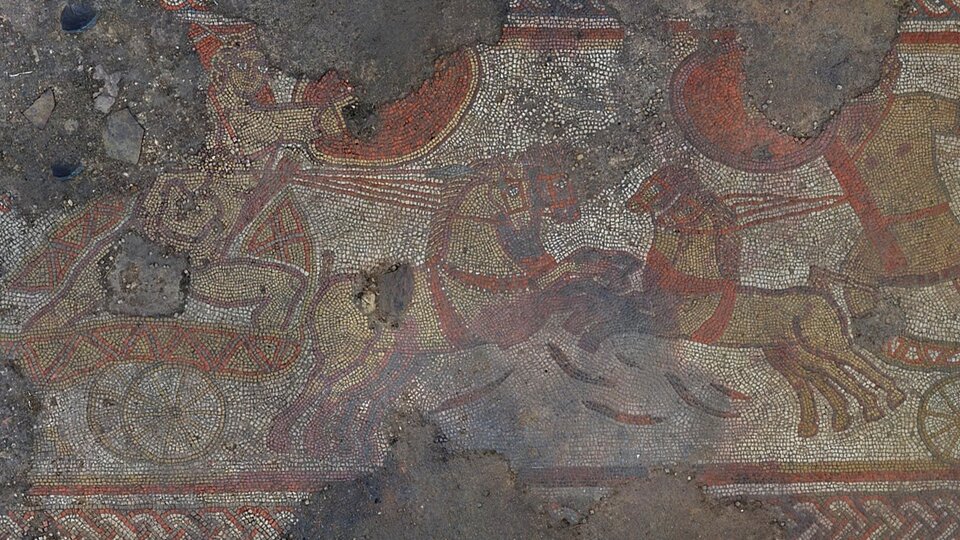 Archaeologists from the University of Leicester found the remains of an "exceptional" Roman mosaic on farm grounds in Rutland, England. As reported by the institution, it is a unique mosaic in Great Britain, measuring eleven by seven meters and represents part of the story of the Greek hero Achilles.
Mosaics were used in a variety of public and private buildings throughout the Roman Empire and often featured famous figures from history and mythology.
Nevertheless, this is the first time such a mosaic has been found in the UK, depicting the Greek hero Achilles' battle against Hector during the Trojan War, Historic England said in a statement. So far, only "a handful" of specimens have been found throughout Europe, the agency said.
Last year, during the coronavirus lockdown, Jim Irvine, the son of the landowner, spotted "unusual pottery" in a wheat field and alerted local authorities. Following the warning, experts from the University of Leicester Archaeological Services, together with Historic England and the Rutland County Council, began the excavation process and managed to uncover the mosaic.
How the mosaic is made and what was its use in the past
The artwork worked floor of what is believed to be a large dining room or entertaining area. It is a building occupied in late Roman times, between the 3rd and 4th centuries, the researchers said.
The village where it was found is surrounded by a variety of constructions, which according to a geophysical study and an archaeological evaluation, in their heyday were barns with corridors, circular structures and a possible bathhouse, all within a series of border ditches.
It is probable, added the specialists, that the complex has been occupied by a wealthy person, with knowledge of classical literature.
In the place they were also found human remains dating from late Roman or early medieval times, and which were buried at the site after the mosaic, when the building was no longer occupied.
Fire damage to the mosaic, meanwhile, suggests that the complex was reused.
"To have discovered such a rare mosaic of this size, as well as a surrounding villa, is remarkable," Duncan Wilson, executive director of Historic England, said in the press release.
"Discoveries like this are very important in helping us piece together our common history. By protecting this historic site we can continue to learn from it, and we look forward to what future excavations can teach us about the people who lived there, "he concluded.