Angelina Jolie (46) and The Weeknd (31), real name Abel Tesfaye, recently dined at the Giorgio Baldi restaurant in LA. Although they dined together, the actress and singer left the place separately.
Angelina wore a black silk dress and a nude trench coat over it. She accessorized her outfit with a black envelope, lacquered nude shoes and a black protective mask.
The soloist wore a black T-shirt, jeans, a denim jacket in the same shade of jeans and black boots. It is still unclear whether the couple had a romantic or business meeting.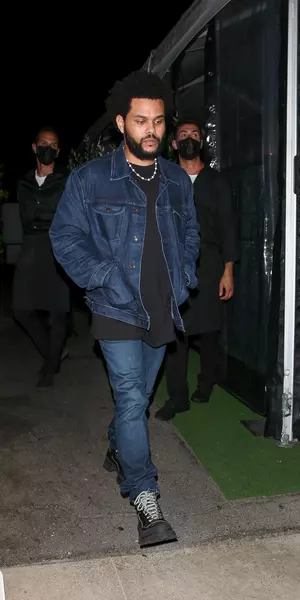 SEE PHOTO GALLERY
(1/7)
Angelina Jolie and The Weeknd, again at the same event
"They clearly did not try to hide," a source told Page Six. "He is determined to enter the world of film. It was just distributed in a series. "
Later, the actress and the soloist were caught again at the same event, a private Mustafa the Poet concert in Los Angeles. Angelina was accompanied by her daughters, Shiloh (14 years old) and Zahara (16 years old). The images with the two appeared on the DeuxMoi Instagram account.
For The Sun., a source revealed that Angelina and The Weeknd are good friends. "Angi has been in touch with Abel for some time. He was in New York at the same time that she and her children were there.
They had lunch in private with her son, Pax, who is a big fan of the soloist. They got along very well, and Pax was ecstatic. They're just friends.
But who knows, they might become more than friends in the future. He did not keep secret that he has a passion for her ", the source revealed for The Sun..
Read also:
Angelina Jolie has evidence that Brad Pitt was violent during their marriage
Angelina Jolie's career, affected by the divorce of the actor Brad Pitt
Gal Gadot became a mother for the third time. The first photo with the baby
The actress has a total of six children, three adopted, two sons and a daughter, Maddox (19 years old), Pax (17 years old) and Zahara (16 years old), and three biological children, two daughters and a son, Shiloh (14 years old) and twins Knox and Vivienne (12 years old).
From 2004 to 2016, Angelina formed a couple with actor Brad Pitt (57 years old). After her divorce from Brad Pitt, the actress did not appear with any other man.
Angelina, who turned 46 in June 2021, recently reconnected with her ex-husband, Jonny Lee Miller (48). The former couple was married between 1996 and 1999.
In 2000, the actress remarried Billy Bob Thornton (65), whom she divorced in 2003, and in 2004 formed a couple with Brad Pitt (57).
The Weeknd has previously formed couples with model Bella Hadid (24 years old) and actress Selena Gomez (28 years old).
Photo: Profimediaimages.ro
Watch the latest VIDEO uploaded on unica.ro