Actress Angelina Jolie, who until now did not have an official account on social networks, joined the social network Instagram on Friday in order to talk to her users and fans about the situation in Afghanistan and about the women and children who are now in danger after the Taliban conquered the Afghan capital Kabul and took power. Also in an editorial also published Friday in American magazine TIMEAngelina Jolie said she was "ashamed" of the way the US had withdrawn from Afghanistan, while stressing that this war should not have "such an outcome."
In her first Instagram post, the 46-year-old American actress made public a letter she received from a teenager in Afghanistan, denouncing that their rights and freedoms are beginning to be lost, stressing that "We are closed again", notes CNN.
"Right now, people in Afghanistan are losing their ability to communicate on social media and express themselves freely. So I came to Instagram to share the stories and voices of those around the world who are fighting for basic human rights, "wrote Angelina Jolie in her first post on the platform owned by Facebook Inc., while attaching some photos illustrating the handwritten letter by Afghan teenager, as well as a picture of seven women dressed in traditional Muslim burqa.
Read also: What is the difference between a burka, hijab and niqab?
"Before the Taliban entered the city (Kabul), we all had rights and we could defend them freely," the young woman wrote in the letter, adding that "once the Taliban takes power, we all fear them and what could he do to us and we believe that all our dreams are gone ".
Angelina Jolie, who is also a special envoy of the UN High Commissioner for Refugees (UNHCR), wrote in her first Instagram post that visited the border with Afghanistan two weeks before the September 11, 2001 terrorist attacks, where he met Afghan refugees who had fled the Taliban.
"That was twenty years ago. It is disgusting to see Afghans fleeing again because of the feeling of fear and uncertainty that the country has engulfed them. Spending so much time and money, shedding so much blood and losing lives just to get such a result is an almost impossible failure.", Pointed out Angelina Jolie.
Sharia law and the annulment of women's rights and freedoms
As the Taliban take power and begin to establish their societal provisions, women in Afghanistan they began to fear more and more that the freedoms won in 2001 will be annulled. Taliban leaders have said they will respect women's rights, and the country's new leadership policy will be for "women to have access to education and employment," but realities in recent days show that women's rights and freedoms are filtered through the new policy. " Islamic Emirate of Afghanistan "and canceled where they do not agree with the vision of the new leaders.
Taliban return to power in Afghanistan following the withdrawal of US troops caused a deep fear among Afghan women about the possible return of a regime that has imposed severe restrictions and bans on them in the past.
Read also: Killed with stones, whipped in public, with cut fingers. List of 29 rules that terrify Afghan women
When the Taliban ruled the country between 1996 and 2001, girls' schools were closed, women could not travel or work, and were forced to wear a burqa in public, a veil covering their entire body and face, with a net made of cloth at eye level.
Although the Taliban have said they have changed, many people in and out of Afghanistan are skeptical.
"I doubt the Taliban have changed. They do not have the same values ​​as the rest of the Afghan people and do not understand democracy", a woman from the Afghan city of Kunduz told CNN reporters.
It's time to sound the alarm
According to the American magazine People, a source close to Angelina Jolie said that the American actress considered that now is the time to use the socialization platform and the notoriety she has worldwide.
"Angie felt compelled to join at a time when women and young people in Afghanistan are losing the ability to communicate on social media and express themselves freely," the source added. if she is able to be part of the effort to make their voices heard, then she felt there was enough reason to use an official Instagram account for that. "
In the last part of her post, Angelina Jolie said that she will continue to look for ways to help and make the voice of Afghan women heard, asking her followers to join this initiative. Furthermore, in her biography posted on Instagram, the actress attached the link to the official UNHCR website, in which the UN Refugee Agency requested support for a humanitarian response to the crisis in Afghanistan "to ensure that all those in need of assistance are not forgotten" .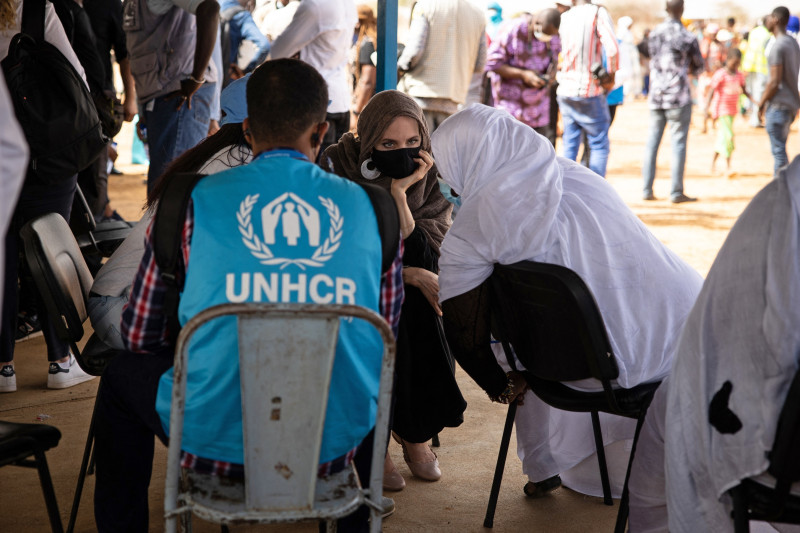 Read also: The woman governor who was fighting with a gun in his hand with the Taliban was captured
"
The people of Afghanistan deserve a much better situation than they are going through these days
"
In the editorial in TIME magazine, where she writes monthly about refugees and the global crises she observes from her position as UN attaché, Angelina Jolie stated that "the war in Afghanistan should not have ended in such a way".
Also, The special envoy of the UN High Commissioner for Refugees stressed that giving up the idea of ​​a peace agreement between the Afghan government and the Taliban, after so many years of effort and sacrifice, "represents is a betrayal and a failure impossible to fully understand".
"I think of the wounded U.S. soldiers and the women I met at Ramstein Air Force Base, some of whom had even lost their limbs in the fight with the Taliban, who told me how proud they were to be part of the mission to help. the Afghan people to obtain basic human rights and freedoms.
I think of every Afghan girl who took her bag of books and went to school for the last twenty years, even if she risked being killed for it, as has happened to many girls in the past. For example, in a neighborhood in Kabul, in the last year alone, more than a hundred young women have been killed in attacks on girls attending school.
I think of Afghan women who served as lawyers, judges and police officers, even in cases where their friends and colleagues were killed in cold blood, the number murders tripling in 2020.
I am thinking of all the Afghan children and teenagers who are scared and are now thinking about the future with fear. I think of activists, journalists and artists hiding, deleting their social media profiles and burning documents in an attempt to keep themselves and their families safe. Some have become fugitives and must avoid sleeping in one place for more than one night so as not to be caught by Taliban forces.", Wrote Angelina Jolie.
He also said that after so much bloodshed, effort, sacrifice and time, "America seems to lack the will to plan this transition in a managed way. It has never been easy to handle such situations, but the US could have handled the situation in Afghanistan better, more decently and more securely.", Said the American actress.
"Millions of Americans and I have trusted our successive US administrations to tell us that we are in Afghanistan to protect our country and support a new democratic Afghan state.
We thought we were doing the right thing, that we were side by side with the Afghans and that we were fighting for a noble cause. But as the United States moves further and further away from Afghanistan, it is difficult to maintain my past beliefs and convictions.
Read also: The real face of the Taliban. Door-to-door hunting has begun
As an American citizen, I am ashamed of the way we leave Afghanistan. It diminishes us. We have lost the ability to influence the fate of what is happening now in Afghanistan. We lack a strategy to monitor and support women and civil society in Afghanistan, which the Talibanthey have targeted the past, banning girls from going to school, restricting women's access outside the home without the man's consent, and imposing brutal corporal punishment, including public attacks on any woman who does not comply with the provisions.
We are facing a new refugee crisis, and in addition to the very high rate of displacement worldwide, almost a quarter of a million Afghans have been displaced in the country in the last three months, 80% of whom are women and girls.
Our allies are rightly upset, blaming the US for the hasty and unilateral withdrawal, which has missed the opportunity of any coordinated plan to preserve some of the gains made by the West in Afghanistan over the past 20 years. We must recognize and address these realities if we are to have any hope that we will learn anything from this dark moment.
Evacuating vulnerable people and accepting Afghan refugees, no matter how important both steps, will not solve the problem. It's just the beginning of what we need to do if we don't want to waste all our years of effort and sacrifice in Afghanistan.".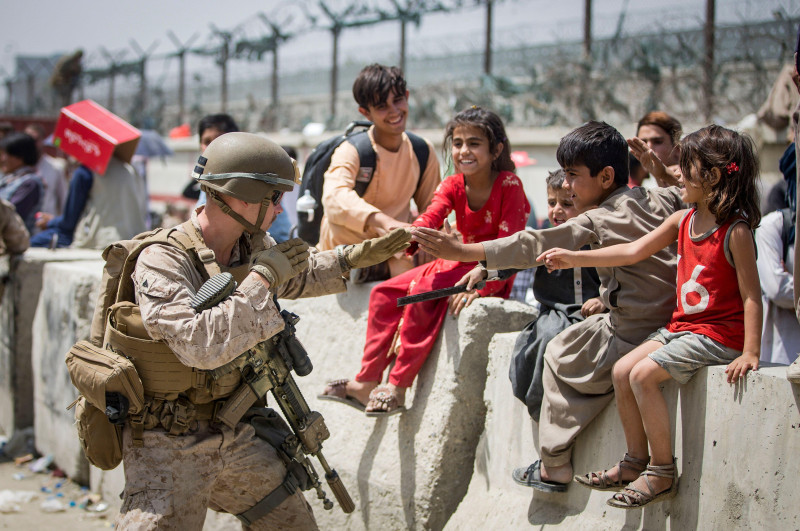 Read also: The Taliban, filmed kidnapping minors from a house. "They don't have wives and it doesn't matter if the girls are 13 or 14"
Angela Jolie also says that in the last two decades, since she has been working for UNHCR, she has seen Western countries enter a country and then leave, referring to the situation in Iraq.
"Every time people try to survive the chaos. Some flee as refugees and live dependent on help, others remain, lowering their heads and hoping not to be driven from where they are. Meanwhile, the number of people displaced globally due to conflict and persecution is increasing every year. At the same time, the deficit of humanitarian aid increases every year, and the aggressors responsible for rape and murder remain free and without any responsibility for the deeds they committed.
I bow to all Afghans who have worked to improve their country over the past twenty years. As I write, I think especially of Afghan women and girls, who are most afraid of what is happening in their country. They have shown countless times how brave, capable and valuable they are to society", Highlighted Angelina Jolie, stating in the end that"any future Afghan government will have to be judged not only on its attitude towards terrorism but also on its human rights behavior and, in particular, whether Afghan women and girls retain the rights they have gained.".
Read also: A week of hell in Afghanistan, with images that remain in history: Despair, fear and anger over a poorly planned operation
Editor: Marco Badea