Marvel's newest film, "Eternals," premiered in Rome on October 24, 2021. On the red carpet of the event, Angelina Jolie (46), one of the protagonists of the film, was accompanied by two of her three daughters. , by Zahara (16 years old) and Shiloh (15 years old).
Angelina Jolie, radiant at the premiere of "Eternals" in Rome
Angelina wore a silver Atelier Versace dress, long and without straps. Zahara opted for a LA boutique Catwalk Designer Vintage dress, white and with a silver detail in the bust area, and Shiloh chose a black Versace dress. Shiloh accessorized her outfit with a pair of sneakers in shades of yellow and black.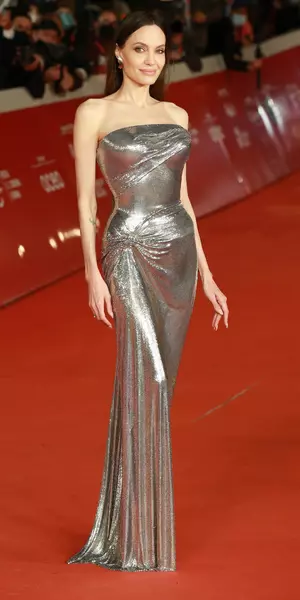 SEE PHOTO GALLERY
(1/6)
Despite the absolutely gorgeous dress, Angelina's fans could not ignore a detail related to the actress' hair, more precisely her extensions. "Who took care of her extensions? It does not blend at all with hair !; I love the dress, but I hate the extensions, they ruined everything when she came back; Hair is an enigma to me…; Whoever took care of its extensions must be shut down! ", These were just some of the reactions in the online environment.
The actress is the mother of six children, three adopted, two sons and a daughter, Maddox (20 years old), Pax (17 years old) and Zahara (16 years old), and three biological children, two daughters and a son, Shiloh (15 years old) and twins Knox and Vivienne (13 years old). Angelina was accompanied by five of her children to the premiere of "Eternals" in Los Angeles. Most likely because of his studies, Maddox, his eldest son, was unable to attend.
After her divorce from Brad Pitt, the actress did not appear with any other man. Angelina has been married twice before. Between 1996 and 1999 with the British actor Jonny Lee Miller (48 years old), and between 2000 and 2003 with the American actor Billy Bob Thornton (66 years old).
The article continues after the recommendations
Read also:
Sofia Vergara, Angelina Jolie and Gal Gadot, in the top of the best paid actresses in 2020
The noble reason why Angelina Jolie made her Instagram account
Angelina Jolie and The Weeknd, caught together again. Is it a couple or not?
Brad Pitt and Angelina Jolie share custody of their children after John Ouderkirk, a private judge, ruled in favor of the actor. The decision is "a provisional decision", and Jolie will continue the process, according to the international press. So far, the actress has not objected to joint custody, but said there were "other concerns."
A large number of witnesses, experts and therapists were involved in the custody process, and Angelina Jolie allegedly criticized the judge's decision not to allow their children to testify, informs BBC. The actress allegedly demanded the dismissal of the judge from the case.
According to the Daily Mail, an altercation between Brad Pitt and Maddox was the drop that filled the glass for Angelina in 2016, later filing for divorce. The actor and Maddox do not see or talk to each other.
"Maddox has already testified as an adult in the custody dispute and has not benefited Brad," a source told Us Weekly exclusively. "He does not use the name Pitt in documents that are not legal, opting exclusively for the name Jolie. Maddox wants to change her last name to Jolie from Jolie-Pitt, which Angelina doesn't support. "
Us Weekly confirmed in November 2016 that Pitt had been acquitted following an abuse investigation. Authorities interviewed Pitt, Jolie and their six children after the incident between Brad and Maddox on a private plane.
Photo: Profimediaimages.ro
Watch the latest VIDEO uploaded on unica.ro