Today begins a 30-day countdown for bitcoin to begin operating as legal tender in El Salvador and transfers with the cryptocurrency are already beginning to register. In May, these amounted to US $ 1.7 million, while in March they reached US $ 2.5 million on account of remittances, an activity on which a large part of the Salvadoran economy depends.
Entities such as Banco Agrícola, a subsidiary of Bancolombia; BAC Credomatic, a subsidiary of Banco de Bogotá; and Davivienda El Salvador expressed through the Salvadoran Banking Association (Abansa) that, for accounting, deposit and credit purposes, they will continue to use the US dollar and not the cryptocurrency.
However, the entry of bitcoin puts Colombian banks operating in that country in trouble, especially due to the structural changes they will have to make.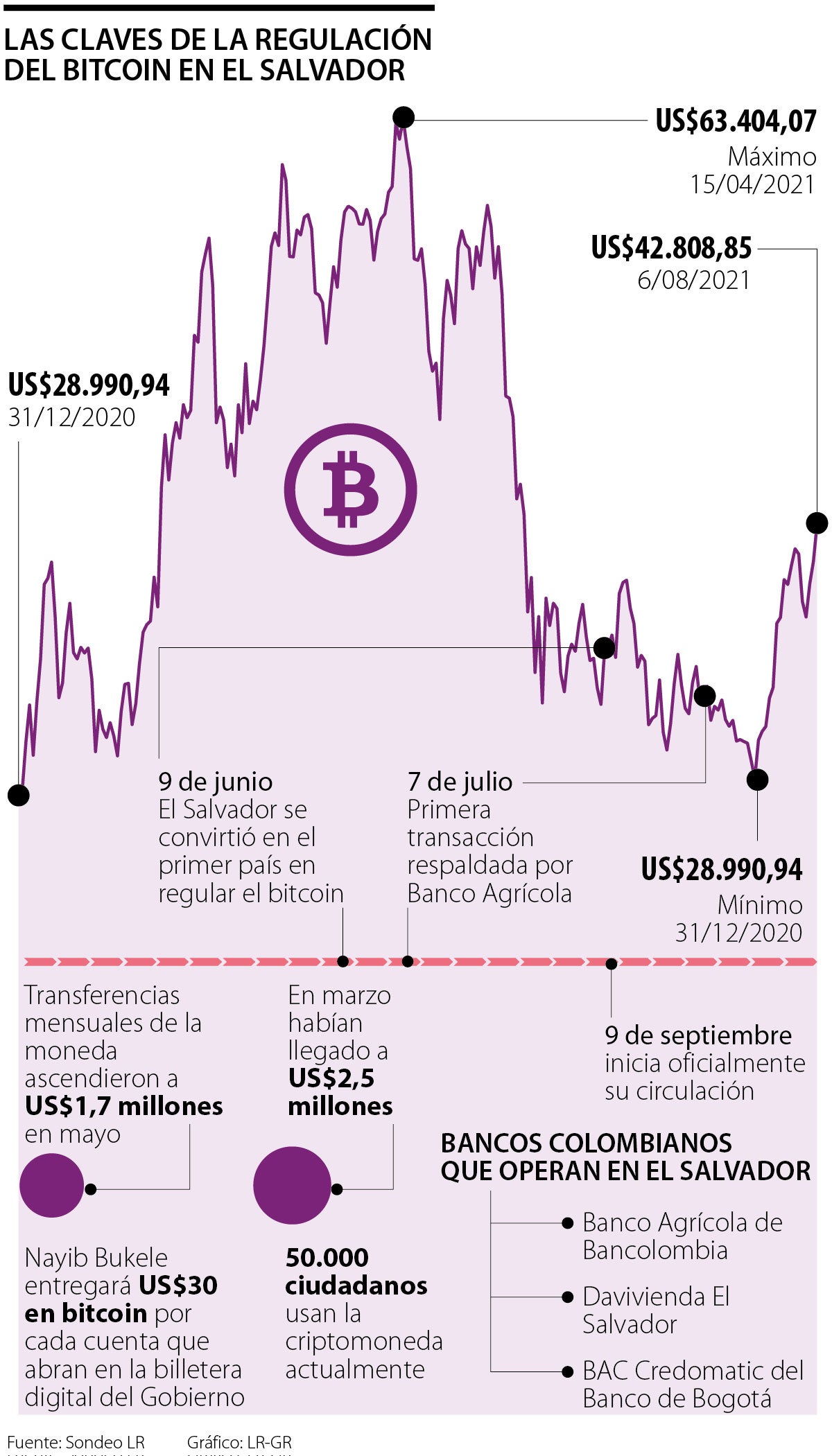 Jhon Torres Jiménez, economic and financial analyst, highlighted that, "if it begins to be verified that people are requesting products in bitcoin and that he also wants to go to the banks to negotiate with them, the entities would have to make a change in their operation ".
The expert added that the acceptance of bitcoin by entities would bring with it problems, "not only at the level of technological infrastructure, but also internally, they would have to find a way to keep financial statements."
Although an optimal and far-reaching development for bitcoin to circulate and be accepted could take about a year, analysts at JP Morgan have warned that daily payment activity in El Salvador would represent around 4% of the recent volume of transactions in the chain and more than 1% of the total value of tokens that have been transferred between wallets in the last year. Therefore, the lack of liquidity and the nature of the volume would potentially be significant limitations on its potential as a medium of exchange.
Fernando González Paz, president of BAC Credomatic, assured that "we are promoters of innovation and financial inclusion and, as such, we are attentive to the entry into force of the Bitcoin Law, as well as the rules and regulations."
Even so, Antonio Trujillo, a specialist in blockchain and crypto assets, pointed out that "statutory reforms of the central bank and the financial sector of that country will be needed, in addition to an ambitious financial education campaign so that the population can skillfully handle cryptocurrency."
"The complex task ahead led the Central American Bank for Economic Integration (Bcie) to announce that it will provide technical assistance," he added.
Advances and incentives
On July 7, the first operation between Salvadorans was carried out through the P2P exchange platform Hodl Hodl, which enabled operations in El Salvador for the purchase and sale of this asset, using transfers from Banco Agrícola as a means of payment. This, bearing in mind that hebanking will not operate directly with bitcoin, rather, each of the transactions will be carried out through a digital wallet.