By
Angel Di Matteo
@shadowargel
In the midst of the fall seen on August 12, the gains of XRP which exceeded USD $ 1 per unit during the day.
***
XRP increases more than 10% this August 12
We open our price report for this August 12, highlighting the increase capitalized by XRP, token launched by the company Ripple, which in the midst of the fall seen among the vast majority of the exponents of this market is going up with gains of 10.02%, trading at about USD $ 0.97 per unit at the time of publication.
According to data published in our section CritpoMarkets, The most remarkable thing seen with the XRP token was that the digital currency managed to trade at a maximum of USD $ 1.09 per unit during the afternoon of yesterday, a price that had not reached since June 3 of this year. After registering these levels, its value fell and is currently around the aforementioned levels, hovering around USD $ 1 per unit.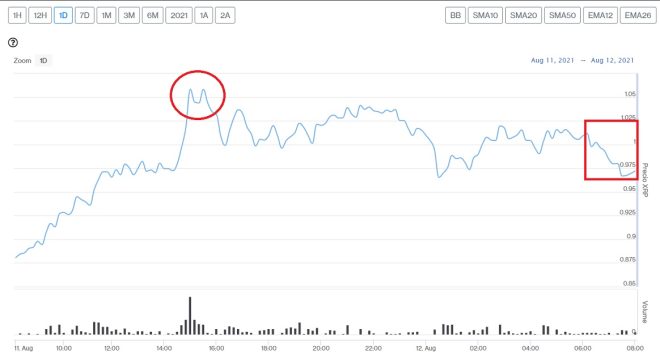 Case in courts and commercial agreements
As long as the token XRP brought a pleasant surprise to its users and enthusiasts, the judgment of the US Securities and Exchange Commission (SEC) against Ripple continues in court, where things seem to be going in favor of the service company Blockchain, precisely because of the number of small victories that it has managed to achieve throughout the process.
The latest news regarding the ongoing case is that the SEC requested to Ripple deliver the extensive history of conversations that the team has had through its communication channels Slack. Said request occurred when the latter acknowledged that they did not record all the messages due to errors in the processing of the information, so they are expected to record what was requested because of having openly acknowledged the failure in which they incurred.
However, the reason behind the increase capitalized by XRP in these last 24 hours could be mainly associated with the commercial agreements that it continues to finalize. Ripple despite the ongoing legal process. Among these, the most recent one established with GME Remittance, one of the largest remittance companies in South Korea, which announced yesterday that it is integrated with the payment network RippleNet.
It is worth noting that last month the remittance service based in Japan, SBI Remit, entered into an alliance with Coins.ph, a company associated with RippleNet.
Major altcoins go down this August 12
The good fortune of XRP It contrasts especially with the fall seen among the main exponents of this ecosystem, which are going down for this August 12.
In this order of ideas, the following cases stand out:
Bitcoin (BTC) falls to USD $ 44,648 per unit, with a fall of 3.55% in the last 24 hours.
Ethereum (ETH) reaches USD $ 3,109, falling 3.91% in relation to what was seen yesterday.
Cardano (ADA) fell back to USD $ 1.7 per unit, with a fall of 3.43% in the last 24 hours.
Internet Computer (ICP) is going down, losing more than 10%, trading at about USD $ 62 per unit.
In addition to the aforementioned cases, among the currencies with the most prominent fluctuations for this August 12 are the following cryptocurrencies:
Winners of the day
???? Winning Cryptocurrencies:$ XDC XinFin Network 22.15% (USD $ 0.12)$ XRP XRP 9.27% ​​(USD $ 0.98)$ IOTX IoTeX 9.23% (USD $ 0.11)$ KLAY Klaytn 7.57% (USD $ 1.48)$ NEAR NEAR Protocol 7.49% (USD $ 3.20)

https://t.co/rot0aezQzM

– Daily ฿ itcoin (@DiarioBitcoin) August 12, 2021
Losers of the day
???? Losing Cryptocurrencies:$ RVN Ravencoin -13.65% (USD $ 0.14)$ ICP Internet Computer -11.28% (USD $ 62.54)
$ SAFEMOON SafeMoon -10.08% (USD $ 0.00)$ KSM Kusama -9.11% (USD $ 260.00)$ EGLD Elrond -9.05% (USD $ 129.21)

https://t.co/rot0aezQzM

– Daily ฿ itcoin (@DiarioBitcoin) August 12, 2021
To buy cryptocurrencies through DailyBitcoin
Faced with the uncertainty that shakes the market, if you are one of those who see opportunities and want to acquire cryptocurrencies, we remind you that our section CryptoMarkets You already have buttons for you to proceed to buy your favorite digital currencies.
If you want to purchase Bitcoin (BTC), prefer to buy Ethereum (ETH) or do you want to get some Tether (USDT), you just have to access our page CryptoMarkets and click the buy button. We recommend everyone to be very attentive since this possibility will soon be incorporated for a greater number of digital currencies.
---
Report by Angel Di Matteo / DailyBitcoin
Picture of Unsplash