SUNDAY, September 17, starting at 17:00, the brothers Cristiano and Maurilio, real institutions of the hairdressing industry in Ascoli and beyond, will blow out the first 20 candles of their historic salon, fresh from an innovative restyling, in the company of friends and regular clients. clients. An open space that keeps up with the times, able to win over clients with a skillful combination of creativity and preparation, inherited from Gianfranco's father. Special guest Enzo Angileri, one of the most popular stylists in the world among Hollywood stars.
Music, dance, art and entertainment to celebrate this historic milestone together. the first 20 years of the hairdressing salon of the brothers Cristiano and Maurilio Allevi on Via Napoli.
In fact, it was 2003 when, after their first experience in the historical center, two brothers – authentic establishments in the field of hairdressing in the city and beyond – decided to transfer their professionalism to a point of sale, which soon showed itself to be cutting-edge, beyond the forms and habits of that time.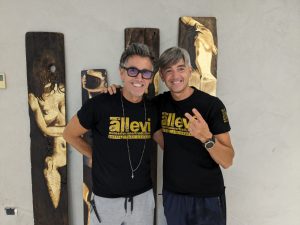 "We had no doubt that we would focus on Via Napoli, an extremely attractive artery in terms of services and ease of access. – Cristiano and Maurilio say – we knew we needed ground floor space and firmly believed that our storefronts should represent our best calling card.showing everyone what we are capable of"
A choice that soon turned out to be a winning one, allowing in a few months to make the new salon and its open space one of the most futuristic and ambitious in the Piceno area. Today, 20 years later, with an attractive restyling just completed, it's time to celebrate in the best possible way.
The ideal occasion is evening Sunday, September 17When the salon will reopen from 5 p.m.will gain dozens of clients and friends for lifewho over time became part of one big family – "Number one by tradition"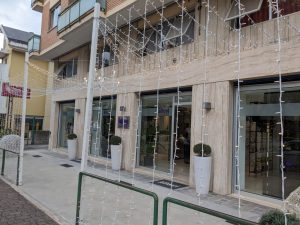 In fact, the motto that marks the most important stages of their brilliant career is much more than a simple slogan. This is evidenced above all by the enormous success achieved over the years by the salon, which over these twenty years has accompanied dozens of clients on a journey of style and elegance, but above all by a historical fact that recalls with pride the origins of the two Allevi brothers grandchildren and children of art.
"Our grandfather was a hairdresser and had license number 1 in the entire province of Ascoli Piceno. – Cristiano and Maurilio say – a few years later, our father Gianfranco he decided to go his own way after carefully appreciating the Anglo-Saxon methods brought to Italy by the London hairdressing guru Vidal Sassoondecided to go for the weekend in Milanwhere in the 1980s he had the opportunity to work in the best salons on Via Montenapoleone.
Our father was predecessor for our territory. At that time, curlers and backcombs helped create volume while hiding serious flaws in technique and geometry. There was a lot of skepticism around Sassoon, who, with the help of strict rules related to physics, physiognomy and gravity, actually succeeded sculpt with scissorswith shades and ranges that revolutionized the world of hair styling forever."
Leaving his Acquasanta with a dream in his chest, Gianfranco Allevi soon met a very young man in his Milan experience. Enzo Angileritoday one of the most popular stylists in the world among Hollywood stars, opening a professional collaboration with the future trusted hairdresser of Charlize Theron, Jennifer Lopez, Katie Holmes, Lucy Liu, Nicole Kidman, Shakira, Tom Cruise, George Clooney, Madonna, Jodie Foster and Katy Perry, and these are just a few of them.
In this sense, the evening of Sunday, September 17, will in all respects represent the closure of a circle. with Angileri himself present as an exclusive special guest at the Allevi brothers' party. Obviously, it will also be an opportunity to see Father Gianfranco again, who, together with his wife, still works in his salon in Aquasanta, entertaining the geometric cuts that made him and his children famous.
"We are still proudly Saxon – Cristiano and Maurilio say – and we come back to a technique that is really difficult to put into practice, but mastering which allows you to truly become number one. We started our professional journey in Rome with Franco Scarpais one of the 7 best cutters in the world, has been working in the capital for 20 years and has traveled half of Europe.
At that moment, in 1996, we decided to return to Ascoli with the goal of opening a hairdresser that could become a leader in a small town"
No sooner said than done. From that moment on, the Allevi brothers began a season full of personal and professional success and satisfaction. Beginning with cooperation with the best international cosmetic brandsSoon, Cristiano and Maurilio find themselves behind the scenes of the most important events in Italy and beyond. Miss Italy, Venice Film Festival and Milan Fashion Week. these are just some examples of the prestigious involvements accumulated over the years, as well as the relationships of trust and friendship built over time with stars of the caliber of Miriam Leone and Fabrizio Corona.
From this point of view, the twentieth anniversary of the Via Napoli salon represents for the Allevi brothers the last stage of a career full of fulfilled dreams for yourself and for others. Besides the daily activities in Ascoli and San Benedetto, Cristiano and Maurilio trainers for high-level hairdressers, collaborating with a multinational corporation and being an integral part of the Ambassador group. The goal here is to teach new generations the techniques behind classic cuts, advanced cuts and stylistic explorations.
"We are fortunate to know people of great caliber, communication with whom necessarily leads to the development of thinking at a very high level. Just like our employees, who can count on creativity Richardon Matthias – talent – ​​for masculinity, for creativity Martha for color, up Rebecca – very skillful and very nice – who cares about style and SonyaCristiano's wife and the authentic basis of the salon in Via Napoli, for which, thanks to the consultation of the architect Michele Palazzesi di Trea, we wanted to implement the decisive restyling.
Despite general skepticism, after 20 years we felt the need and made this bold choice: we don't know the future, but we face it without fear. This will be a universal salon. – add Allevi – within which we also take care of your makeup, color matching, and even your hands with a new gel and semi-permanent reconstruction service."
An ultra-modern salon, on par with hairdressing capitals such as London or Milan, which promises to bring another breath of innovation in the city. To fully appreciate it, just check out the big party on Sunday, where the combination of art, music and culture promises great entertainment.
Evening organized Roberta Piergalliniyou'll see Two acoustics take care of musical entertainment. A magnificent show is guaranteed by the lighting effects created by Lorenzo Agostiniwith the artist Patrizia Giacomini A very young dancer demonstrates her talent in painting and sculpture Julia Regnicoli perform, interpreting two choreographies from the dance school Tina Danceby name"My hope" AND "Tomorrow who knows"
What awaits the Allevi brothers' clients tomorrow? "Our clients will always be the center of attention and thanks to the international team we work with, they can count on constantly cutting-edge technology. New events, presentations of new collections and exhibitions will be held in the near future.
We want to have more and more fun, working as always and raising the bar of quality even further after 20 years of work at Via Napoli. We look forward to celebrating this important milestone with our most loyal customers and all those who would like to learn more about our operating philosophy."
PHOTO GALLERY
© ALL RIGHTS RESERVED
Go back to main page