World
At least 46 people died when a bus caught fire in Bulgaria | It is the worst European traffic accident in the last decade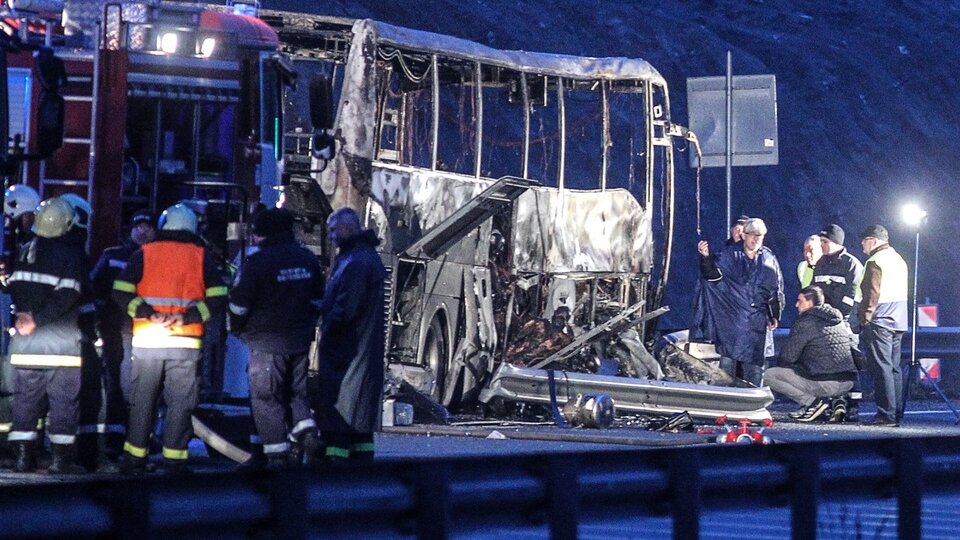 At least 46 people died this Tuesday when the bus they were traveling in caught fire on a highway in the municipality of Bosnek, near Sofia, the capital of Bulgaria. The authorities confirmed that there are children among the victims and pointed out that this incident it is the most serious of the last decade in Europe.
"It is a great tragedy," Bulgarian Prime Minister Zoran Zaev said, adding that "12 of the victims were under 18 years old, five of them were children. The rest were between 20 and 30 years old. "
The event it happened around 2 in the morning Tuesday on a highway in the municipality of Bosnek, 40 km south of Sofia, commissioner Nikolay Nikolov told BNT public television.
The bus collided with the security guardrail for reasons that were investigated, while on the way back to Skopje, the capital of North Macedonia, after having made a trip to Turkey.
Most of the victims were originally from North Macedonia, where the micro was registered, reported Zaev, who traveled to Sofia, to meet at the hospital with the seven survivors of the disaster, who suffered burns in different parts of the body.
According to the passengers, "most were asleep when there was an explosion and the driver was killed instantly", so there was no one who could open the doors and allow passengers to escape the flames, the national police report added.
The seven survivors were traveling in the back of the vehicle and "managed to break one of the windows" and flee the fire.
Hours after the tragic accident, the Government declared three days of mourning in Bulgaria. From November 23 to 25 (Tuesday, Wednesday and Thursday), the flag of the Republic of North Macedonia, as well as the country's diplomatic missions abroad, will be hoisted at half mast.

Alarming statistics
The last serious bus accident in Bulgaria dates back to August 2018, with 17 deaths, which crashed in torrential rain while transporting a group of Bulgarian tourists to Sofia after visiting a monastery.
Bulgaria, with a population of 6.9 million, registered some 627 road fatalities in 2019, and some 463 in 2020, a figure lower than usual due to sanitary restrictions that limited travel.
It is one of the worst statistics in the European Union (EU), fueled by poor roads, old cars, and frequent speeding.