A 3-year-old girl who died on Aug. 10 on a bus carrying asylum seekers from Brownsville, Texas, to Chicago suffered from pneumonia and intestinal problems, an autopsy showed.
The minor's name is Gismarie Alejandra Barbosa Gonzalez Driving on Highway 57 Join members of a migrant group bused by Texas Gov. Greg Abbott through Marion County in southern Illinois, about 90 miles (145 kilometers) east of St. Louis.
The minor died of bacterial colitis and aspiration pneumonia caused by Shigella flexneri, an intestinal disease, according to an autopsy report conducted by Marion County Coroner Troy Cannon.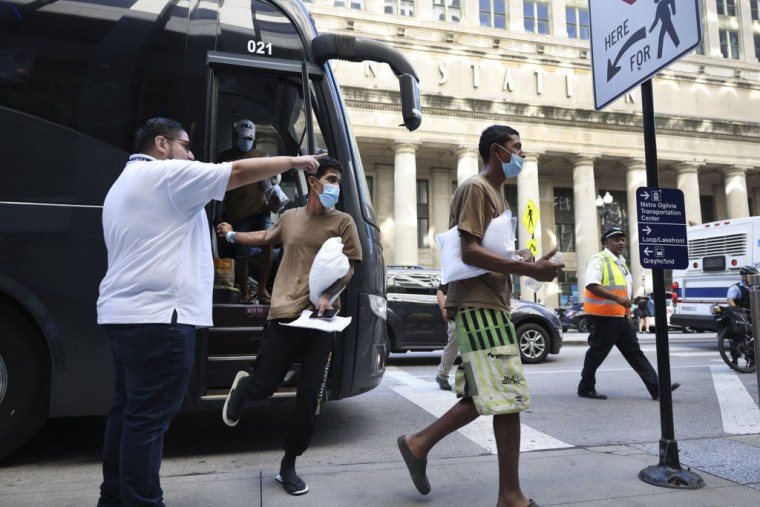 Diarrhea and vomiting caused problems with his electrolytes and caused inflammation in his brain, which contributed to his death, the report said.
The little girl tested positive for norovirus and rotavirus in her intestines and positive for RSV (respiratory syncytial virus) in her lungs, which can also cause diarrhea and respiratory problems.
"Obviously, Girl starts showing mild symptoms A statement from Cannon said he began feeling ill as the family boarded the bus in Brownsville. "At that time, he only had a low-grade fever and was allowed to board the bus."
"His weight and height were extremely low, with growth percentiles of 0.2 and 1.2 according to the World Health Organization Child Growth Standards, which were significant factors in his death," Cannon explained.
ABC said on the 20th that after her death, the Texas Emergency Management Department also confirmed the death of the girl and stated that once the minor developed health problems, the bus was stopped and the security guard called 911. After realizing Gismarie was unconscious, the bus stopped and 911 was called. .
The family began traveling to the United States in May from Colombia, where the girl was born, CBS News quoted the girl's great-aunt Gisela González as saying.
The woman, who lives in Venezuela, explained that the minor's parents, Jimmy Barbosa and Maria Angel Gonzalez, They traveled through five countries in Central America and Mexico Surrendered at a Border Patrol post on the border with the United States.
According to a statement issued by the Texas Department of Emergency Management (Texas DEM) after the deaths, each passenger on the bus underwent a medical examination before departure and was then processed by Customs and Border Protection. Ask them if there is anything that requires medical attention. Officials said at the time that none of the passengers had a fever or any medical issues.
(Family of immigrant who died in ICE center after reporting abuse demands answers)
The girl's funeral was held in August At a church in Warsaw, Indiana. Shelter Illinois, a program funded in part by the state, helped pay for Giesmarie's funeral expenses.
A GoFundMe has also been created to raise funds for the goal.
immigration journey
Abbott, a Republican, notified Chicago Mayor Lori Lightfoot, a Democrat, on May 1 that he would stop sending immigrants to her city, despite Lightfoot's requests that he stop doing so.
(A 29-year-old immigrant died of complications at a Border Patrol detention center in Texas)
Lightfoot complained in a letter that the city did not have enough resources to handle the influx of visitors. Some migrants are being held in public places such as police stations until they find shelter.
Abbott has criticized what he sees as the Biden administration's open-border policies as part of an operation that has sent more than 30,000 migrants entering Texas from Mexico to Chicago, Washington, New York, Philadelphia, He called Lone Star in cities like Denver and Los Angeles.