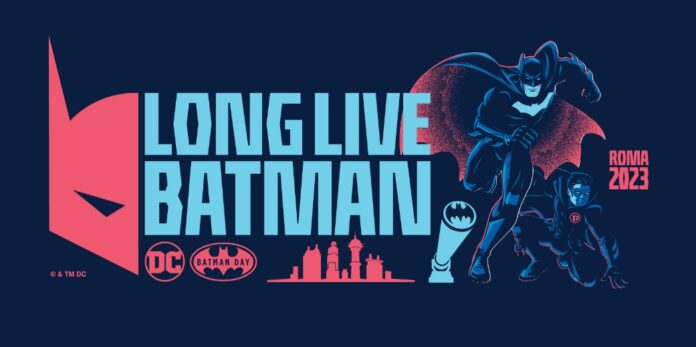 On September 16th, fans from all over the world come together to celebrate Batman Day and celebrate your love for a superhero ANNOUNCEMENT, one of popular culture's most iconic and enduring characters. In honor of this annual tradition, DC and Warner Bros. Discovery, along with some of its most important partners, is presenting events, initiatives and product launches dedicated to Gotham City's protector.
Batman Day 2023 will reveal some of Batman's most iconic teams around the world: friends, allies or dangerous foes, fans will be able to celebrate the Dark Knight universe through the characters who, along with Batman, made him so memorable.
On September 16 and 17, the Maximo shopping center in Rome will host a festive area dedicated to Batman and his most loyal ally: Robin. Inside the zone will be a variety of graphics to create unforgettable photos and videos in the world of Batman: from the Bat-Signal to the Gotham City skyline, every fan will have the opportunity to immerse themselves in the most iconic elements of the Dark Knight. It will also feature graphics celebrating the dynamic duo: Batman and Robin. Plus a life-size statue of one of the most beloved and treasured versions of Batman seen in a movie theater.
Boomerang (Sky Channel 609) is celebrating Batman Day with a full weekend of September 16th and 17th, during which Batwheels will be the channel's absolute highlight. Batwheels is DC's new and first can't-miss preschool series starring Batman, Robin and Batgirl. Full of action and adventure, the series combines two of kids' favorite elements: superheroes and cars! In fact, the series revolves around a team of young super-powered vehicles who protect Gotham City from crime alongside a host of iconic DC heroes. From October 30, Batwheels will be available exclusively on Prima TV for free on Cartoonito (DTT channel 46).
To celebrate Batman in September, Sky will launch a new episode of the pop-up channel SKY CINEMA BATMAN in Italy from September 25 to 30.
The channel will feature: Batman With Robert PattisonThe Dark Knight trilogy Christopher Nolanand cult films about Batman Tim Burton (Batman, Batman Returns) e Joel Schumacher (Batman Forever, Batman and Robin). All films will also be available on NOW.
Warner Bros. Games and DC recently announced Batman: Arkham Trilogy for Nintendo Switch, is already available for pre-order. A collection of award-winning Rocksteady Studios video games, bringing together Batman: Arkham Asylum, Batman: Arkham CityAND Batman: Arkham Knight in one final package. Batman: Arkham Trilogy will be available starting October 13, 2023 for Nintendo Switch and will include all downloadable content (DLC) released to date for each of the three games. All fans will be able to put themselves in the shoes of the Dark Knight and immerse themselves in the legendary Arkham universe to bring DC's most notorious criminals to justice. The Nintendo Switch Trilogy is developed by Turn Me Up Games.
The Batman Day celebration is also updated with a variety of new comics. Among the many games that will hit the shelves in honor of Gotham City's defender, Panini Comics offers a special volume designed to best celebrate this anniversary: ​​Batman Day 2023: Friends and Foes. With many of Gotham City's friends and "special guests" supporting the Dark Knight, the common thread of the stories contained in this collectible anthology is the joining of forces, which is the main theme of Batman Day 2023. for Italy, "Batman Day 2023: Friends and Foes" will also be available with a variant cover designed by Antonio Fuso, featuring an exceptional protagonist alongside the Dark Knight: rapper and producer Hell Raton, face of the Kappa collection dedicated to Batman.
The first issue of Batman: Gotham Gargoyle will also debut in Italy on Saturday, September 16th, as part of Panini Comics, a brand new and highly anticipated DC/Black Label comics series from cartoonist Rafael Grampa, consisting of 4 issues released every two months.
Batman Day is coming too eBay: one will live until September 24 official store dedicated to the Dark Knight and the world of DC. The store's global market offering includes an exclusive selection of new releases and collectibles, from Iron Studios 1.10 scale resin figurines to popular Funko POP figures (some limited edition) and Lego playsets. In addition, a collection of home videos featuring the masked hero will be available for purchase, some in steelbook or special packaging. Treasure hunting like no other: The eBay store will feature a space dedicated to the Batman community where fans can purchase hard-to-find items to add to their memorabilia collection.