Saturday, August 12 – Sunday, September 3, 2023
OPEN ADA, via Repubblica 6, Torre Pellice (To)
EXHIBITION OF UNIQUE WORKS OF BENI JANSIRACUZA
DEDICATED TO THE GREAT ICONS OF WORLD CINEMATOGRAPHY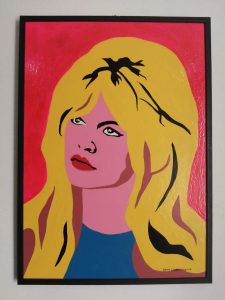 Organizer: Association Decima Arte.
In collaboration with AttiniArte
Project curator: Monica Nucera Mantelli
Inauguration Saturday 12 August at 17
Guest: Professor of Film History and Criticism Liborio Termine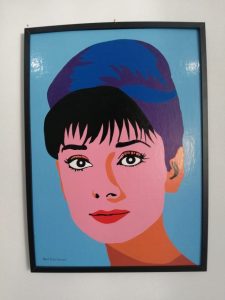 BENY AND THE CINEMA is a portraits retrospective of Beni Giansiracuse's 2D works, unique pieces and screen prints, from Saturday, August 12 to Sunday, September 3, 2023 at the OPEN ADA premises at via Repubblica 6 in Torre Pellice. charismatic personalities of world cinema, made over more than thirty years. His reinterpretations are on the decline, thanks to a creative review of almost a century of film history, of the most popular and beloved film icons: from Stan Laurel and Oliver Hardy to Charlie Chaplin, from Sophia Loren to Penélope Cruz, from Tina Pica to Marilyn Monroe. , from Audrey Hepburn to Brigitte Bardot.
Days and hours of the exhibition: on weekends – on Saturday and Sunday in the afternoon from 15 to 18, on Friday by appointment (tel. 3479756902). The entrance is free.
SHOW CONCEPT
This Sicilian-born manufacturer from Turin has been inventing surreal meeting opportunities for celebrities of all time every day. Thanks to his very rich production of unique and numerous works, always close to the theme of "Myths and Stars", Gianciracusa has become a strategic figure not only in the world of screen printing, but also due to his innate ability to rethink archetypal models. that they were part of our history of customs and society.
On the occasion of the extended opening of Notte Bianca on 12 August in Torre Pellice, the Decima Arte Association, photographer and publisher Antonio Attini and Open ADA Artistic Director Monica Nucera Mantelli will open a thematic exhibition from 15:00 to 23:00. .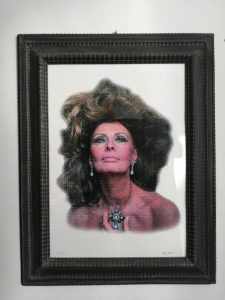 At the age of 17, at the official opening, an exceptional guest: the table of the cultural center will be chaired by film and aesthetics expert Prof. Liborio Termine for a case study, together with Monica N. Mantelli (Artistic Director of Open ADA), on the symbolism presented by Beni Gianciracusa, through analysis some icons of an extensive celluloid panorama. On the screen, a colorful slideshow visually tells about the huge work of Giansiracuse in the form of a collection of forty works exhibited on the walls and on easels. famous Turin silkscreener, who died in 2022. We will talk about the hybrid phenomenology to which this peculiar artist belongs. Notable: the creation of a special thematic showcase with historical cinema and a self-portrait of the artist.
FIRST GUEST
TERM LIBORIO
Liborio Termine, Professor of Film History and Criticism at the University of Turin and Cora in Enna, published among others: "The Aesthetics of Simulation" (Turin, 1976), "Problems of Film Criticism and Methodology" (Turin, 1979), "Inside the Image ". (Turin, 1979), Photographic Writing (Florence, 1987), Innocent Heretic (Palermo, 1987), Pirandello D'Annunzio and Cinema (Palermo, 1988). He led the research units in the DAMS department. He taught at foreign universities (England, Spain, Iceland, France). He has participated in national and international conferences. He was Dean of the Faculty of Languages ​​at the University of Turin and served as Dean of the Faculty of Arts and Communication at the University of Enna. He collaborates with the Mario Brus Theater Academy in Turin.
ARTIST IN OPEN ADA
(March 20, 1951 – February 5, 2022)
BENI JANSIRACUSA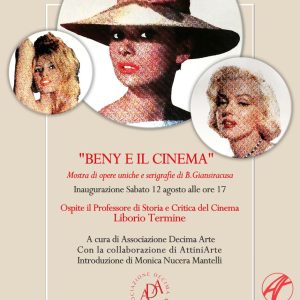 "Benny Jansirakusa, originally from Syracuse, was born in Turin on March 20, 1951. From a very early age, he became part of the world of graphics and screen printing, popular art. Few people know about it, but screen printing is one of the oldest graphic techniques, dating back to the Phoenician era. Beny Giansiracusa begins to enter this creative world first with the creation of road signs, metal sheets, signs and posters. It was only after the 1970s that Beni began to use the silkscreen technique to create an extraordinary array of images, collaborating with many artists from Turin. His work gives a new impetus to the silkscreen technique, mixing shapes and colors in a completely original way, never seen before. The creative soul that distinguishes him is constantly renewed and this certainly makes him the undisputed master of Italian screen printing. His simplicity and spontaneity allow him to extricate himself with exceptional skill in drawing, in painting, in portraits of historical figures, in advertising, in decoration, in comics. An unusual feature of his work lies in its dissimilarity to traditional artistic patterns. Beny Giansiracusa manages to go against the current, he manages to create what no other artist could imagine. This is a unique and inimitable character who works seriously and persistently and has the technical knowledge that can enable him to cope with any task. His works are becoming more and more real icons of our society. Throughout its existence, Beni Jansirakusa has practiced magic, writing fairy tales in various forms. Another feature that characterizes his work is his extraordinary sense of color. All his art is essentially color. Lively, intense, almost impetuous color. Beni uses color as a means of expression, to convey her thoughts, it's almost a form of intelligence. "Benny Jansirakusa does all of this for an important reason, because he wants to give humanity to what he composes, and it is the person who should appear in his images. As he paints and paints and invents, he witnesses that sense of humanity that is expressed in his most sincere work." (Janus)
Read the latest news here: TURIN