By
Angel Di Matteo
@shadowargel
Hand in hand with the increases registered by Bitcoin and Cardano This August 23, the major altcoins also capitalize on profits for the time of publishing.
***
Bitcoin surpasses the barrier of USD $ 50,000 this August 23
A new week begins and we open the price report for this August 23, highlighting the increase seen in the price of Bitcoin (BTC), a currency that at the time of publication is quoted at about USD $ 50,226 per unit, with a slight increase of 2.12% in the last 24 hours.
This is reflected in data published by CoinMarketCap, which reveal that the price of Bitcoin as such it surpassed the USD $ 50,000 barrier shortly before 11:00 pm (New York time) yesterday, a point on which it has remained until the time of publication despite the fluctuations seen throughout this 23 of August.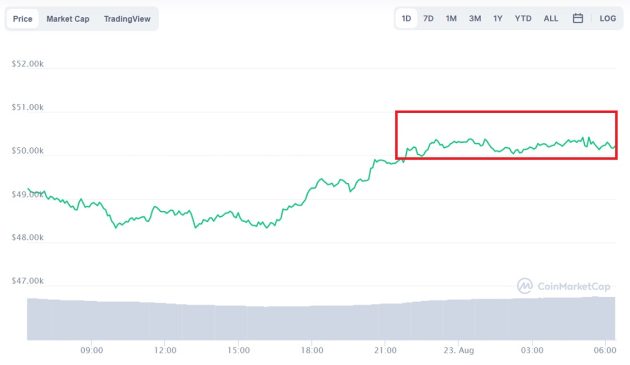 Enthusiasm in the Bitcoin market
It is worth noting that the last time we saw Bitcoin over USD $ 50,000 was in the middle of last May of this year. However, at that time the digital currency was going down after the events that took place throughout that month, especially after the announcement made by Tesla in which it suspended payments with the cryptocurrency, as well as the statements of the Chinese government against of the commercialization and mining of these assets.
Let us remember that before the previously mentioned announcements, Bitcoin capitalized on new all-time highs and broke the USD $ 60,000 per unit barrier. Therefore, this increase for many represents a new bull run, which would bring with it the possibility of seeing other important peaks in the coming days / weeks.
Meanwhile, the commercial enthusiasm for the digital currency is also being felt in the main markets, as the volume of daily operations increased more than 6% compared to yesterday, reaching about USD $ 31,644 million at the time of publication. at this time.
It is also important to note that with their current prices, Bitcoin registers a market capitalization of more than USD $ 942,427 million for this August 23, so if these conditions are maintained, very soon we could see that it amounts to USD $ 1,000,000 million (USD $ 1 trillion) in the coming days .
Cardano records new all-time highs this August 23
Another coin that brought pleasant surprises in these last 24 hours was ADA from Cardano, which registered new all-time highs throughout the day and is trading at about USD $ 2.82 per unit at the time of publication, increasing almost 8% compared to what was seen yesterday.
According to information published by CoinMarketCap, The digital currency reached a maximum of USD $ 2.88 a few hours ago and there are great expectations that it will pass the barrier of USD $ 3 if the conditions remain similar throughout this August 23.
In this regard, analysts and enthusiasts associate the existing expectations around the arrival of smart contracts to the network, whose date is scheduled for September 12 through a large-scale update (hard fork). Let's remember that both IOHK as the Cardano Foundation They have been promoting commercial agreements in the face of this moment, so there are governments, public and private entities interested in testing the benefits of their network Blockchain through various use cases thought with its technology.
Winners and losers of the day
While Bitcoin and Cardano They are listed as the great surprises of the day, below we review the cases with the most pronounced fluctuations for this August 23.
Winning cryptocurrencies
???? Winning Cryptocurrencies:$ DASH Dash 18.43% (USD $ 280.89)$ AMP Amp 15.95% (USD $ 0.07)$ XMR Monero 15.94% (USD $ 329.54)$ TEL Telcoin 15.9% (USD $ 0.03)$ RUNE THORChain 15.75% (USD $ 12.14)

https://t.co/HsIx58BGZC

– Daily ฿ itcoin (@DiarioBitcoin) August 23, 2021
Losing cryptocurrencies
???? Losing Cryptocurrencies:$ SOL Solana -4.67% (USD $ 72.97)$ HEX HEX -3.6% (USD $ 0.18)$ BCHA Bitcoin Cash ABC -2.3% (USD $ 79.90)$ ATOM Cosmos -2.08% (USD $ 22.11)$ WAVES Waves -1.83% (USD $ 25.79)

https://t.co/HsIx58BGZC

– Daily ฿ itcoin (@DiarioBitcoin) August 23, 2021
To buy cryptocurrencies through DailyBitcoin
Now what Bitcoin and the main cryptocurrencies register significant increases, if you are one of those who see opportunities and want to acquire cryptocurrencies, we remind you that our section CryptoMarkets You already have buttons for you to proceed to buy your favorite digital currencies.
If you want to purchase Bitcoin (BTC), prefer to buy Ethereum (ETH) or do you want to get some Tether (USDT), You just have to access our page CryptoMarkets and click the buy button. We recommend everyone to be very attentive since this possibility will be incorporated soon for a greater number of digital currencies.
---
Report by Angel Di Matteo / DailyBitcoin
Picture of Unsplash