Pietro Baragiola
Last 12 May V famous British auction house Christie's The sale of the largest collection of precious objects ever owned by a private individual was completed in Geneva: there Austrian billionaire Heidi Horten.
Comprises 700 of the most prestigious jewels heiress, auction reached record amount of 202 million dollars, breaking the record of 116 million held by Liz Taylor's collection in 2011.
A second auction was scheduled for November, but a large protest organized by several Jewish organizations forced Christie's to cancel the event because accused of promoting Nazi crimes.
In fact, Heidi's fortune was largely built by her husband. Helmut Horten, former Nazi Party memberwho in the 1930s made a fortune from the forced requisition of several Jewish businesses.
Christie's attempts to donate a portion of the auction proceeds to Holocaust education initiatives were not enough to quell protests from Jewish associations such as Yad VashemIsraeli Shoah Museum, which they defined as "dirty moneyproceeds from the sale of Horten's jewelry, accusing Christie's of "deliberately concealing Helmut's past."
"In an era of Holocaust denial, we find it appalling that a world-famous auction house would undertake such a sale," he said. Yoram Dvash, President of the World Federation of Diamond Bourses.
After months of debate, Christie's representatives in Geneva decided on Thursday, August 31, to cancel the new auction.
The Nazi past of Helmut Horten
Born in Bonn in 1909. Helmut Horten he was not from a rich family. As a child, he worked as an apprentice in a department store in Düsseldorf for several years and then moved to Duisburg to work for a company. Gebruder Alsberg.
WITH The Nazis' rise to powerMany Jews were subjected to pressure from the Third Reich. sell your assets at discounted prices and Helmut, at just 27 years old, managed to buy the company he worked for by paying no more than 65% of its value to the Jewish owners Strout and Lauter, who had fled to the United States.
Proud of his new venture, Helmut advertised the purchase in a Nazi Party newspaper, declaring that the store had "become Aryan property."
After 1938 this "Aryanization" of Jewish business in Germany he became more aggressive with forced sales and increasingly lower prices, and Horten was actively involved in these acquisitions, even going so far as to participate in commercial agreements relating to the Nazi occupation of European territories from Amsterdam to Prussia.
His sympathies for Nazism led Helmut after World War II to interned in Recklinghausen until 1948, and then continued to expand his company. One of his main successes as an entrepreneur was importing an American supermarket model to Germanywhich made him one of the richest men in the country.
In 1960, Helmut met his future wife. Heidi JelinekHe was just 19 years old and they married in 1966 and lived a life of splendor.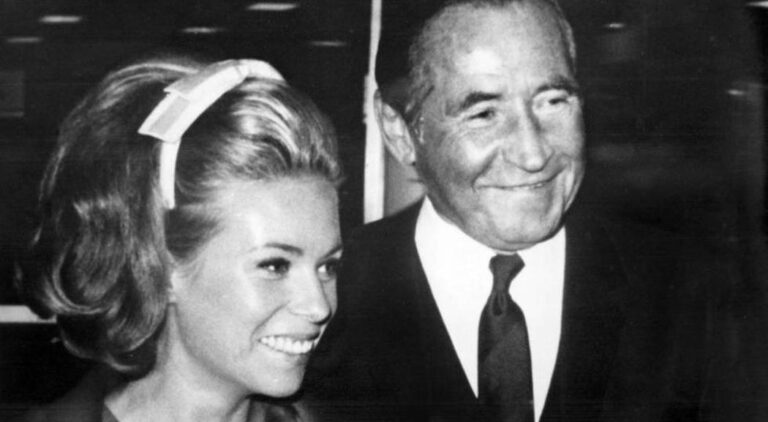 During this period, Horten's company achieved a turnover of one billion euros in marks and employed more than 25,000 people, but the German entrepreneur's past constantly cast a shadow on his company's income.
Stephanie Stefana former journalist from Munich, even published a book in which she described the acquisition in detail Gerson, one of the Jewish companies that came under Horten's control. The book, in addition to the testimony of Stephanie's father, Reinhold, who was on the board of directors of Gerzon, contains a sworn statement from the Jew Arthur Marx, according to which Horten should threatened members of the board of directors with deportation to concentration camps if they opposed the sale of the company.
Despite these accusations, once listed on the Frankfurt Stock Exchange, Horten's company continued to expand, and after Helmut's death on November 30, 1987, his wife Heidi inherited a fortune in excess of a billion dollars, the origins of which are still controversial.
Jewels by Heidi Horten
It was Helmut who inspired Heidi's passion for collecting who, after the death of her husband, could already boast of a collection hundreds of works of art.
Nominated Forbes "One of the 500 richest people in the world," Heidi often participated in various jewelry auctions, always purchasing anonymously. The most memorable of these events took place in Geneva in 2018, when during an auction jewels that belonged to Marie AntoinetteFor the exorbitant sum of $36 million, Heidi purchased the most valuable item in the collection: a pendant made of a huge baroque pearl, studded with diamonds. For months, the identity of the buyer remained a mystery until the pendant reappeared in public around Heidi's neck during a charity ceremony.
Although his collection included precious works created by the world's largest designers, including Briolette India From Harry Winston (necklace with a pear-shaped diamond weighing 90 carats), ring Cartier with a 25 carat ruby ​​and a wide selection of colored pearls and diamonds from Bulgarians, Van Cleef and Arpels AND Tiffanyno one had an accurate idea of ​​the amount or type of valuables owned by the Austrian billionaire.
"Even we, despite collaborating with her often, had no idea about the size of her collection," he explained. Leo CriacoHead of the jewelry department at Christie's auction house in Milan.
Everything changed in 2023, when Christie's auction opened in Geneva. The world of Heidi Hortenauction held on May 10 and 12, which showed the world 700 jewels the most prestigious of Heidi's collection, which became the highest-grossing sale of precious objects in history: $202 million, compared to the originally expected $150.
"Heidi had a keen eye and created an exquisite collection that included some of the most beautiful jewelry ever to come to market," he said. Max Fawcett, head of the Christie's jewelry house in Geneva. Considering the extraordinary profits, one new auction was scheduled for November, starring me 300 pieces remaining from the collection, but protests from the Jewish community led to their cancellation.
Auction canceled
Thursday, August 31st, Christie's official opening Second Horten Jewelry Auction Canceled. The decision comes after many Holocaust survivors accused the British auction house of deliberately hiding Helmut Horten's Nazi past in order to profit from it.
The provenance of works of art and collectibles is a long-debated topic, and auction houses around the world are trying to give themselves stricter guidelines. In particular, at Christie's launched several auctions of works of art stolen by the Nazis over the years to his fellow Jews, but never before had he encountered such unfavorable public opinion.
In response to May Horten's jewelry sale, US Holocaust Survivors Foundation launched an epistolary campaign demanding that Austrian cultural institutions stop collaborating with Heidi Horten Collectionan art museum dedicated to the Austrian billionaire who died on June 9, 2022.
By supporting this campaign, Tel Aviv Art Museum canceled the conference Thinking about restitution Christie's auction will take place in December because it "does not intend to provide a platform within the Jewish state to justify the depredations committed by Holocaust perpetrators."
Christie's tried to quell this debate by explaining that none of the jewelry sold was purchased or confiscated during the Holocaust, but protesters stubbornly responded that "even if the jewelry itself was not looted, the money is linked to Nazi coercion and theft." Jewish property, and collectors should remember this."
These heated debates had convinced the management of the auction house to reconsider its position and block the sale of the remaining 300 pieces of jewelry belonging to the Austrian billionaire.
"The sale of Heidi Horten's jewelry collection has attracted a lot of attention, and the reaction has deeply affected us and many others," he said. Anthea PiercePresident of Christie's EMEA division.
This result was praised by several Jewish communities, who defined it as an important victory for Shoah survivors and a clear signal to all auction houses about the consequences of continuing to sell this type of contaminated goods.