Showbiz
Claudio Vargas Ojeda presents "The other side of the postcard"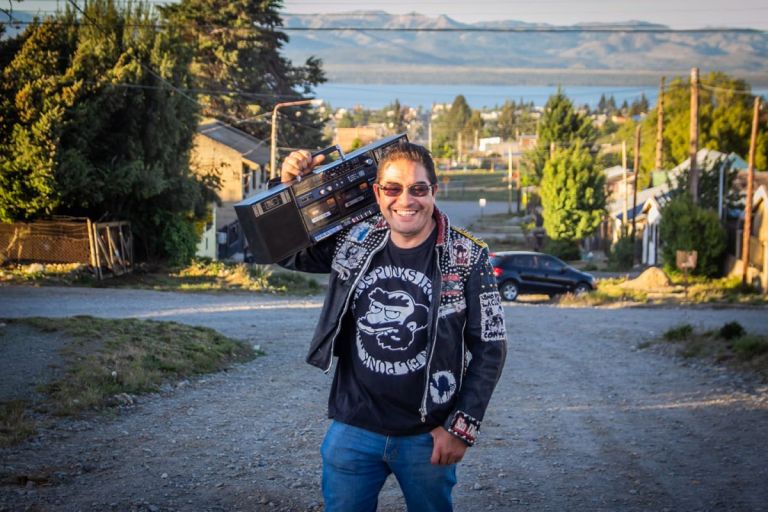 The book begins with Estados Alterados, the first band of the genre, in 1983. In addition to local groups and visitors, it recalls alternative radios, fanzines, young supplements and above all, the impressions of 80 interviewees who were protagonists.
Almost a year and a half after he spoke about his project with El Cordillerano, he is ready "The other side of the postcard. Punk in Bariloche ", the book with which Claudio Varga Ojeda wanted to take a decade of sharp, quarrelsome and urgent music out of the shadows. The work will be presented next Saturday (January 15) during an atypical day, in which there will be other presentations, visual arts and a festive atmosphere. In the Alto, of course …
With the first copies already in his possession, the author renewed the dialogue with this newspaper: "during this year and a half I think I managed to gather a very high percentage of the history of punk from Bariloche. From the first band in 1983, which was Estados Alterados, until more or less the year 2000. That also led me to write about some trips that some bands made, within the province or to Chubut, Neuquén and even some things that happened in Buenos Aires".
Following in the footsteps of punk from Bariloche caused the investigation to cross the mountain range: "I did a little history of the movement in Puerto Montt, because several bands got together," he shared. "In addition, a count was made of all the organizations and groups that were formed through punk, whether they were political, social or youth," added Vargas Ojeda. Social and political history, they tell him in the academy.
His gaze broadened: "I also speak a little about alternative FM radios and the publications that came out in Bariloche, the case of fanzines such as Sektor 69, Disobey is dignity, Annoy the darkness, Repressed minds, Dead innocence or Free will, which was from (Engineer) Jacobacci. In addition, there is everything that happened in newspapers, magazines and in the young supplements ". During the period under analysis, the young supplement of El Cordillerano was called "Habrá Storm", with the pen of Rubén Darío Lagrás and who signed. It lasted a couple of years.
The 90s scene was characterized not only by the local agitation. "I delved into the visits of punk and hardcore bands to San Carlos de Bariloche, because they also marked an era and made our bands visible from abroad", Vargas Ojeda considered . "Over there, they put them on the table in places that we never imagined, such as Madhouse magazine, the Yes and No supplements by Clarín and Página12", respectively. "Places where we never thought they were going to replicate us," conceded the researcher.
Seriously, your contribution will be important and will transcend the merely musical limits, because "I was able to collect the stories of many people from Bariloche linked to music. I estimate that I did about 80 interviews with neighbors, friends and colleagues in music and that is good, because it became a collective book. That was one of my main ideas and I was able to carry it out, "he shared.
Small gesture that exalts, "one of the greatest joys it gave me was recovering the history of the only punk band that, until now, had the South Line. It was from Jacobacci and it was called Tranka. They never managed to play with punk bands from Bariloche, but thanks to the contribution of the locals, they wanted to show those rhythms in their area. I see that as very important, "Vargas Ojeda said.
"The other side of the postcard" will be presented from 15 on Saturday (January 15), at the Chilean Circle Gabriela Mistral (Neuquén and Sarmiento. "Basically, it will be a talk about how this book was built, with the people who participated In addition, there will be a sample of photographs on a giant screen of things that were left outside and also, what is shown in the book ", anticipated the author.
However, "we are not only left with that, because I am going to share with Matías Rinaldelli, who also has his publication to present". It is about "Voluntary pain. Tattoo artists and tattooed stories ". On the other hand, "there will be a traveling exhibition of paintings, by Carlos Ortuño and some other cartoonist." In addition, there will be for sale records, cassettes and books, in general, related to music.
Beyond the specific lectures, if there will not be something on Saturday, it will be silence: "they will find a lot of music from the 80s and 90s to liven up the evening, the music we were listening to at that time." In the place where cuecas usually sound, "what we choose for this occasion are basically Latin American bands, no English, American or European bands, because they are the ones that are always heard," Vargas Ojeda apologized. We are going to listen to the things that formed us at that time and that we were able to fully understand ", thanks to the language. A piece of Barilochense history, seen from punk.
function toogleSeachBar() { if ($('#searchBar').is(":visible")) { hideSearchBar(); } else { showSearchBar(); } } function showSearchBar() { $('#searchBar').show(); $('#menu, .header-scrolled-container, .header-scrolled-container2').hide(); } function hideSearchBar() { $('#searchBar').hide(); $('#menu, .header-scrolled-container, .header-scrolled-container2').show(); }
$(document).ready(function () {
setTimeout(() => { window.fbAsyncInit = function () { FB.init({ appId: '1492337167736839', autoLogAppEvents: true, xfbml: true, version: 'v8.0' }); };
(function (d, s, id) { var js, fjs = d.getElementsByTagName(s)[0]; if (d.getElementById(id)) { return; } js = d.createElement(s); js.id = id; js.src = "https://connect.facebook.net/es_LA/sdk.js"; fjs.parentNode.insertBefore(js, fjs); }(document, 'script', 'facebook-jssdk')); }, 3000);
});