World
Coronavirus: What the first person to receive the vaccine said, one year after the puncture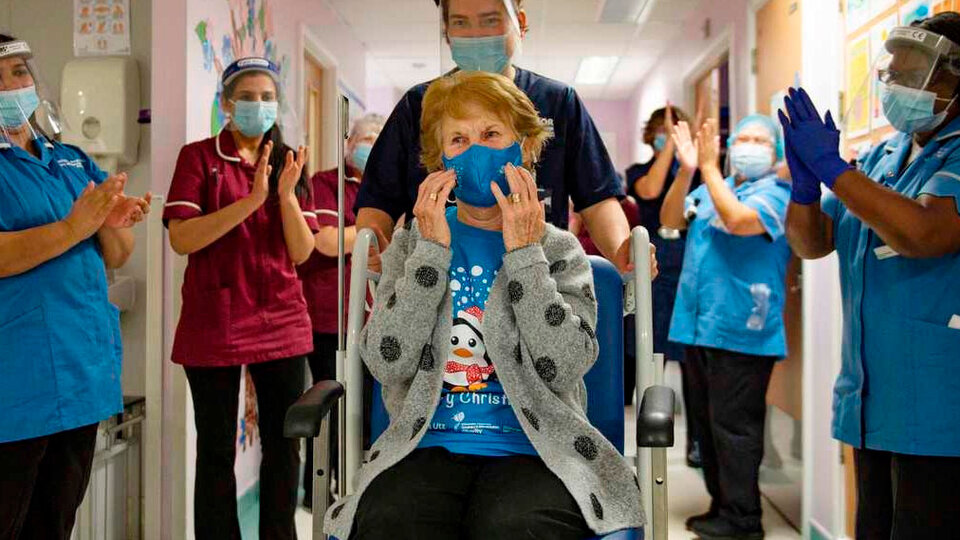 Exactly one year ago, in the United Kingdom, the first western coronavirus vaccine was applied, a milestone that, after 10 months of suffering and uncertainty due to the arrival of an unknown virus, brought to the world some joy and, above all, hope.
The first vaccinated was Margaret Keenan, 91 years old. The woman, retired for 4 years from her employment in a jewelry store, was inoculated with the formula of Pfizer-BioNTech on Tuesday, December 8, 2020 at 6:45 a.m., in front of the cameras that were waiting expectantly for the moment of the puncture.
"I feel very privileged to be the first person to be vaccinated against covid-19, it is a premature birthday gift. I hope next year to be able to spend more time with my family and my friends after being alone for so long, "she then told the Sky network.
The nurse who vaccinated her, meanwhile, recognized the "great honor" it meant for her to be the first to administer an immunizer against covid. "I am happy to participate in this historic day. The last few months have been very tough at the National Health Service. At last there is light at the end of the tunnelMay Parsons declared that day.
This Wednesday, one year after that emotional moment, Keenan and Parsons met again, hugging each other. "It felt great (being the first inoculated), I honestly couldn't believe things were so good afterwards. At the time I wasn't feeling well, but once I got the puncture and things started to get better, I had a wonderful yearThanks to the National Health Service (NHS), "Keenan said.
"People meet me on the street and thank me"For encouraging them to get vaccinated, she celebrated." Even young people, "she said, surprised."Please go get the prick, could save your life and the lives of your friends and family and, of course, the NHS, "concluded Keenan, in a message to those who have not yet put their arm.
The first Minister Boris JohnsonFor his part, he highlighted the success of vaccination in the United Kingdom and urged officials to expand the ongoing booster dose program, due to the appearance of the new omicron variant, which is already present in 57 countries.
"Vaccines remain our first and best line of defense against the virus"Johnson insisted. Since the start of the immunization campaign, the UK has administered almost 120 million doses to its population of 67 million people, between first doses, second doses and boosters.