Inspired by the tried and tested nursery rhyme about the twelve months of the year, we at Aiace Vda have filed March as "crazy" and identified six titles through which cinema and television series have explored the theme of madness psychologically, anthropologically and socially. Ladies and gentlemen, we are about to experience some turmoil. Please return to your seats immediately and fasten your seat belts. The craziest plane in the world is about to take off.
IDENTITY by James Mangold, available on Netflix
USA, 2003
Thrillers, horrors
Cast: John Cusack, Ray Liotta, Amanda Peet, Alfred Molina, John C. McGinley, Pruitt, Taylor Vince.
A storm brings eleven strangers to stay in a motel, but one by one they start to die in a sort of remake of "And Then There Were None": in the background, the request for revision of sentence of death sentence of a mass murderer, the night before the execution.
"Identity" tells the story of Malcolm Rivers (Pruitt Taylor Vince), serial killers sentenced to the electric chair, who the night before being executed sees his case reopened in the face of new evidence. Here we find ourselves catapulted into a motel along the American highway where, due to a fortuitous storm, a series of very ambiguous characters meet. There is a policeman with his prisoner, a limousine driver with the actress he works for, a couple with a child, a couple in crisis, a prostitute and of course the motel concierge: but they will all really be who they say they are? In a crescendo of tension and suspicious deaths, the film brings the two narrative lines together, while madness and ambiguity become the real cornerstones of the narrative.
If you liked it, you can watch "Gothika" (Mathieu Kassovitz, 2003), available on Netflix, "Shutter Island" (Martin Scorsese, 2010) and "Split" (M. Night Shyamalan, 2016), available on Amazon Prime.
TAKE SHELTER by Jeff Nichols, available on Amazon Prime Video
USA, 2011
Dramatic
Cast: Michael Shannon, Jessica Chastain, Tova Stewart
If you are looking for a work that deals with the theme of madness in a way that is anything but superficial, "Take Shelter" by Jeff Nichols is the title for you.
The film tells the story of Curtis LaForche, masterfully played by Michael Shannon, a small-town man who lives with his wife Samantha and their 6-year-old deaf daughter in an old country house in the heart of Ohio. Curtis is an honest worker, but his life begins to be tormented by nightmares and apocalyptic visions which prompt him to build a shelter in the garden to protect his family from the coming storm. Madness is the central theme of the film, which investigates the consequences of a mind that vacillates between reality and hallucinations. Fear of the unknown and the anguish of not being able to protect loved ones create in Curtis a sense of paranoid obsession that drives him to the edge of reason.
Directed by Nichols it is essential and tense, with a dark photography saturated with cold tones that emphasize the feeling of alienation of the protagonist. The use of music, with its eerie notes, helps create a claustrophobic atmosphere that puts the viewer in a constant state of alert. Michael Shannon's acting is extraordinary and offers an intense and poignant performance. Curtis LaForche's interpretation of him is a journey into the human mind that leaves you breathless, thanks to his ability to express the deepest emotions of the character and make them become tangible. "Take Shelter" is a film that leaves no one indifferent, capable of involving and exposing man's deepest fears. A film showing how the human frailty can become its strength, in a struggle for survival that questions us about the meaning of reality and of folly.
To learn more about Nichols' filmography, you can watch "Mud" (2012) and "Loving" (2016) also on Amazon Prime Video.
THE CRAZY JOY by Paolo Virzì, available on Rai Play
Italy, 2016
Comedy, drama
Cast: Valeria Bruni Tedeschi, Micaela Ramazzotti, Valentina Carnelutti
How do two women feel when they manage to escape from their rehabilitation community, to finally find freedom? Crazy joy! The film delicately tells the story of Beatrice and Donatella, two psychiatric patients who seek their place in the world during an unlikely journey together. By varying light tones and moving passages, Virzì offers us a profound and non-rhetorical portrait of two tormented women, defined by all as crazy.
Crazy joy opens with the daring encounter between Beatrice (Valeria Bruni Tedeschi) and Donatella (Micaela Ramazzotti) in a community for psychiatric patients. The former has an outgoing character and struggles to keep silent, while the latter shows a sad and distrustful disposition right from the start. However, an unsuspected friendship arises between the two: during the rehabilitation program, they take the opportunity to escape together from the nursery where they are working. After an immediate feeling of euphoria, Beatrice and Donatella however find themselves having to come to terms with their past and with the wounds opened by their ailments, in an adventurous escape around Tuscany.
If directed by Paolo Virzi and the performance of Valeria Bruni Tedeschi have fascinated you, the next title that we recommend is "Human capital", available on Netflix. Just by shooting the final scene of this film, the director imagined the crazy personality of Bruni Tedeschi's character "Mad Joy".
THE CORRIDOR OF FEAR by Samuel Fuller (1963), available on Plex
USA, 1963
Dramatic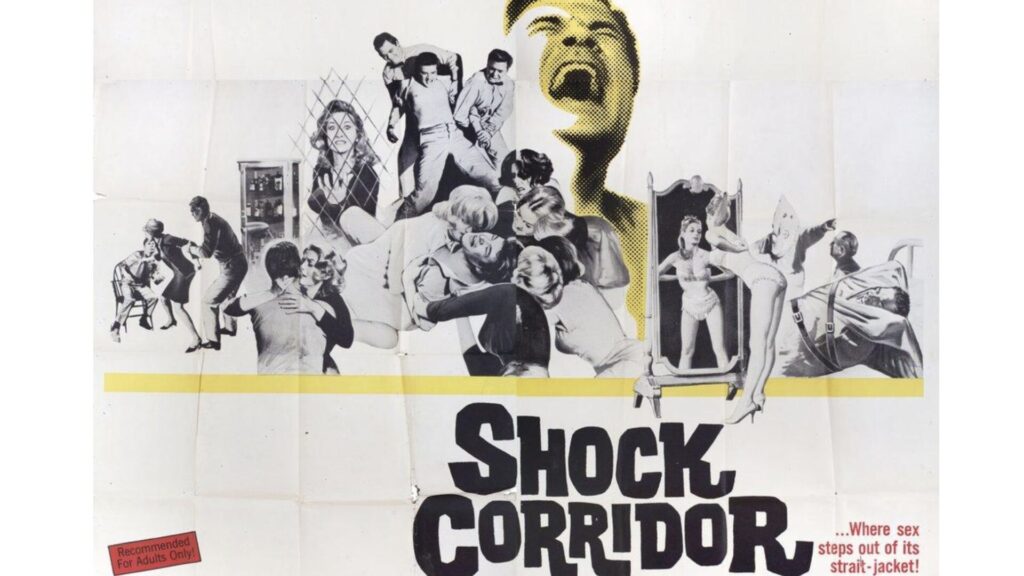 In a 2013 interview, Martin Scorsese called Samuel Fuller "a unique author, a poet of action and a great storyteller". In this film, the director reads the social dramas of the United States through the microcosm of a psychiatric ward.
Johnny Barrett is an ambitious journalist who tries to find the killer of a female patient psychiatric hospital. To do this, he pretends to be crazy and is interned in the facility, but his stay in the hospital will have shocking consequences. Through the corridor where patients can "make friends", the protagonist meets unforgettable characters who embody the great conflicts that disturb the American spirit and are difficult to face: racism, the cold war, communism, sexual repression. Thanks to masterful direction, the line between insanity and sanity it moves continuously following the rhythm dictated by the movement of the camera and by the editing. The grammatical use of color (and its absence) is also memorable: to describe the unfathomable mechanisms of the mind, the surreal representation in black and white is interrupted by documentary images in colour.
If you liked it, we recommend "One Flew Over the Cuckoo's Nest" (Milos Forman, 1975), released in cinemas 12 years later and winner of 5 Academy Awards, including Best Actor for Jack Nicholson.
JULIETTE by Lora D'addazio, available on Vimeo (https://vimeo.com/149335431)
Horror short film, animation
Belgium, 2016 – VM 16 years old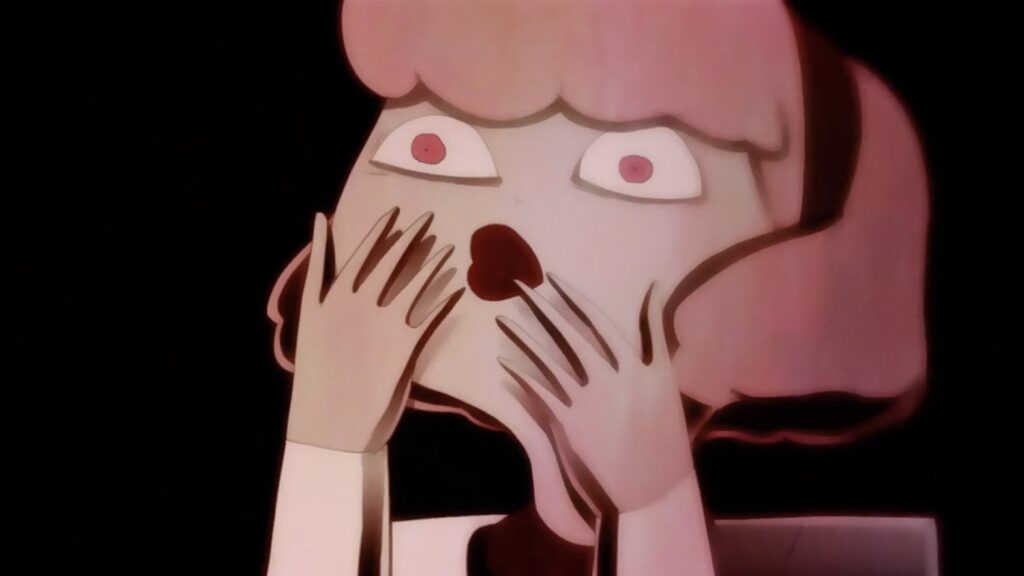 Juliette is a seemingly shy and repressed girl who finds herself in a car with two cheeky girlfriends too distracted by Tinder photos to pay attention to the road. But is the danger outside or inside the car?
AMERICAN HORROR STORY: ASYLUM by Ryan Murphy and Brad Falchuk, available on Disney+
USA, 2012-2013
Horror, grotesque
Cast: Jessica Lange, Sarah Paulson, Evan Peters, Zachary Quinto, Chloё Sevigny, Lily Rabe, James Cromwell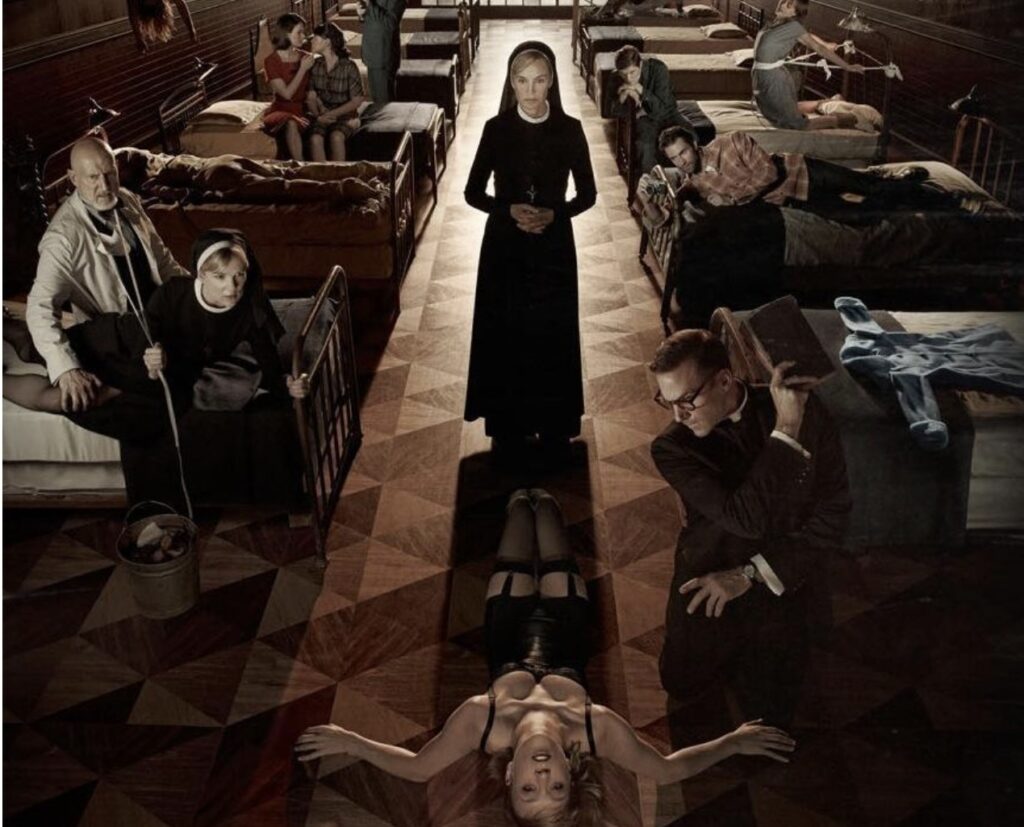 The second season of the cult anthology series "American Horror Story" takes you directly into the follies of a 1960s asylum, where the real madmen are not the patients, but the doctors and the nuns who take care of them.
For those who don't know"American Horror Story", the series features different characters and stories for each season (currently eleven), but recurring actors: you can therefore watch it in no particular order starting from the first or last season. All AHS extension shows the madness variegatedly declined with each vintage (among the most interesting Cultwhere we find political and social madness), but it is in Asylum that the theme is treated in the most declared way. We are in Briarcliff, a mental hospital where patients of all kinds are interned, many hospitalized unjustly or because of a sick system, which sees, for example, homosexuality as a pathology. All are subjected to the loving care of nuns with dark or possessed pasts, ex-Nazi or maniac doctors and other adorable figures.
This season remains indelible in the mind as the most representative of the whole series for a perfect dramatic construction that keeps the attention constantly alive. Madness seems to be the only step necessary to overcome the horrors of Briarcliff and society, almost a Dantesque path in the Hell of perversions and violence. Circulating like a circle is the path of all the characters, who pass from freedom to madness, to return to their starting state, albeit profoundly changed. As usual, with Murphy the topics covered are a myriad and it is impossible to mention them all and the same goes for the films or news stories mentioned. A real one pastiche orchestrated that boasts, among others, a wonderful soundtrack, a terrific cast, many surprises (see the scene of The name game) and a tension that takes your breath away.
If you enjoyed this season you definitely need to catch up on all the others on Disney+, especially"Cult, freak show" And "Murder house". And if the killing spree of AHS extension there is that of "Dahmer"also by Murphy, on Netflix.