News from Europe
In England, Goodwood hosts the Goodwood meeting, which since 2019 has changed its name from "Glorious Goodwood" to "Qatar Goodwood Festival" in honor of the wealthy sponsor. In the hills of West Sussex, a 5 day event dedicated to British tradition and super quality. The event's official website advertises it as follows: "The Goodwood Festival in Qatar is one of the undeniably highlights of the British grass racing season. The iconic five-day festival, affectionately known as Glorious Goodwood, is a glamorous sport and unrivaled social event where some of the biggest stars in horse racing are crowned. We can only agree. As is our custom, we bring you the most important winners so they can be tracked down for future reference. When you win at this location, you are more likely to repeat it elsewhere.
Tuesday 1 August
Nicholson Gin Vintage Stakes – GR2 test for 2-year-old horses at a distance of 1408 meters: First Haatem (Sean Levy) The second Iberian, the third mountain bear. Fixed odds per winner: 9/4
Lennox Stakes World Pool – GR2 standings for horses from 3 years and older at a distance of 1408 meters: First Kinross (Frankie Dettori) second Isaac Shelby, third Marbaan. Fixed odds of winning: 10/11
Al Shakab Cup Goodwood Betting – GR1 test for horses aged 3 years and over at a distance of 3200 meters. First Quikthorn (Tom Marquand), according to Emily Dickinson, the third Coltrane. Fixed odds of winning: 16/1
Wednesday, August 2
Whispering Angel Oak Stakes – GR3 test for girls aged 3 years and older at a distance of 1480 meters. Before magical sunset (Kevin Stott), second Bridge, third Dreamoflav. Fixed odds of winning: 20/1
Jaeger-lecoultre Molecomb Stakes-GR3 test for 2-year-old horses at a distance of 1000 m. First Big Eves (Jason Hart), second Pureblood, third Kilian. Fixed odds per winner: 3.30/1
Qatar Sussex Stakes – GR1 for three-year-old horses and older at a distance of 1609 meters. In order of importance, the 2022 ranking by the IFHA (International Federation of Horse Racing Authorities) is fifth in the world, behind only the Breeders' Cup Classic, England Champion Stakes, Arc de Triomphe and Shakab Locking. Rates. Won in 2023 Paddington, a favorite with a performance of 10 and praise. He imposes his pace from beginning to end, attacked by Inspiral, he pushes her away, then Factor Cheval tries and bounces off the iron armor of a three-year-old child. We can safely say that a new star has appeared in the sky of the world gallop. The confirmation of this GR1 makes the Irish Thoroughbred one of the greatest horses in the sport. Seventh win with a record four consecutive GR1 race wins. After winning over 2000 meters, he proved himself as the strongest runner by winning the 1600 meters again. Trainer Aidan Patrick O'Brien told his English colleagues: "At this point, he can go and get anywhere, we have so many options to evaluate!" For reference, Faktuer Cheval is the second, Charyn is the third. Fixed odds per winner: 4/9.
Thursday, August 3
Markel Richmond Stakes – GR2 for 2-year-old horses at a distance of 1207 meters. First Wandik (Andrea Atzeni) who, after winning his debut, confirms his potential and underdogs, according to the Ballymount boy, the third Toka Madera. Fixed odds per winner: 2.30/1
John Pierce RacingGordon Stakes – GR3 for 3-year-old horses at a distance of 2200 meters. First desert hero (Thoma Marquand), second Cheespice, third Canberra Legend. Fixed odds per winner: 8.40/1
Qatar Nassau Stakes – GR1 for women from 3 years and older at a distance of 2000 meters. Before Al Husn (Jim Crowley), second Abave Curve, third Nashwa. Fixed odds per winner: 8.40/1
Friday 4 August
King George Qatar Stakes – GR2 for horses aged 3 years and older at a distance of 1000 meters. First
Gorgeous Ormarins King's Plate Stakes – GR3 for horses aged 4 years and older at a distance of 2400 meters.
Saturday 5 August
On the last day of the meeting, only one group race is scheduled, Qatari Stakes Lilly Langtry – GR2 for horses aged 3 years and older at a distance of 2800 meters. The attraction is named after Lilly Langtry. A mare born in 2007, a three-year-old winner of the Coronation Bets and Matron Bets competitions. Retired from the competition, now she is a mare. Galileo's exclusive consort has a peculiarity: he only produced females, 8 to be exact with 2 real fissures: Minding (2013), winner of 7 GR1 races, and Tuesday (2019), winner of 2 GR1 races.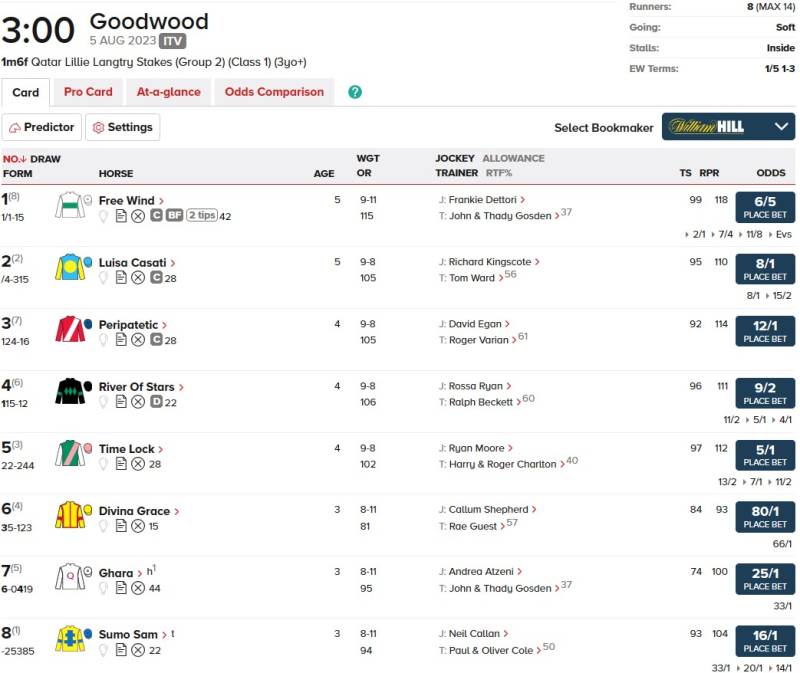 Sunday 6 August
In Germany, in Düsseldorf – an important date for women, "Preis der Diane – German Oaks" it is the German GR1 that consecrates the queen of 3 year olds. The second richest race in Germany, after the men's derby, 2200 meters to go, the first to arrive will be entitled to 300,000 euros. 14 at the start and all with chances.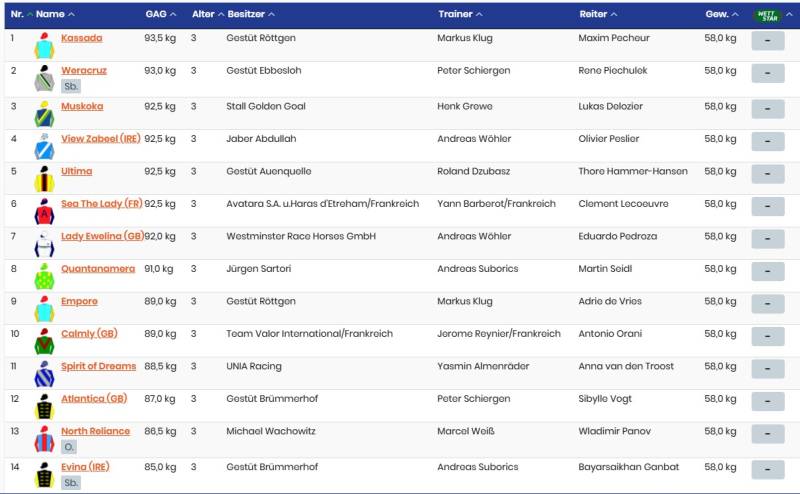 in Italy
On Saturday, the national racing program offers Naples towards evening and Varese in the spotlight: 5 races at Agnano, 6 races at Le Bettola. In the Neapolitan hippodrome, we note that the first race scheduled is a 2-year-old female bough named after "Sign of Respect". 8 items at start. On the other hand, at the Lombard circuit, this will be the fifth race to win the prize. "The Pastorelli Family" handicap for horses aged 3 years and older at a distance of 2300 meters. 6 items at the start, top tier Sopran Beijing will have to contend with Il Ginodellecacce, Midnight Season, Morland Spirit, Desire to fire and Elegant drago.
Sunday at Merano There are 8 races planned, you need to keep a close eye on the prizes. "Bolzano" AND "Manuel Porcu" apartment andVincent Pollio. in a steeplechase. TO Tagliacozzo 6 races scheduled.
in Livorno, a week ahead of tradition, the classic labronica returns to running to complete the meeting of 5 more races, the most interesting of which is, of course, the traditional 2-year criterium over 1500 meters.
There 78th Sea Cup Basic handicap category B for horses aged 4 years and over in the 2250 meters again this year. supported by ITM An Irish organization dedicated to breeding Thoroughbred horses of the Clover Country. This year's race is sponsored by ITM IRISH Thoroughbred Marketing, which promotes Ireland as the premier source for the production and sale of quality Thoroughbred horses worldwide. Founded in 1991, Irish Thoroughbred Marketing (ITM) is a not-for-profit, non-profit, semi-government organization based on strength and integrity, backed by the Irish government and the Irish pedigree livestock industry, to ensure absolute fairness and impartiality. . ITM is a subsidiary of Horse Racing Ireland (HRI), the organization responsible for horse racing management in Ireland. Continuing to read from the official website, ITM is the first point of contact for anyone needing information on any aspect of the Irish Thoroughbred industry, so feel free to ask as there is nothing more wonderful than owning a racehorse. These are contact details, info@itm.ie or +353 (0) 45443060.
Last year he won Caterpillar coached by Marco Gasparini and owned by Francesca Turri. This year, the award-winning company presents Zittella, will they continue to be the protagonists? The first in the expert report was the fan Clarenzio with 66 kilos, the last of 47 kilos was Zenious, between the other two 301 names, a completely Italian distortion that creates a lot of problems for the handicapper. As a result, 10 dozen of them accepted the signing. Best weight – Lagomago with 61.5 kg, light – Betterday with 50.5. The starting line-up is divided equally between men and women, 5 to 5. MMFMMFFFMF Bets are placed, which gender will be the winner of the 78th Copa Marais?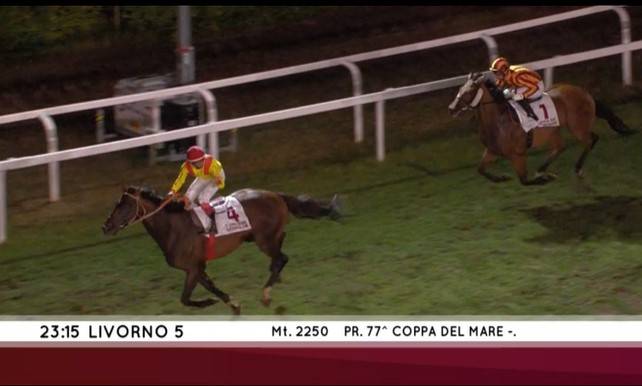 The race promises to be very tough and Botti's team will ruin the party with number one on the grid.

Our favorites of all rides:
1 – Langre, Meglepetes
2 – Apollo Theatre, Fly by fly
3 – Just right, Aristovich
4 – boy from Manchester, sheriff, Sebah warrior
5 – Lagomago, Arc on fire, Otre Atape. But others will sell their skin dearly,
6 – Capoliveri, Black Arrow.