World
Dollars for everyone! A flow truck lost thousands of tickets on a highway and the video went viral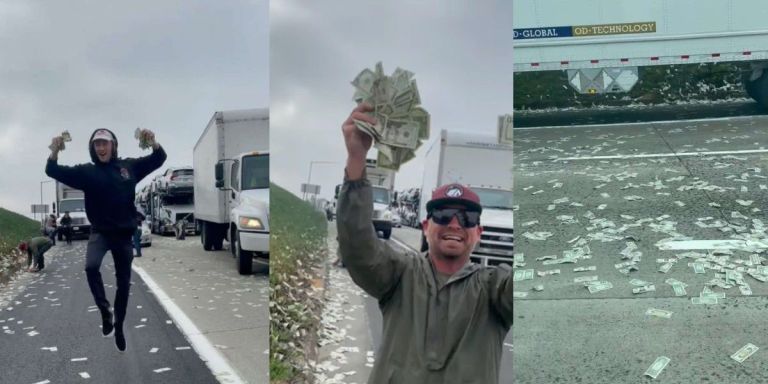 Several people were lucky enough to witness this unusual event, which was recorded and viralized in just minutes. There you can see how the dollars fell from the flow truck and people were out of control to collect them.
The unusual episode occurred in San Diego, California, where a cash truck lost thousands of tickets and chaos broke out in the middle of a highway.
In this way, the incident, which occurred punctually in Carlsbad around 9 in the morning, triggered several people to get out of their vehicles, in both directions of the highway, to manage to grab 1 and 20 dollar bills that fell in the ground.
Also, the images of the event were recorded by the cameras of the people who circulated in the area and stopped to raise money.
In addition, according to local media, the situation got out of control since the driver of the cash truck was traveling alone and without the company of a security guard, as is often the case in this type of money transport.
"One of the doors was slammed open and bags of cash fell out. There was money all over the lanes, "said Curtis Martin, a sergeant with the California Highway Patrol.
On the other hand, one of the people who managed to capture this unusual moment, in which there was a rain of bills on the San Diego highway, was the influencer Demi Bagby who shared the video on her networks.
"This is the craziest thing I've ever seen. Someone dropped money all over the highway. San Diego is literally closed. Look how the highway is right now, "the young woman recounted as she showed how people stopped their cars to raise money from the highway.
VIDEO: THE NATION
function toogleSeachBar() { if ($('#searchBar').is(":visible")) { hideSearchBar(); } else { showSearchBar(); } } function showSearchBar() { $('#searchBar').show(); $('#menu, .header-scrolled-container, .header-scrolled-container2').hide(); } function hideSearchBar() { $('#searchBar').hide(); $('#menu, .header-scrolled-container, .header-scrolled-container2').show(); }
$(document).ready(function () {
setTimeout(() => { window.fbAsyncInit = function () { FB.init({ appId: '1492337167736839', autoLogAppEvents: true, xfbml: true, version: 'v8.0' }); };
(function (d, s, id) { var js, fjs = d.getElementsByTagName(s)[0]; if (d.getElementById(id)) { return; } js = d.createElement(s); js.id = id; js.src = "https://connect.facebook.net/es_LA/sdk.js"; fjs.parentNode.insertBefore(js, fjs); }(document, 'script', 'facebook-jssdk')); }, 3000);
});