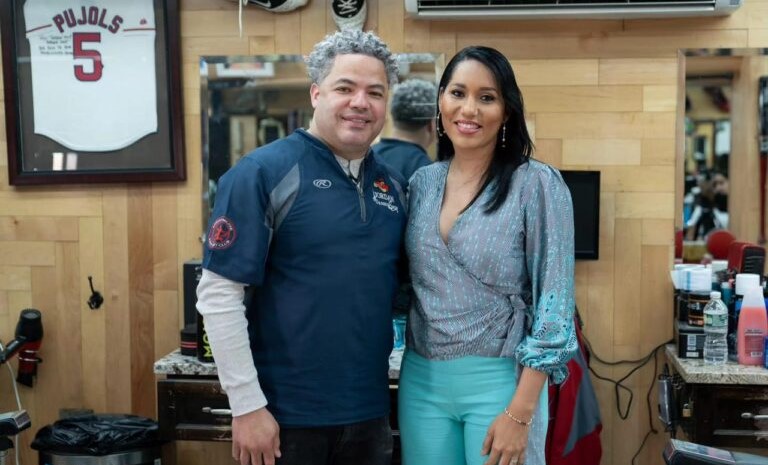 Jose Moises Lopez and Loreni Solano
NEW YORK – Dominican José Moisés López, better known as Jordan, the Major League Baseball star's barber, said Saturday that his biggest dream is to be able to give Michael ·Jordan gets a haircut or shave.
"Jordan Sports Barber Shop" owner Loreni Solano recalled in an interview with "Dominicans Making History" in New York that the legendary former Chicago Bulls player has been his biggest role model since he was 8 years old. .
Likewise, he stressed that his admiration for the athlete was overwhelming, hence the name of his barbershop, and that he named two of his three children, Jordan and Michael, in his honor because of his Has always been his idol.
"When I was playing basketball around the neighborhood, they made fun of me because I was doing all the Michael Jordan moves and I was fighting with my sisters because they wanted to watch soap operas and I wanted to watch the finals because I, him and A fan of his team. "My dream is to be able to shave Michael Jordan," the San Diego native said during a television special that aired on RNN.
Moises arrived in New York in 1995, where he completed his final year of high school. He worked in construction with his father for a year and a half and then took barbering classes before realizing his dream in 2009, and with the help of former New York Yankees captain Derek Jeter, he met Michael Jordan.
"I met him at Yankee Stadium but at that point I held on all night and the head of stadium security told a guy to let me know so I could take a picture with Jordan and Jordan was invited to an event and no one could approach him . "I waited until the end of the game to take pictures, but at the same moment, my camera ran out of battery. "
His most frequent clients include Pedro Martinez, Albert Pujols, Vladimir Guerrero, Luis Castillo, Jose Reyes, Alfonso Soriano, Felix Rodriguez, Robinson Cano, Alex Rodriguez, Francisco Cordero and Luis Castillo.
Major League Baseball players Melky Cabrera, Willis Taveras, Julian Tavares, Abraham Nunez, Odalis Perez, Juan U Reive, Pablo Ozuna, Miguel Batista, Placido Polanco, Claudio Vargas, David Ortiz, Jorge Souza People from home and abroad also came to his barber shop. .
"I cut 90 percent of the players in the major leagues," Moises said. He owns two Jordan Sport Barber Shop locations, one in the Bronx and the other in Washington Heights, Manhattan, and has 29 employees.
Since co-founding the company with her partners, Jordan has developed her own hair care line.
The Jordan Sports Barbershop is a baseball museum with balls, hats, bats and photos of stars that appeals to the public, where it is normal to meet the greatest figures in sports and other fields.