By
Hannah perez
The Ethereum blockchain is burning close to $ 17,000 worth of ETH every minute. 10% of the burned tokens come from NFT market transactions.
***
The latest network update Ethereum It has undoubtedly created a big change in this blockchain.
Exactly a week ago the long-awaited hard fork (hard fork), called London, on the network Ethereum. As we reported at the time, the update introduced a number of enhancements, the most prominent being EIP-1559, which introduced a new transaction fee mechanism.
This change means that instead of fees going directly to the miners that process and validate transactions, a base fee is destroyed or "burning" quickly.
Since that update was rolled out, about $ 100 million of ETH in fees has been burned, withdrawing those tokens of circulation forever. According to data from Etherchain.org, the amount of coins Ethereum burned is that 32,816, valued at USD $ 102 million at the time of writing.

Also, the current burning rate is 5.8 ETH per minute, which means that the network is destroying more than $ 17,000 every minute. The figure is much higher than the 3.3 ETH per minute that we reported last Friday, a day after the update.
Ethereum burns $ 17,000 per minute
As reported The Block, the destroyed figure represents about half the amount of ETH that was issued during the same time period to miners as a reward for creating blocks (and processing transactions). In total, around ETH 61,600 ($ 184 million, at current prices) were issued over the course of the last week.
For its part, the medium Decrypt, add that more than 10% of the total fees burned come from transactions in the NFT market, OpenSea, where users can sell or bid for digital collectibles and art. The decentralized exchange Uniswap and the game based on Blockchain Axie Infinity They rank second and third in terms of burn rate.
The change called EIP-1559 focused on simplifying the transaction fee process. He split the fees in two: a base fee, which is burned, and a priority fee that is effectively a tip to the miner. The base rate is generated based on the size of the previous block and is designed to increase when demand is high and decrease when demand is low.
It works as a recalibration mechanism to accommodate fluctuating demand for space on the blockchain. The base rate burns out and can no longer be used on the network, adding a deflationary element: it fuels demand as the supply of coins decreases. Recall that, unlike the limited supply of Bitcoin, Ethereum has an unlimited supply.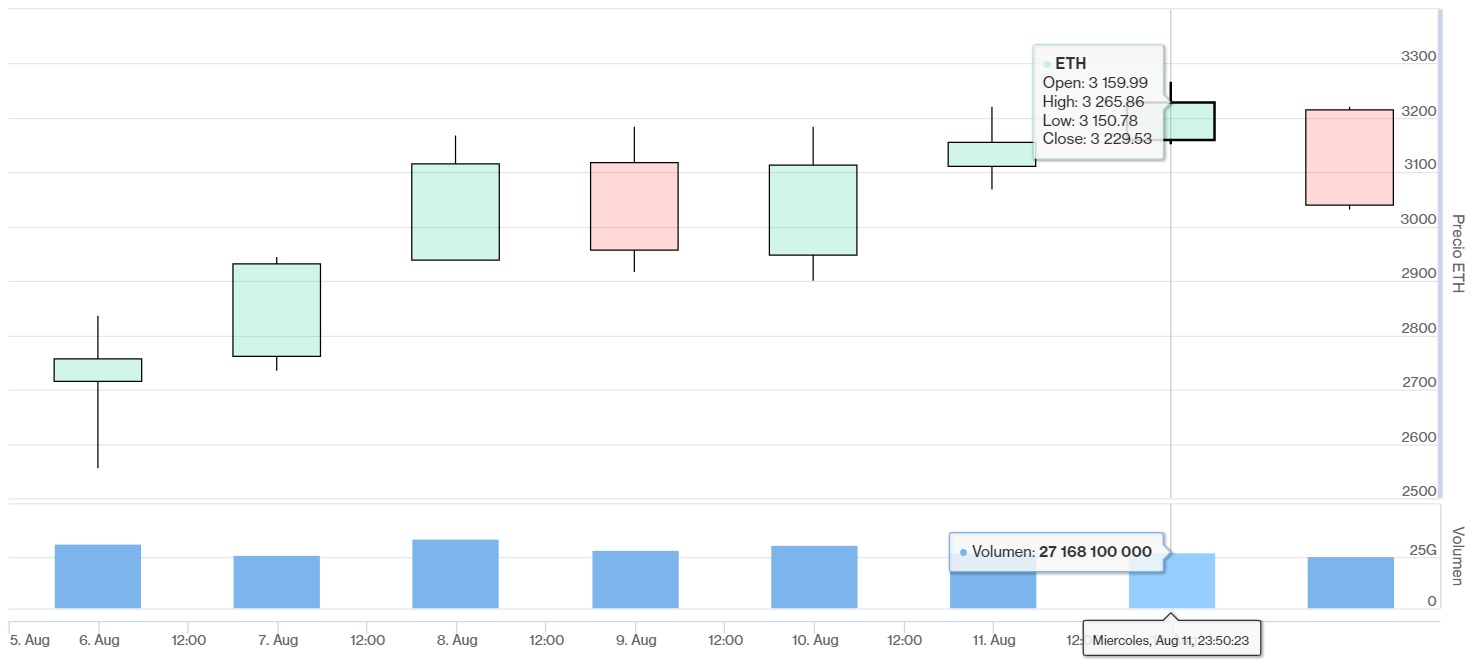 In this regard, the update appears to be having a positive effect on the price of ETH, which has risen from $ 2,764 to a high of $ 3,265 in the last 7 days. However, it should be noted that burning a part of the tariffs also means a decrease in income for the miners Ethereum.
---
Recommended reading
---
Sources: Etherchain.org, The Block, Decrypt, file
Hannah Estefanía Pérez's version / DailyBitcoin
Image from Unsplash