Showbiz
Fer Palacio made thousands of people dance in a unique night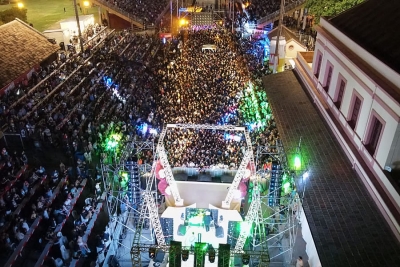 After midnight the first notes began to sound that opened the "cachengue moment" that many people were waiting for. With a setting of fascinating sound and lights, the corsódromo full of young people began to vibrate to the rhythm of cumbia, trap and reggaeton. After about an hour, the moment that many were waiting for arrived. The presenter announced the arrival of the famous DJ Fer Palacio and all the people turned their attention to the stage to see this young man who had accompanied his previews on the screen. The difference was that now that moment was not mediated by digitality. The cheers were not long in coming before the appearance of "Ferpa", who felt the first chords of one of his famous remixes.
Immediately the arms went up, some people closed their eyes and sang the songs from the heart. Many girls climbed on the shoulders of their friends to be able to see better from above.
The frenzy seized all the attendees who began to move to the rhythm of the music while a drone traveled the catwalk to capture the show. Moments later, the DJ uploaded to his social networks how the show was experienced from above the stage, a video in which a wave of cell phone lights moved to the rhythm of "windshield, windshield wiper". But the party did not end when Ferpa said goodbye, but continued in charge of local DJs who made people dance until 3:30 in the morning.
Sales in the canteens were extraordinary, towards the end of the event there were only two types of drinks left. Slowly, people began to leave the place accompanied by their friends, with red cheeks but all with smiles on their faces.
(function(d, s, id){ var js, fjs = d.getElementsByTagName(s)[0]; if (d.getElementById(id)) {return;} js = d.createElement(s); js.id = id; js.src = "https://connect.facebook.net/en_US/sdk.js"; fjs.parentNode.insertBefore(js, fjs); }(document, 'script', 'facebook-jssdk'));