World
Fires and looting continue in the Solomon Islands | The World | DW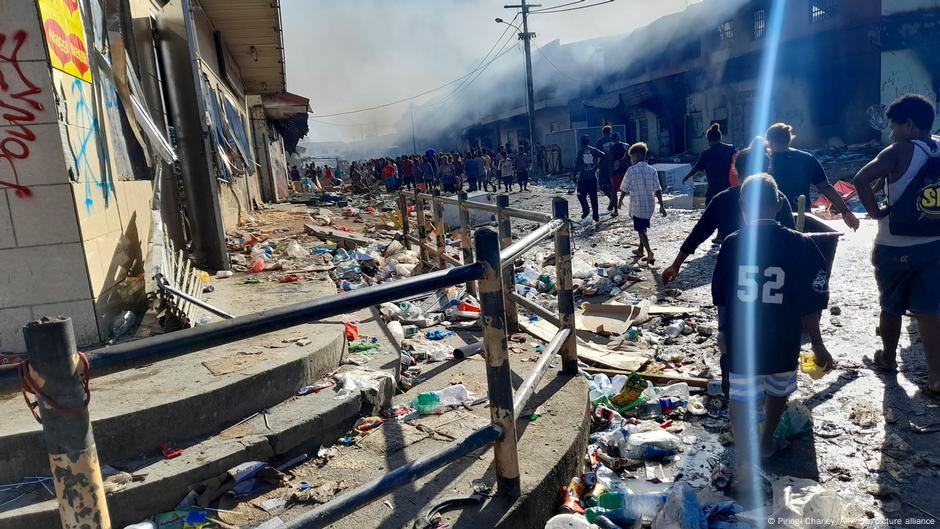 The Solomon Islands woke up this Friday (11/26/2021) with a third day of riots in its capital Honiara, where thousands of protesters set fire to buildings and looted among the rubble of burned businesses.
Police fired tear gas and fired warning shots to disperse a group of protesters who wanted to reach the private residence of Prime Minister Manasseh Sogavare, AFP journalists found.
The Chinese community has become a target of these protests against the Sogavare government, which in 2019 turned its diplomatic recognition from Taiwan to communist China.
In the center of the city, thousands of protesters, some armed with knives and axes, rampaged through the Chinatown district, Point Cruz and other commercial areas.
Big bang in Chinatown
In Chinatown, a huge warehouse was set on fire, causing an explosion that caused many people to disband in panic. There were also reports of a burning tobacco deposit.
After three days of unrest, various parts of this city of 80,000 people are razed.
Images on social media show blackened facades and roofs twisted by flames that have burned banks, schools, police stations and Chinese-run businesses. Debris, garbage and trees accumulate in the streets.
The unrest triggered the deployment of a peacekeeping force from Australia, the first troops of which arrived on Thursday. Neighboring Papua New Guinea also announced the dispatch of peacekeeping troops.
China expressed "great concern" for its interests in those islands and asked its government to guarantee the safety of its citizens and entities.
The Solomon Islands had had diplomatic relations with Taiwan since 1983, but in 2019 they decided to recognize the communist regime in Beijing as the legitimate representative of China.
The decision of the government of the Solomon Islands provoked resentment on the part of the population that had close ties with Taipei.
jc (afp, reuters)