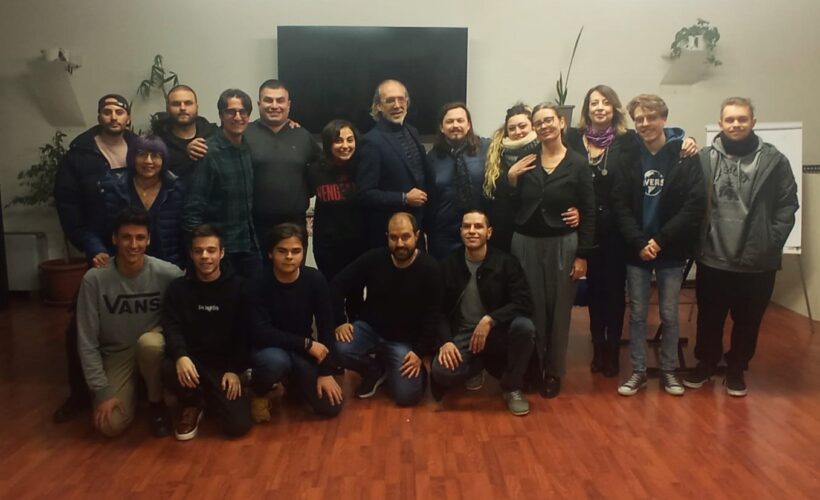 Readings: 72
by STEFANIA MEZZINA
SAINT BENEDICT – Luca Ward, considered one of the best dubbing specialists in the world, has returned to the academy headquarters in San Benedetto del Tronto. Ward has voiced dozens of actors including Russell Crowe in Gladiator, Samuel L. Jackson in Pulp Fiction and Keanu Reeves in The Matrix trilogy, he has also voiced Hugh Grant, Bruce Willis, Rupert Everett, Antonio Banderas, Kevin Bacon and many other Hollywood stars.
Aifas's journey towards the permanent dubbing center continues in the name of big names and at full speed.
Not only does Luca Ward, in fact, make his skills available to give substance to the Aifas project, oriented towards an elite pole, a reference point for all of central Italy: in fact, in June, he will conclude the process begun in October 2022, with the release of qualifications to the students who will be able to pass the final exam and on April 22nd a new course will begin, which will end in November, with teachers of great depth. They will be Pino Insegno, Roberta Pellini, Giorgio Borghetti for the dubbing, Pasquale De Cristofaro, internationally renowned theater director, will take care of the acting lessons; Gianni Simeone will take care of the diction lessons; physical exercises will be directed by Vocal Coach Cristiano Corradetti.
"We are vigorously carrying forward our project dedicated to dubbing: the results obtained so far prompt us to continue with enthusiasm. In the Marche, in addition to the best of Italian dubbing, such as Luca Ward, Pino Insegno, Roberta Pellini, students continue to arrive from all over Italy. Furthermore, knowing that one of our students is carrying out the dubbing profession professionally fills our hearts with joy, because our intention is to create artistic opportunities", affirms Marco Trionfante, director of Aifas.
The course lasting 100 hours of lessons is aimed at those who wish to professionally face the career of d
opiator. A selection is required to access. To book the admission test, call 0735 435329 or 392 160 30 29. More info at: www.aifas.it/doppiaggio
THE COURSE TEAM DEPARTING IN APRIL
PINE TEACH. Actor, dubber, comedian, radio and television host, Italian dubbing director, he was born in the theatre, achieved success as a comedian, together with the Premiata Ditta group; as a voice actor he lent his voice to Will Ferrell, Viggo Mortensen (Aragorn in the Lord of the Rings trilogy), Liev Schreiber, Michael Shannon, Jamie Foxx and Sacha Baron Cohen, among others. On TV he hosted Zecchino d'Oro, Domenica in, Mercante in Fiera, Reazione a catena, Striscia la Notizia, Voice Anatomy.
ROBERTA PELLINI. Actress and voice actress, she is the voice of many stars: Charlize Theron, Cate Blanchett, Nicole Kidman, Diane Keaton, Angelina Jolie, Elizabeth McGovern, Catherine Zeta Jones, Sophie Marceau, Sandra Bullock, Jessica Alba, Julia Roberts, Uma Thurman and many other. She has won several awards: in 2008 she won the Dubbing Grand Prix as best dubber. In 2013 she won the Golden Lectern for the best female voice for the dubbing of Catherine Zeta Jones in Broken City. In 2015 she won the Voci nell'ombra award for the best female voice.
GIORGIO BORGHETTI he is a film, television and theater actor as well as a voice actor. He has lent his voice to Hollywood giants such as Patrick Dempsey, Adrien Brody, Bradley Cooper, Sam Rockwell, Ewan McGregor and many others. In his stand out famous films such as ET the extra-terrestrial (1982), in which he lends his voice to the protagonist Elliot (played by Henry Thomas), The NeverEnding Story (1984), where he voices Atreyu, Dead Poets Society (1989) and Much Ado About Nothing (1993), where the dubbed actor is Robert Sean Leonard.
PASQUALE DE CRISTOFARO is a theater director and actor. As a director he has presented numerous shows in the major Italian theaters or exhibitions. He actively collaborates with the major Italian art academies and universities. Impossible to list the direct works in the theater, where he staged works by Pirandello, Molière, Eduardo, Scarpetta, Brecht and many others.
GIANNI SIMEONE he is an actor and director. Specialized in Communication, diploma in NLP and effective communication at the 'Silvio d'Amico' National Academy of Dramatic Arts in Rome, Master in sociodrama, teacher of Diction/Voice/Acting and Communication. From 2015 to 2020 he was director of the Popular University of Cagliari, he carried out research, articles and books including: 22 ways to play with words and some rules of diction.
CORRADETTI CHRISTIAN he is a composer, musician, producer and vocal coach. He graduated in Pop-Rock Composition at the Pescara Conservatory. Three-year professional diploma in Electric Guitar at the CPM in Milan. He holds a specialist Masters in Counseling in the helping relationship. He has a background in Music Therapy and carries out independent research in the field of music for the well-being and evolution of the person.
Comments
comments