The GOLD leader, George Simion, suggests that his party will not vote for a government led by Dacian Cioloș. In a comment he makes on Dacian Cioloș's post on Facebook in which the USR leader announces that he is honored by his nomination as prime minister, George Simion says: "But who do you think is voting for you?" and add graphic signs that show the fun.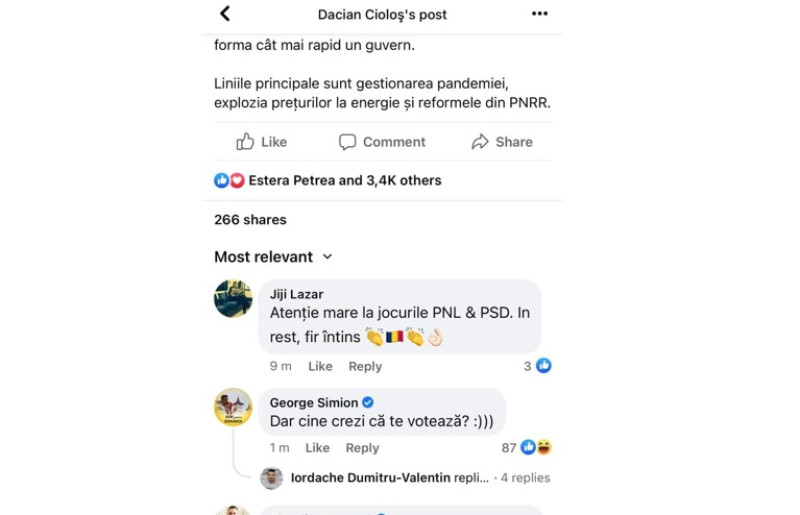 USR President Dacian Cioloș wrote a message on Facebook immediately after President Klaus Iohannis announced him as Prime Minister-designate and said that "it is an honor and a great responsibility". Ciolos says he is ready to take over your government and start negotiations with the other parties.
President Klaus Iohannis announced on Monday, after consultations at the Cotroceni Palace, that he decided to nominate USR leader Dacian Ciolos for the post of prime minister.
The AUR leader, the deputy George Simion, says that the nomination of Dacian Cioloş for the position of prime minister "seems just a political game". In a statement to Agerpres, he said he was waiting for the next "move" of the head of state, given that "there is no majority to support" the USR leader.
Simion: "Mr. Iohannis said he knows no other Orban than Leonard"
"Until the next reaction, this nomination seems like a political game and we are waiting for the next move of the president. (…) We are very happy that there are reactions from the president to the pressure we have put, but, unfortunately, Klaus Iohannis is violating exactly what he is saying at the moment. There is no majority to support Dacian Cioloş ", George Simion declared for Agerpres.
In his opinion, this nomination is "a defiance" to the Alliance for the Union of Romanians and other parties, which "will be penalized."
"During the consultations I had with President Iohannis, I told him that there is a majority that agrees with an independent prime minister, I told him that I had talked with Mr. Ciolacu and Mr. Orban, and Mr. Iohannis said that he did not knows another Orban than Leonard. Mr. Iohannis started to be receptive to what we asked of him, but it is a defiance to the GOLD and this defiance, through this nomination, which is in fact a defiance to other political parties, will be penalized ", concluded Simion .
Editor: Luana Pavaluca