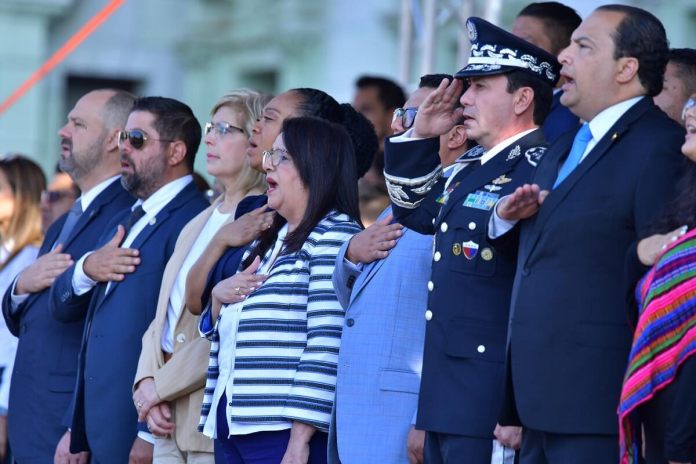 President Alejandro Giammattei was absent from all patriotic events held in the framework of the 202nd anniversary of Guatemala's independence on September 14 and 15 this year.
Giammattei did not attend the Patriotic Fire event, nor the bustling events at the Metropolitan Cathedral, nor the unveiling of the national pavilion in Constitution Square.
The Secretariat of Social Communications of the Presidential Palace stated that the president was suffering from severe influenza, which was the reason for his absence.
On the morning of Friday, September 15, the Educational Center held a traditional parade through the main streets of the capital's first district. A platform was set up in front of the National Palace of Culture for senior government officials to watch the school parade, but Giammattei was not there either.
#live | Civic March 2023. #202INDEPENDENTGT https://t.co/2guSAnygOZ

— Government of Guatemala (@GuatemalaGob) September 15, 2023
health problems
According to the Secretariat of Social Communication, the president is experiencing a series of health problems that prevent him from participating in state events within the framework of the 202nd anniversary of independence.
The message conveyed by the Secretariat was: "The President is suffering from a severe case of influenza, which forced him to interrupt today's agenda, including attending events commemorating the 202nd anniversary of Independence." He had been showing symptoms for several days.
After learning about Alejandro Giammattei's health, La Jolla consulted the Ministry of Social Communications, which reported that currently "he is resting and following medical advice to resume his activities as soon as possible."
protest activity
On the afternoon of September 14, a group of protesters appeared in front of the National Palace of Culture to express their rejection of the authorities of the Ministry of Public Affairs, specifically targeting María Consuelo Porras and Rafael Curuciche, and demanded their resignation .
In pictures: Government celebrates independence amid strong security measures and protests
#LHenBreve | National Civil Police agents dismantled tents owned by people demonstrating in front of Syntagma Square.

📸: Jose Orozco/LH pic.twitter.com/y6PVP6sHup

— Lahora Diary (@lahoragt) September 14, 2023