Enter the world of cryptocurrencies through the Binance exchange trading with Mexican pesos.
Despite the fact that cryptocurrencies have gained relevance in the world, the entry barrier to the crypto ecosystem remains high, essentially due to misinformation and uncomfortable user interfaces for the majority of the public.
That is why today in Bitcoin Mexico we will give you all the details you need to know to enter the crypto world through Binance. Converting your Mexican pesos into crypto has never been easier!
Create an account on Binance
Binance, one of the most important exchanges in the world, offers various methods to acquire cryptocurrencies using the Mexican peso. If you are interested in acquiring any crypto within this platform, we will tell you what are the first steps you should take.
To start in the world of crypto from Binance it is necessary to first open an account.
To register on Binance, you need to enter your email and set a password. Remember that this cannot be easy to guess, and you must write it down or keep it in a safe place as it will be the access key to your account.
Once created, we will receive a confirmation email.
In this email we will see a confirmation code that we must enter on the Binance page.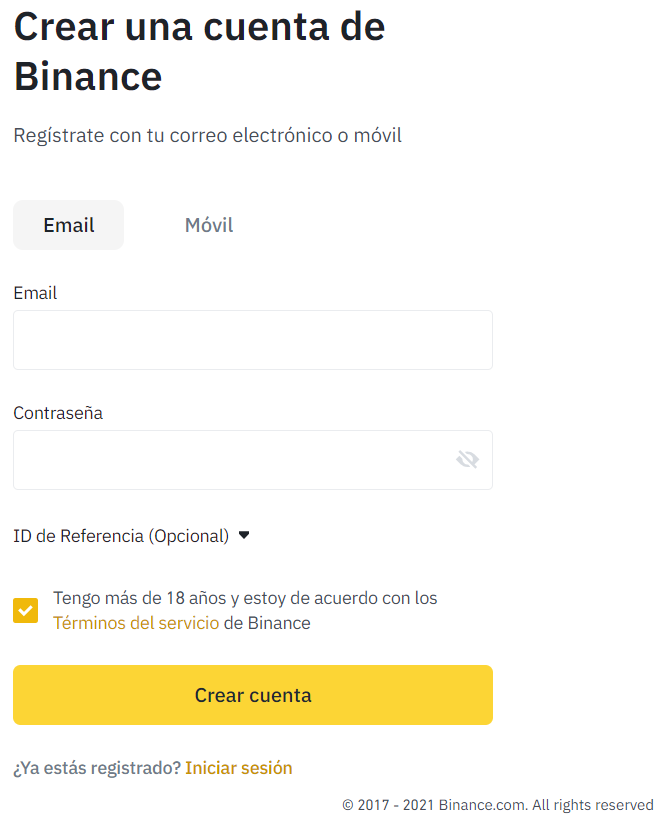 Ready! We already have a crypto account, it's time to protect it. How? We start by choosing the authentication option through Google Authenticator or through an SMS.
In the case of choosing SMS, all you have to do is give your cell phone number. Through this you will receive the codes that you will need to log in. If you prefer Google Authenticator, you must download this application on your smartphone. In it, a code will be generated every 30 seconds, which we will use to confirm the login each time we want to enter Binance. To link it with Google Authenticator you will need to scan the QR code that will appear.
Verify your account
The last step, and perhaps the most relevant, is to verify your identity. Not only for the security of your cryptocurrencies, but also to be able to access the full potential of Binance. To verify your account, you will need to follow some additional steps: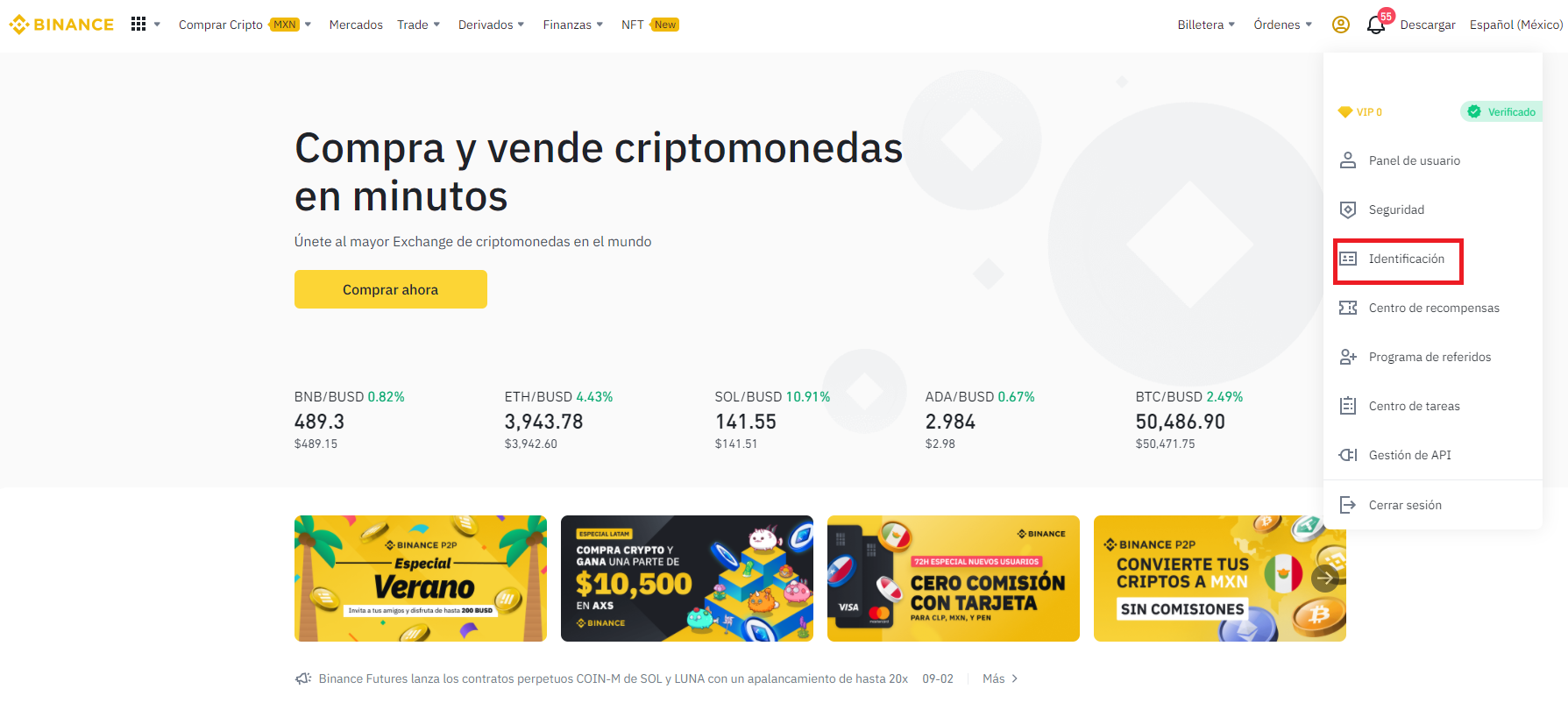 Once you have logged in, you must:
Go to User Center – Identification.
Select verify.
There are different levels of verification, but we will start with the Basic. To do this we will click on Check now. Then you will enter all the personal data that is requested. It is very important that the data matches your identity documents.

If you want to acquire cryptocurrencies using your fiat currency, in this case MXN, it will be necessary to improve your verification to the intermediate level. To do this, you must provide Binance with photographs of your identity documents. Choose the type of identity document and the country of issue. The photographs of your document must be clear and complete
Once you have uploaded the photos, Binance will request that you upload a selfie. Subsequently, you must complete the facial verification (hence the need for the previous step). Follow the recommendations of Binance: Do not use hats, glasses, or filters and the lighting must be adequate.
After this process, wait for Binance to review your information and, once they have done so, you will receive an email.
Yes, it is an extensive process, but it reduces the dangers that your account could face and also gives you access to the full potential of Binance and therefore gives you access to financial freedom.
Acquire cryptocurrencies with Mexican pesos
Binance offers us some options to buy Bitcoin (BTC) and other cryptocurrencies using Mexican pesos. Let's review the most used ones!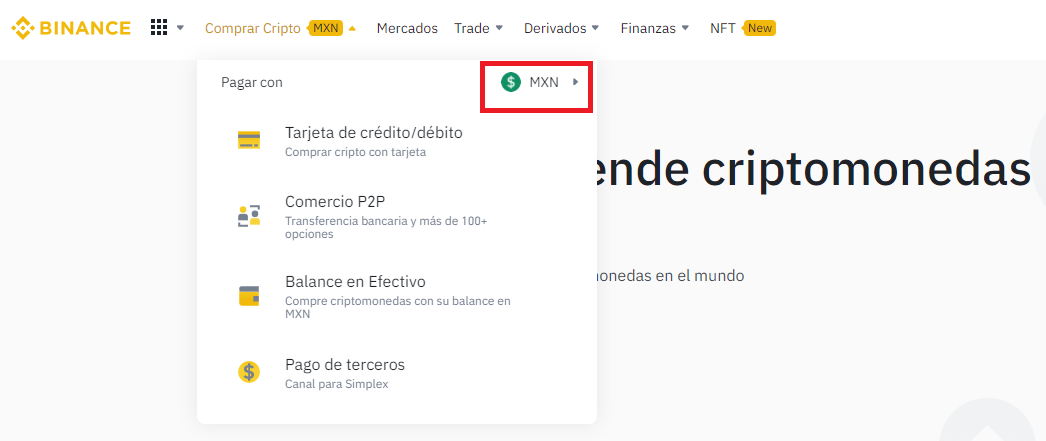 With your debit or credit card
Before going step by step detailing how to buy crypto using your debit or credit card, it is important to note that, for Mexico, Binance only accepts Mastercard cards.
Therefore, if your cards are not Mastercard, this purchase option is not the right one for you. But do not worry! There is another option that we will talk about later.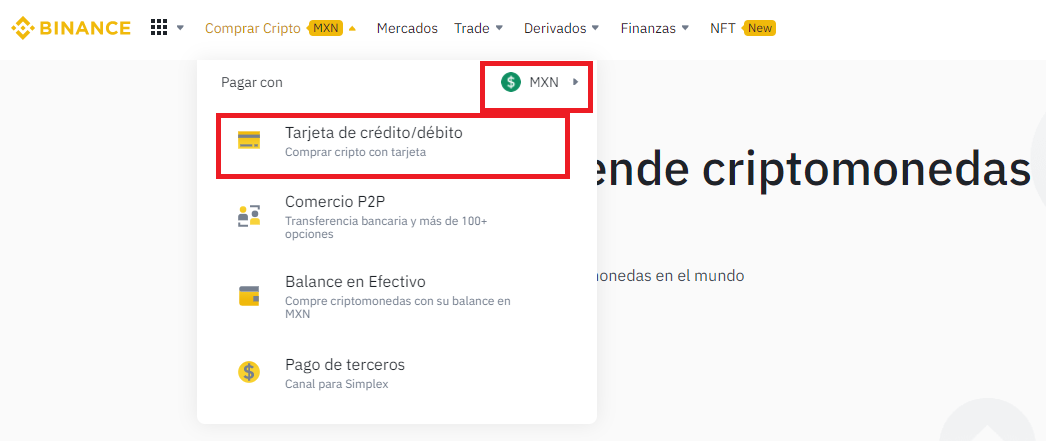 Let's see how to buy with a debit or credit card:
We must log in and click on Buy cryptocurrencies – Credit / debit card. This is in the upper left corner. Make sure the selected fiat currency is Mexican pesos (MXN).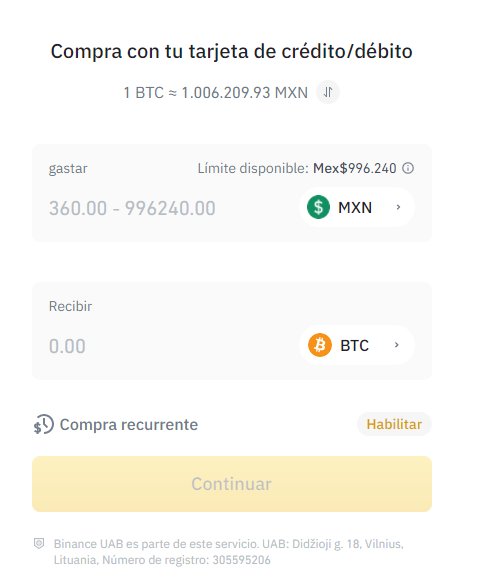 Select which cryptocurrency you want to purchase and how many MXN you will spend. Automatically the platform will calculate how many cryptos are according to the price. In this option, the cryptocurrencies that you can acquire are 13, among them, BTC, Ethereum (ETH), Cardano (ADA) and BNB. The limits are between $ 360 and $ 995,370 pesos.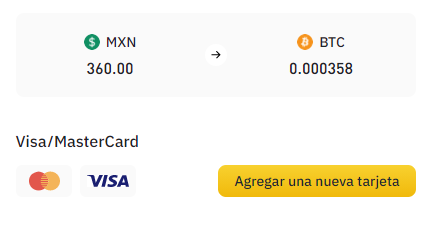 To make the purchase we must add a new card. To do this, we will enter the information as appropriate for the card that will be used.
Enter your billing address and click Add card.
Review the payment details and confirm your order. It is important that it is before the minute is up, since once the time is up, the price and the amount of crypto will update and you will have to update to see the latest market price.
Once the order is confirmed, you will be redirected to your bank's OTP transaction page.
You are probably wondering: And how much are the commissions? The fee is 3.5% per transaction or 10 USD, whichever is higher.
Some banks have problems when it comes to acquiring cryptocurrencies
However, buying cryptocurrencies with your debit or credit card can be complicated due to the policies of Mexican banks.
According to a Reddit thread posted in April this year, several people have reported problems using banks such as Banorte, Bancomer, and Banamex to buy crypto with Binance.
Likewise, one user reported having no problems when using the Citibanamex debit card, while another assured that he had not previously had any setbacks with this bank, but a few days ago it did not allow him to complete the transaction.
It seems that buying cryptocurrencies with debit or credit cards from Mexican banks can be a wheel of luck. But, this is not the only option that Mexicans have to enter the crypto market.
Binance P2P, an excellent option
Binance P2P is a market for buying and selling cryptocurrencies directly with your local currency and this market works through a person-to-person exchange.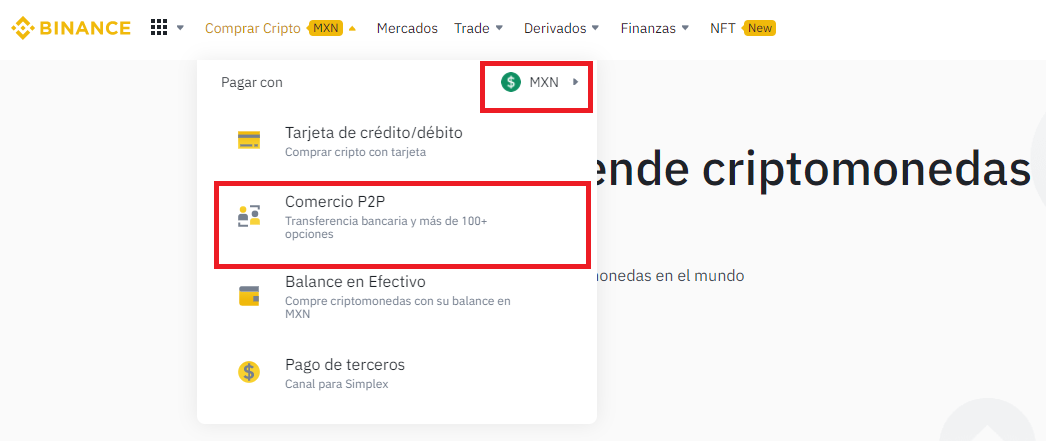 In this way, in order to provide security to its users, Binance uses an escrow method.
This ensures that, before starting an exchange, the amount of cryptocurrency for purchase or sale is available and this is blocked when starting the trade. So you can rest assured that your operations will be completely safe.
You can currently trade 5 different cryptocurrencies on Binance P2P: BTC, USDT, BUSD, BNB, ETH and DAI. And you can do it using various fiat currencies, including the Mexican peso.
Buy cryptocurrencies in the P2P market
To buy cryptocurrencies with Mexican pesos in Binance P2P, you must go to the market, select MXN and the cryptocurrency you want to acquire.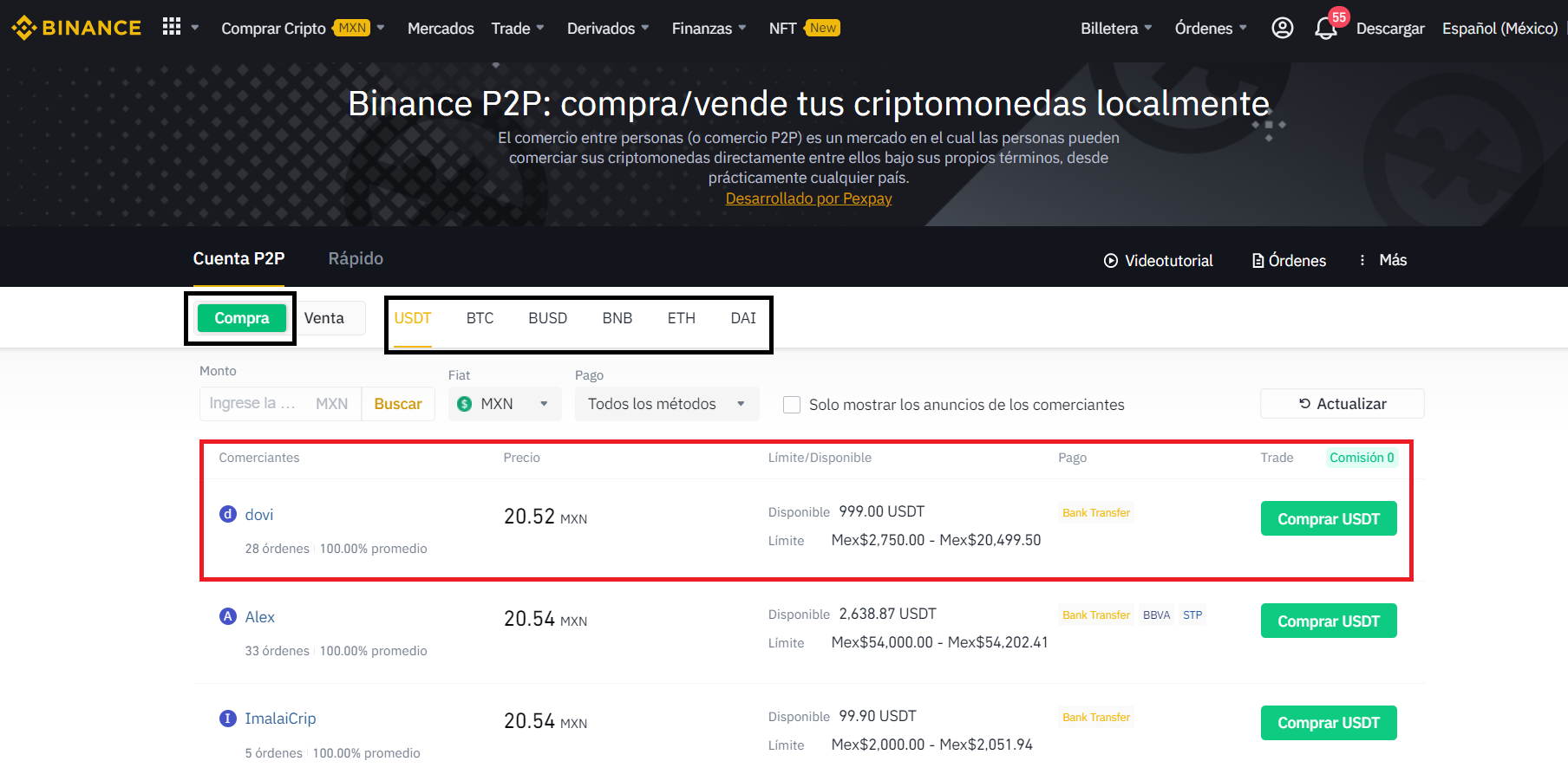 You will see a large number of published offers, which are organized, in this case, by price from lowest to highest.
What should you observe in each offer?
Details about the user and their reputation, which is defined by the number of orders placed and the percentage of those completed (In Bitcoin Mexico we recommend trading only with other users with excellent track records)

The purchase price.
Minimum and maximum limits along with the amount available to the user. In this way, the amount of cryptocurrencies you want to buy must be in that range.
Payment methods accepted by the user.
User payment terms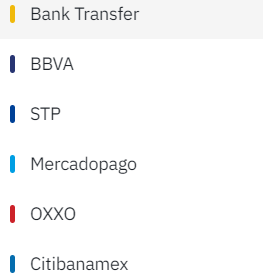 In this sense, you should find the published offer that meets your needs. Once done, just press the button. "To buy".
You must indicate the amount you want to buy, it can be both in cryptocurrency or in Mexican pesos.
Select buy.
Subsequently, you must choose between the user's payment methods, as appropriate.
Once the agreed amount has been paid, you must notify it using the button 'Transferred, Next'.
The seller will verify the payment and proceed to release the cryptocurrencies.
Once the cryptos have been released and the exchange is over, you will see your cryptos on your P2P wallet.
In addition, it is important to point out that all these operations are totally free! Unlike the first method.
Advantages of P2P
Again, in addition to not having to deal with traditional banks, Binance P2P does not establish any type of commissions.
As we mentioned previously, the exchange provides you with security by blocking cryptocurrencies during operation and the possibility of appeal.
Also, the P2P market is a quick and easy way to buy or sell your crypto according to your needs. Therefore, it is a platform that favors the liquidity of cryptocurrencies by offering various payment methods and, consequently, their usability.
According to Binance, the 4 most popular payment methods to buy crypto in Mexico are the following:
Interbank transfer: It consists of a system that allows you to send and receive money through Internet bank accounts. This has been developed by Banco de México and commercial banks.
System of transfers and payments (STP): It is a system administered by the Bank of Mexico and is one of the most used to make bank transfers.
Cash deposit: At OXXO, a convenience chain in Mexico, it allows making deposits to accounts and payments to credit cards. The Mexican banks used are: Santander, Banorte and BBVA Bancomer.
BBVA Mexico, being one of the most important financial institutions in Mexico.
How to acquire crypto through OXXO on Binance?
As we previously noted, OXXO has become one of the most widely used payment methods on Binance P2P.
Basically OXXO offers financial services to Mexicans that consists of making cash deposits to accounts and payments to credit cards.
In this way, from 6 am to 10 pm every day of the year, users can go to their closest OXXO to deposit money in the bank account of the seller with whom they maintain an open operation on Binance P2P.
To do this, you must go to the OXXO cashier and notify them. The requirement is to present the 16 digits of your card and the participating banks are Santander, Banorte and BBVA Bancomer.
Once the 16 digits have been presented, you must present the amount of money you want to pay and pay the commission accordingly. Once the transaction is complete, you will receive a Ticket, which many merchants on Binance P2P require as proof of payment.
Details about Binance in Mexico
Binance is one of the most important platforms in the crypto ecosystem. This works as an exchange in the cryptocurrency market, offering you various services such as a Spot market, crypto derivatives market, the possibility of earning interest on your cryptocurrencies, among others.
The platform was founded in 2017 by Changpeng Zhao, currently CEO of the company. Likewise, Binance currently has the Cayman Islands as its tax residence.
The rapid growth of Binance is explained by the various services it provides, which seek to promote financial freedom in the world.
It might interest you: