World
He destroyed and painted in his ex's car "He's an infidel", but he got the wrong vehicle: what did the owner say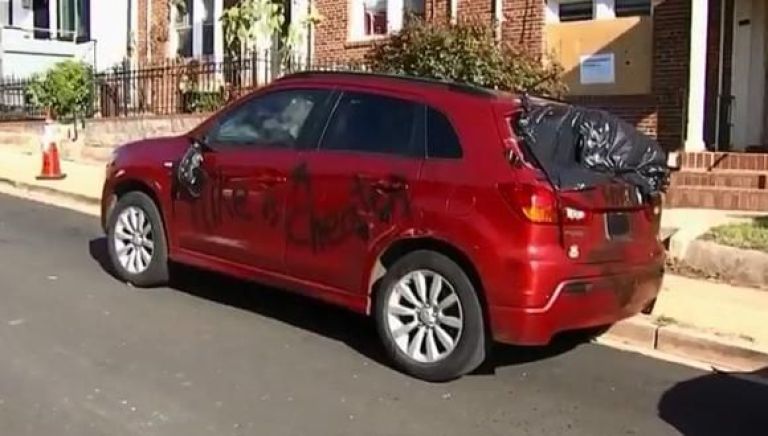 A confusing episode took place on a street in Washington, United States, after a car was vandalized with black spray. The vehicle also had both mirrors broken and both windshields smashed, but what attracted the most attention was the message written on the car's body.
"Mike is unfaithful," wrote an enraged young woman after discovering the infidelity of her now ex-boyfriend.
But that would not be the worst, but the wrecked vehicle belonged to someone else. The event has not taken long to go viral.
The vandalized car does not belong to Mike, but to a citizen named Nedra Brantley who claims not to know anyone with that name.
"Mike, Mike, look what you've done. I don't know who you are, I don't know where you are, but you should be changing your Waze or changing your name, "said the American, whose case went viral on social media and generated various reactions.
ICYMI: A vandal with a bone to pick spray-painted "Mike is a cheater" on an SUV parked in Northeast DC

But it wasn't Mike's car. https://t.co/GQuUajUg8c pic.twitter.com/NZh4aIFtSm

– NBC4 Washington (@nbcwashington) November 18, 2021
We do not know how the protagonist of the episode has been in charge of paying for the damage, or if the anonymous victim was somewhat understanding … what the "avenger" can be sure of is that, despite having the wrong car to destroy, Mike will have taken for granted after appearing in all the news in the United States and other countries around the world.
function toogleSeachBar() { if ($('#searchBar').is(":visible")) { hideSearchBar(); } else { showSearchBar(); } } function showSearchBar() { $('#searchBar').show(); $('#menu, .header-scrolled-container, .header-scrolled-container2').hide(); } function hideSearchBar() { $('#searchBar').hide(); $('#menu, .header-scrolled-container, .header-scrolled-container2').show(); }
$(document).ready(function () {
setTimeout(() => { window.fbAsyncInit = function () { FB.init({ appId: '1492337167736839', autoLogAppEvents: true, xfbml: true, version: 'v8.0' }); };
(function (d, s, id) { var js, fjs = d.getElementsByTagName(s)[0]; if (d.getElementById(id)) { return; } js = d.createElement(s); js.id = id; js.src = "https://connect.facebook.net/es_LA/sdk.js"; fjs.parentNode.insertBefore(js, fjs); }(document, 'script', 'facebook-jssdk')); }, 3000);
});