Showbiz
Hermética is once again sounding loud in the region with the return of "The H did not die"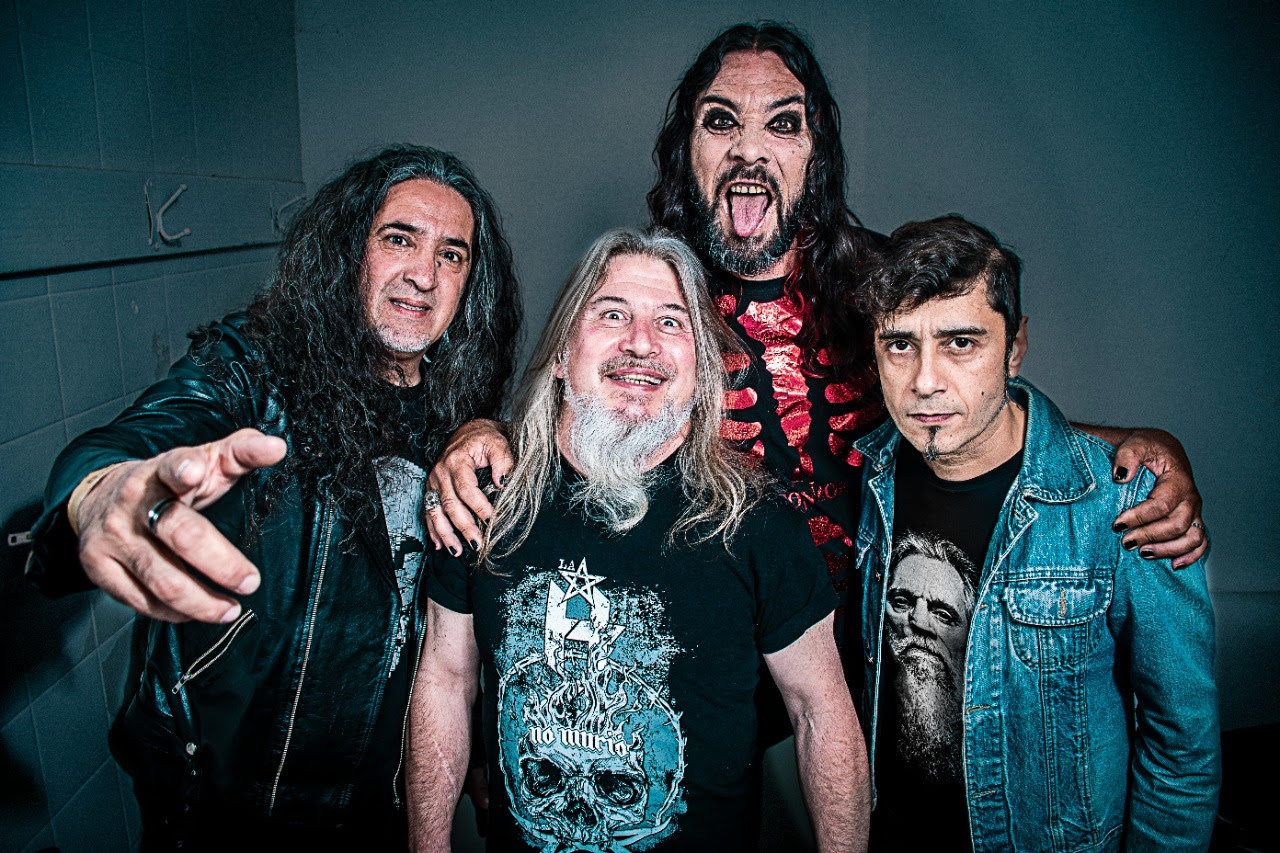 Hermética was cut short in its best moment ", Claudio O'Connor tells BLACK RIVER. Hermética, perhaps the best metal band in Argentina, broke up in 1994, after releasing their third album, the successful "Víctima del vaciamiento", both as it was certified as a gold record, a mention they received on November 12, that year during his show, the band's penultimate, in Obras.
One month later, on December 18, In Mar del Plata, Ricardo Iorio, Claudio O'Connor, Antonio Romano and Pato Strunz played together for the last time: Iorio left to form Almafuerte and the rest of the Hermética continued together under the name Malón and with Karlos Cuadrado on bass. And since then, every time the Malón played one of Hermética in their shows, the battle cry that returned from the audience was of an unequivocal feeling: "The H did not die!"
Hermetic as a band could have been truncated at its best, but not its spirit, which continued to inhabit that letter alive and not mute at all: 30 years later, those lyrics are still valid, for better and for worse.
The H did not die, that battle cry, in 2018 took the form of a revival, as O'Connor himself described it. More precisely: "a revival of our music from the 90s". More precisely, just in case it was necessary, the music of Hermética.
O'Connor, Romano, Strunz and Cuadrado, or, put another way, Hermetic minus IorioFrom time to time, they run from Malón to play Hermética under the name "The H did not die". It began with five shows at the Flores Theater, a Works and a tour throughout the country.
But, for some time now, like everyone else, the H was kept until the middle of last year when the shows returned to having generous capacity. And in this return of the H to the stage, which began in September in Mar del Plata and continued through several cities in Argentina and Uruguay, it will be that take a tour of the region with two shows, this Friday in Cipolletti and Saturday in Bariloche.
"From 2020 until September of last year we did nothing," O'Connor laments from the other end of the phone line. "There was no capacity to set a date. Until there began to be more ambitious proposals of how many people can enter a place and it was then that we returned to the stage. All very recent: our first date was just in September in Mar del Plata and there we started touring the country and Uruguay ".
For O'Connor, one of the most important voices of Argentine heavy, it was fantastic to play again: "It did us very good more than anything on a psychological level. It was very hard for all of us because we were left without our livelihood. "
We are not a social band, we are not from the metal workers party ".

Claudio O'Connor
The proposal of La H did not die follows the line of what the public wants to hear: "We try to keep the list at a festive level so that they do not stop singing and shaking the whole show," he says. "And we can't do much more because Hermética's repertoire has three albums, one of covers."
Los Malón, who for a few months has had Javier Rubio on drums after the abrupt but non-conflictive departure of Pato Strunz, go for the classical side in the interpretation of the classics of La H. Although, as O'Connor will say, nothing is ever the same. "We are quite spontaneous in that sense, I don't know whether to change them," he assumes. But, "naturally they already sound different because I don't have the same timbre of voice that I had when I was 25 when I recorded the first Hermética album. On the other hand, we have a new drummer that makes it sound not exactly the same as it did before. Records are one thing and living ones are another. The records are immortalized in those takes, but live is very of the moment. The songs always sound different from the records, unless you're Pink Floyd (laughs), or bands of that type that use a lot of technology and it seems that you are listening to the album ".
Can O'Connor imagine other ways of approaching the music of Hermética, for example, a symphonic support? "Ah, that would be great! "We would have to find a symphony that is willing to do it and, on the other hand, in these times of pandemic it becomes difficult to organize very ambitious things."
But Hermética's songs, as they are, continue to work because, basically, they keep talking about what happens to those below. "We are not a social band, we are not from the metal workers party," O'Connor clarifies. That said, it holds: "The lyrics speak of us, of what happened to the members of the group. They are lyrics loaded with their own experiences. Afterwards, yes, perhaps it was an evil of many and that is why many people identified with those lyrics, but in reality they talk about us at that time ".
For example, this is worth mentioning: "In order to go on tour with the band, and since I worked in a factory, I was going to donate blood so that they give me the day off, for that reason, in the lyrics of 'Gil worker' it says' donating blood at the whim of a patron. ' It had to do with it. They were experiences of the worker because we come from that stick, from a family of laburants. We did not come from families of artists, not anything like that. Everyone had their job, I worked in a metallurgical factory, look where I'm a metalhead from! (laughs) And Hermética well advanced, even with records on the street, we kept working ".
Malón, and therefore La H…, has a new drummer, the aforementioned Javier Rubio, an old acquaintance of the band from the days of Hermética, who joined a few months ago. But before talking about his arrival, we must explain the departure of Strunz, after more than 25 years in the training: "Pato at one point was very distant throughout 2020 and afterwards, at one point, he told us he didn't want to go on. He told me personally, but I don't know the details, I don't know what happened. It was something very personal about him. Not that there was any conflict. Suddenly we had breakfast that the band was leaving. He surprised us all because we didn't expect him to go away. In truth, we were waiting for what was to end the pandemic to continue with the commitments that we had assumed and with projects such as Malón's new album ".
Now, let's talk about Javier Rubio, former Trepanador and La Mancha de Rolando, among other formations: "Javier is an old acquaintance from the 90s. Andrés Vignolo our manager when he found out that Pato was gone, one day he said he had the new drum set for us. And when he told me it was Javier 'oh, but we already know Javier, he's playing good!', I replied with a laugh. We did a meeting, because it was not even an audition since we knew him, it was a little more because of what he felt. He was testing us (laughs) ".
The Malóns have known Rubio for almost 30 years because they shared a rehearsal room with Hermética with Rubio's band. "He had a band with his dad, who played bass, and we constantly ran into each other when we went out to smoke on the patio and stuff. We had a kind of relationship of seeing each other in the room often and now, so many years later, it is part of Malón ".
Speaking of Malón, O'Connor mentioned a new album by the band, the first studio since the edition of "Nuevo Orden Mundial" (2015). "We are in the composition stage, working on the lyrics and what I'm going to sing," says O'Connor. "From here to the end of March we have to go in to record the bases and the drums. Once we have that, start everything else. It is an album of about ten songs that we hope to have ready by March ".
The H in Cipolletti: what you need to know
Day and hour: Friday 14 at 20.
Place: Kimika (Route 22 Km 1216, Cipolletti).
Guest band: Detox.
Tickets: $ 2500
Points of sale: Flipper (Av. Argentina 179, Neuquén), Nikel (San Martín 526, Cipolletti); Hey Jude (Italy 1542, Rock) By system: livepass.com.ar.