Business
In what to invest the extra pesos of AGUINALDO, according to experts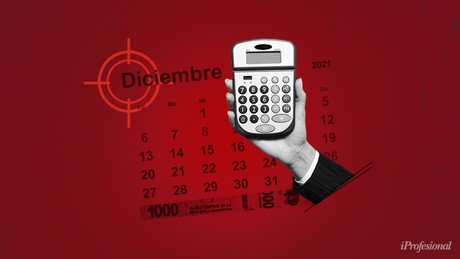 In December, employees in a dependency relationship receive the half bonus. For those who have pesos to spare, what can they invest in?
The middle charge bonus that arrives in December causes many savers to start looking for a destination for those "extra" weights, so as not to lose purchasing power in the face of inflation that is at very high levels.
Beyond those who need to pay debts, make purchases for the holidays or save money for the holidays, there are also Argentines who have the capacity to save and seek to invest this additional income.
About, Invertironline IOL just published a report detailing different recommended trading alternatives, according to each investor profile, to pour the bonus into different instruments available on the local financial market.
Short terms
In the case of savers Looking for a short investment horizon, to have their money available for the coming months, it is recommended to take into account the perspectives of economists on the main macroeconomic variables for the beginning of 2022, such as the dollar and inflation.
In fact, the last Market Expectations Survey (REM) carried out by the Central Bank in the first days of November, indicates projections of monthly inflation for the next 6 months by an average of 3.5%, with a peak of 4.1% by March 2022.
That is, a price level in the economy that is well above what a traditional fixed term pays (3% per month) and what the official exchange rate has advanced, until now, on a monthly basis (1% ).
"Taking into account that inflation will be one of the main threats to our pocket, it is essential to position ourselves in instruments that offer coverage against it, such as CER bonds ", recommend from IOL invertironline.
Therefore, they suggest that an investor can turn to this alternative through CER bonus to 2022 (TX22), It adjusts its capital based on the variation of inflation plus profitability.
They also suggest opting for variable rate instruments, such as the bond Bocan 2022 (AA22) that, "although it does not offer coverage against inflation, it has a yield that exceeds inflation expectations for the coming months," they maintain from this investment firm.
CER-denominated bonds follow the behavior of inflation, therefore they serve as a hedging instrument.
Medium and long term
In the case of savers who seek to make longer-term placements, from IOL invertironline They suggest turning to local assets such as the Argentine Certificates of Deposit (Cedears).
These assets can be invest in pesos and they represent "portions" of foreign stocks listed on Wall Street, which is why they also provide the advantage of being pegged to the dollar with settlement, by offering coverage against increases in the financial exchange rate.
"Holding companies are attractive, investing in different companies, giving exposure to different sectors with the simplicity of investing in a single asset. Therefore, a good alternative is Berkshire Hathaway (BRKB), the society of the iconic investor Warren Buffet, which invests in companies in sectors such as insurance, utilities, energy, transportation, manufacturing, retail and services, "they detail from IOL.
In turn, another sector that they consider "interesting" to position themselves strategically are companies that invest in new technologies.
In this segment stand out Facebook (FB), which in recent days announced its name change to "Meta" and the reconfiguration of its business to the development of the "metaverse", a concept that refers to virtual reality or augmented reality.
Cedears allow the purchase of assets listed in dollars on Wall Street in pesos.
Actions, for risky
Meanwhile, it is recommended for those investors who have a more aggressive risk profile, who can opt for the Common Investment Fund "Premier Equities", which aims to invest mainly in listed shares of the Byma, which make up the S&P Merval index.
"This may be a good alternative after the adjustment that the local market showed after the general elections," they indicate from IOL.
According to its clarification, this fund seeks "long-term benefits, investing in companies with good economic and financial fundamentals ", always having as a reference the main Argentine stock index.
In this sense, It has 35% of its portfolio invested in energy sector stocks, 26.5% in banks, 14.3% in metallurgical companies and only 2% in cedears.
"It is important to take into account the high volatility of the Argentine market, so it is suggested to assign a small position within the portfolio," they recommend from IOL.
Therefore, they conclude that in a context of high inflation, capital protection is essential.
Know the value of the dollar in Dollar Today and followed the price and behavior minute by minute. CLICK HERE