Heavy
Prog rock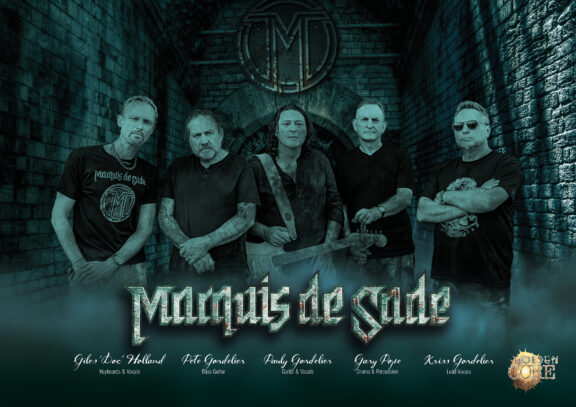 A true cult band, the English Marquis de Sade, released "Somewhere Up in the Mountains / Black Angel" in 1981 at 45 rpm and then disappeared from the scene shortly thereafter, plunging into the mists of Nwobhm. This year is their surprise return through the intriguing Chapter II (reviewed here), the first album in their career that began in late 1979.
Below is a chat chronicle with the entire band, consisting of Gary Pope (drums), Pete Gordelier (bass), Giles Holland (keyboards), Chris "Kriss" Gordelier (vocals) and Paul "Poly" Gordelier (guitar).
Enjoy reading.
Stephen Rich

Where did the choice to call you Marquis de Sade come from?
Gary Pope: we were in the rehearsal room and it was decided to keep the "M" logo that I designed for my previous band "Mixdix". We flipped through the "M" section of the dictionary and came across the Marquis de Sade. We immediately liked it, and thus the name of the group was fixed.
What were your most significant concerts in the early eighties?
Gary: we played mostly in London. Our farthest concert from the capital was in Folkestone, Kent. We had the honor of opening for three respectable bands of the time: Stray, Samson and Magnum. I remember a funny anecdote about the last one: just before Magnum went on stage, there was a problem with the system, and the lights went out completely. A very large crowd sang the chorus of "Marquis de Sade-Marquis de Sade" in the dark, thinking it was our stage trick. The Magnums, already set up and ready to launch, looked at each other in amazement! Ah ah ah! However, other than that, our biggest gig (on our own) was at the Tolworth Recreation Centre.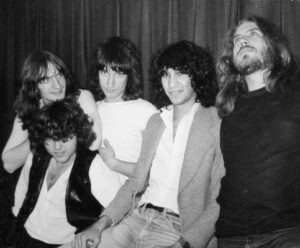 Marquis de Sade, 1980
Many other bands during the Nwobhm period did their best to move to London, precisely because there "anything could happen" while you, as Londoners, couldn't really fly away. What are the reasons for this (weird) situation?
Gary: eh my dear, you are right, unfortunately we did not last long enough to truly enjoy the privileged position of being a Londoner.
What were the reasons for your split in 1982?
Pete Gordelier: in fact, we never parted. We just gradually drifted apart. The San Remo keyboardist wanted to get away from the sound and style of the Marquis de Sade. So we started thinning out the evidence, and then, as you know how it is in situations like this, interest wanes and other priorities take over.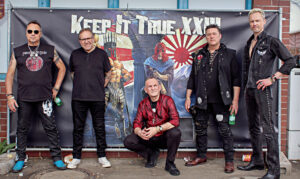 Marquis de Sade, 2023
Where did the decision to get back together come from? And when exactly is he?
Giles Holland: Around the time of the release of the High Roller compilation Somewhere Up in the Mountains in 2012, there was a resurgence of interest in us from fans, labels and promoters. At the time I was playing Hammond organ in a soul funk trio with Gary and at one point he asked me if I would like to play keyboards with the Marquis de Sade since San Remo is no longer in the game. I seriously considered this offer, but finally it was accepted when I met Pete at a concert in honor of Kevin Pope. We officially reunited in early 2020.
Chris Gordelier: I'll add that a major player was able to contact some of us gordeliers through our only existing email address, which belonged to my late wife Jenny. They asked us to release our demos on vinyl and the rest, as they say in such cases, is now history.
In your opinion, the most underrated and most overrated Nwobhm band.
Chris: none, in my opinion. Everyone around at that time could already grow up.
Pete: all the bands that I saw and heard during NWOBHM had great potential. The difference was marked by the fact that you knew how to offer and manage the best, and also had a bit of luck. The most underrated for me is obviously Angel Witch. Especially when I was a part of it! (Was it my fault? Ha, ha, ha!). Then, of course, the Marquis de Sade! Ah ah ah!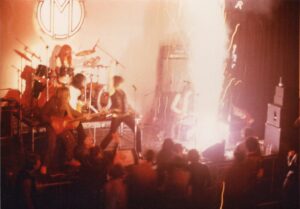 Marquis de Sade live 1981
Were there Nwobhm bands in the early 80s that sounded like you?
Gary: I don't remember any band that sounded like us, a lot of them had two guitars, I think the keyboards were very characteristic of us.
Chris: I didn't know at the time that we belonged to NWOBHM, I just knew how good we were! Ah ah ah!
Your story is often intertwined with that of Mixdix… Can you shed some light on this?
Gary: I don't remember the exact date, but around 1979, I formed Mixdics with my brother Kevin. The line-up included: Gary Pope, drums – Kevin Pope, guitar – Bob Brown, vocals and bass, and finally Mike Morton on keyboards. When we broke up, we placed an ad in Melody Maker to find a singer and bass player to form a new band. Criss and Pete appeared together – a real coup! – and we immediately agreed. From that moment we started rehearsing once or twice a week in London, usually in studios under the old railway arches.
Your thoughts and words for the following groups
Saxon – PETE: Saxons are the epitome of NWOBHM! I can't wait to see them live at the end of the year with Judas Priest and the band Uriah Heep who introduced me to heavy metal.
Blind fury – PETE: great group, especially with me in the ranks! Ah ah ah!
Thresholds – GARY: I remember listening to their Wounded Land album on cassette in my car around the time my daughter Hailey was born. Great post, here it is.
Black Widow – PETE: I don't know Threshold or Black Widow, sorry!
Pink Floyd – PETE: I love Pink Floyd. One of my regrets is that I never saw them live. Gilmour is one of my top five guitar players.
Jethro Tull – PETE: another legend of the program. Ian Anderson is as good as a musician as he is as a composer.
marillion – PETE: At first I didn't like them. Everything changed when Steve Hogarth joined them – what an amazing voice and songs! The first time I saw them live, I had a stupid smile on my face, and I kept it throughout the entire ninety minutes of their concert. I love them.
beautiful beast – PETE: I confess that I figured out who they were after I looked them up on the Internet so that I could answer you. And the beauty is that I also saw them live, at one time! Ah ah ah! Great concert, them and a great band!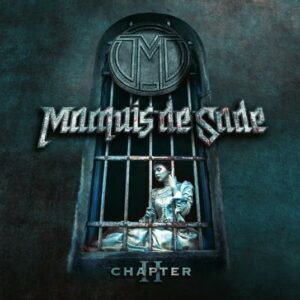 Marquis de Sade, Chapter II, 2023
Chapter II was released on both CD and vinyl from completely different artists. Many bands don't care and put the only existing master on vinyl, ie CD. You have made a much more honest choice in relation to the fans.
CHRIS: Golden Core has to be credited for a great job, they treated the album and us as a band with a lot of respect.
POLY: After Chapter II mixing, it was a mastering phase to mark the difference with the risk of digital regression. That's where it all comes from. Golden Core did a great job on both formats and I was happy to see that they used two different originals for vinyl and CD. They used the right people for the right formats. This is of great importance.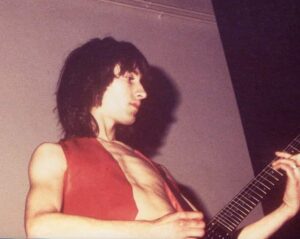 Kevin Pope
Give me the memory of Kevin Pope who died in 2018.
GARY: the smoke coming from the neck of his guitar at the concert in Tolworth! We miss Kevin very much, but we are sure that after reading this funny anecdote, he will laugh from above.
How did you feel while performing at the recent Keep It True?
GARY: great! Besides the disproportionate sound of the snare drum! We didn't understand what happened, because during the soundcheck everything worked like clockwork. It was exciting to see the crowd singing "Somewhere in the Mountains" with us. Kevin would love to be there with us!
CHRIS: I'm sure I can speak for the whole group when I say it was amazing.
Do you know Italian bands?
CHRIS: Artemis.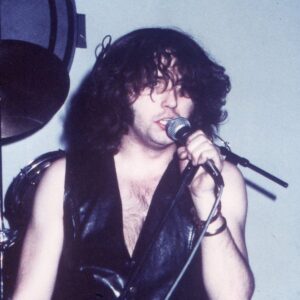 Chris "Kriss" Gordelier
Will it happen to see how you play in our area?
CHRIS: we would be there right now if someone gave us multiple dates.
PETE: We would like. I had a fantastic holiday at your lakes, hope to be back soon. However, we will talk about the dates with our manager.
Next moves?
CHRIS: concerts and a new album.
That's it, close it however you like.
CHRIS: We thank all the fans for keeping Marquis De Sade alive, you are amazing! Keep swinging.
Stefano "Stephen Rich" Richetti