Business
Italian group Enel announced direct investments in energy of € 170,000 million until 2030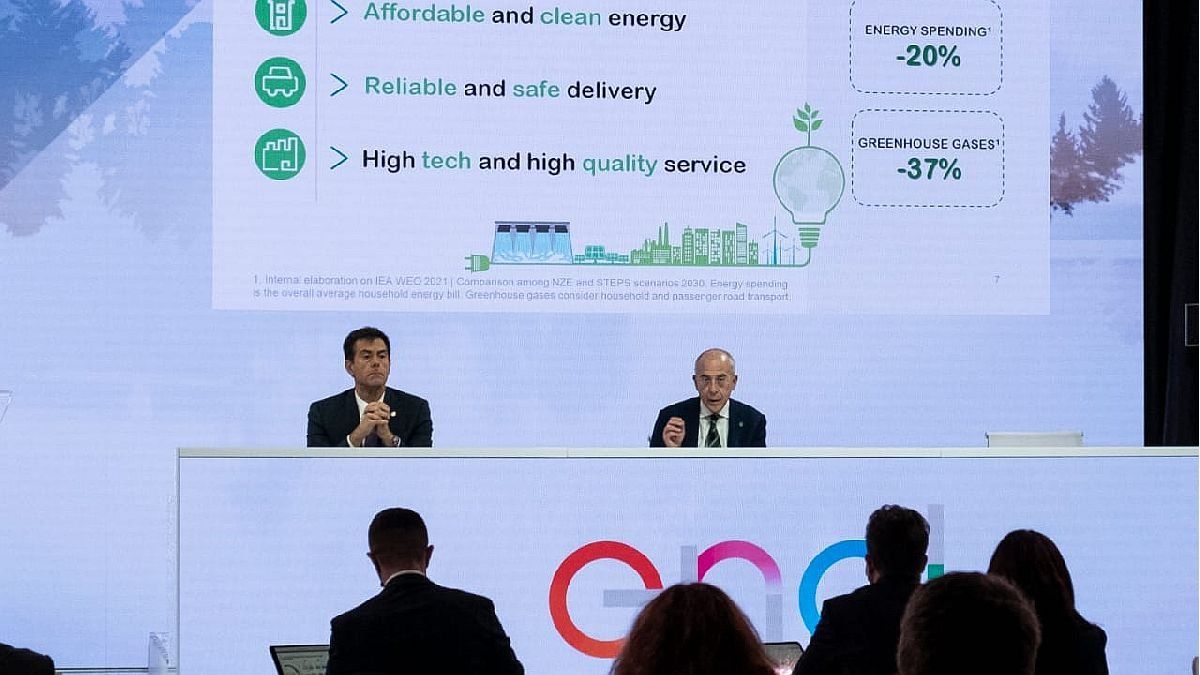 By 2030, they hope to reach a capacity of total renewable energy of around 154 GW, tripling its 2020 portfolio, with an increase in the electricity grid customer base by 12 million and a promotion of the electrification of consumption, increasing electricity sales by almost 30%, while focusing on scaling beyond basic services, such as public electric mobility or storage behind the meter, with the support of partners.
In the presentation of the figures of the leading renewable energy company, with a presence in 30 countries, it was indicated that between 2020 and 2030 the group's ordinary EBITDA is expected to increase at a compound annual growth rate ("CAGR") of 5% to 6%, while the Enel Group's net ordinary income is expected to increase at an annual rate of 6% to 7%.
Francesco Starace, CEO and general director of Enel -which in Argentina controls the distributor Edesur, the three generating plants Costanera, El Chocón and Dock Sud and the high voltage transmission for 500 km through the companies CTM, TESA and YACYLEC-, he said that the announced investment plan, with 170,000 million euros of direct investments by 2030, is fundamental. "Its implementation allows us to go from the previous decade of the discovery of renewable energies to the current decade of electrification. We are accelerating growth throughout the business, adding value to our customers, who are the core of the Enel Group's strategy, a value that translates into a projected reduction in their energy expenditure, while increasing their electricity demand by 2030 "Starace stressed.
When asked about specific investments in Latin America, Starace assured that "There is no country where the company can say Enel is going to invest 'x', and that is guaranteed, and this applies to all countries". However, it highlighted more solar projects and water use in Brazil, for example, and confirmed its interest in developing renewable energy throughout the Americas, both in Chile, Colombia, and Argentina. In Peru, it plans to invest 800,000 euros in expanding the electricity networks.
In this context, and when asked by this journalist, the businessman valued the country's energy potential, taking into account renewable energies and the Vaca Muerta shale. "Argentina has a great future in the energy sector, because it is rich and has many renewable resources, solar, geothermal, wind, and water. There is a lot of territory, a lot of minerals necessary for the industry, but not just lithium ", he claimed.
"Argentina was very big in the past in gas as well, although it is a bit late, there are things that could be used better. The future is so great for Argentina that there is nothing to complain about, we must focus on what is important. It must improve interconnection with border countries, because it can become a very important energy hub. It's a great story for the future, as long as there is clarity at the political level so that investments are not very risky ", analyzed the Argentine potential.
Starace ruled out a divestment in the country and denied the possible sale of Edesur to a local businessman, as circulated days ago. "We are in no hurry to leave Argentina, it was said that some wanted to buy our assets and wanted to talk to us, but it is not like that. And if those people approached us, we were going to tell them that we were not interested. Our position is to stay in Argentina and see what happens, we don't want to leave, we want to know what the policy is (energetic) that will be adopted next year, and based on that we will see what is the best decision for us ", assured the CEO of Enel.
The Italian manager also remarked that the company will continue to "grow" in renewable energies, taking advantage of what is already the world's leading private renewable asset base. "The infrastructure and networks, as well as the recently launched global customer business line, will allow us to take advantage of the incredible opportunities that electrification offers"Starace said.
In 2024, the group's ordinary EBITDA is expected to reach between € 21,000- € 21,600 million, in front of € 18,700- € 19,300 million estimated in 2021. Likewise, the group's net ordinary income is expected to increase to € 6,700- € 6,900 million in 2024, compared to € 5,400- € 5,600 million Estimates this year.
The director of Enel admitted that they advance with hydrogen exploration projects and that they expect results within the next three to four years. "It is to see if it is a technology that promises what is compromised, if it is a competitive technology, and what kind of competitiveness it has, with a scale effect, with large plants, or modular, which are then assembled to the plants. The two approaches are different. We will see where the technology takes us and we will decide if it is in line with our strategy ", Starace replied.
Regarding the dividend policy, Enel reported that for the period it continues to be "simple, predictable and attractive." Thus, shareholders are expected to receive a fixed dividend per share ("DPS") that is expected to increase by 13%, up to 0.43 euros per share, between 2021 and 2024. "Planned earnings growth, along with underlying dividend yield, is expected to translate into a 2022-2024 total return of around 13%"they remarked.
Starace also confirmed that Enel will abandon gas projects in Europe, although Spain's Endesa had to return to operations due to high demand for heating in homes and skyrocketing prices. "In two decades there will be very few Europeans who will continue to use gas, because they are going to switch to electricity. We will continue to give gas, but we want them to understand that it is better to switch to electricity. It will be a gradual step, (those who want gas) They will stay with us until they change their minds. The madness of this year is the dependence on gas, and the sooner we get out of that, the better ", he claimed.
One of the milestones of the international presentation by videoconference was the announcement of the 10-year advancement of Enel's Net Zero commitment, which went from 2050 to 2040, for both direct and indirect emissions. But in addition, it is estimated that the value created by the Group for customers represents a reduction of up to 40% in its energy expenditure, together with a reduction of up to 80% of its CO2 footprint by 2030.