Thanks to its extraordinary success at the box office Oppenheimer and the spotlight was on the 80th Venice International Film Festival, some films in theaters went largely unnoticed. Among them also Jeanne du Barry – the king's favoriteopening film 76To a Cannes Film Festival publication and distributed in Italy by Notorious Pictures.
Directed and starring Maiwenn. Jeanne du Barry – the king's favorite marks the return to the big screen of Johnny Depp in the role of Louis XV and draws attention to a very emancipated woman for that time, who created a sensation at the French court with her diversity.
Who was Jeanne du Barry, the last mistress of Louis XV?
Marie-Jeanne Bécou was born in 1743 to a cook and, presumably, a monk father. She received an exemplary education from an early age. Intolerant of the rigid rules of the boarding school, Jeanne knew that she would have to turn her talents into weapons and use her charm and intelligence to make her way into high society. A guest of many Parisian salons, he managed to attract the attention of Count du Barry, Duke of Richelieu, and soon the king.
First meeting with Louis
Instructed by Le Bord, the king's friend and aide, about court habits (not unlike how Nigel taught Andy in The Devil Wears Prada)Countess du Barry quickly adapted to court life. However, she was often the topic of conversation among court gossips and was called a woman of questionable morals, so much so that Marie Antoinette (with whom she, however, shared the same fate) ignored her until New Year's Eve 1772 to the future Queen of France he addressed her with a convenient phrase: "There are many people in Versailles today."
"I was fascinated by the character of Jeanne, perhaps because she is a magnificent loser. Perhaps because her life is similar to mine," the director explained, "I feel an immediate connection with her, and if I decided to focus the story on the relationship between her and Louis XV, it is because that is what brought her to the fall and because everything that followed her departure from Versailles was a direct result of that period from which she emerged with a label that never left her: the royal whore."
In Versailles, closed in on itself and in its somewhat ridiculous customs, regardless of what was happening around, Jeanne DuBarry brought a breath of fresh air.
Unlike her predecessors, she was not interested in luxury and power: a modest courtesan with terrible taste was in fact a woman thirsting for culture and pleasure, a fashion revolutionary (she refused wigs and wore men's clothing), a patron of the arts who welcomed artists, musicians and poets during the short time she spent at court.
Hated by half of the court and desired by the other half, Joan's stay in the palace was not particularly long: shortly before the death of the king – which occurred in May 1774 – she was removed forever and locked in the Pont-au-Dame monastery. according to which he was released a year later by order of Louis XVI. She spent the last years of her life in Louvesin Castle, given to her by the king. But the French Revolution did not forgive her for living in unbridled luxury, despite the fact that she was a woman of the people, and on December 8, 1793, she was guillotined in the Place de la Concorde, the same square once dedicated to Louis XV.
Jeanne du Barry: a costume drama between passion, scandal and court intrigue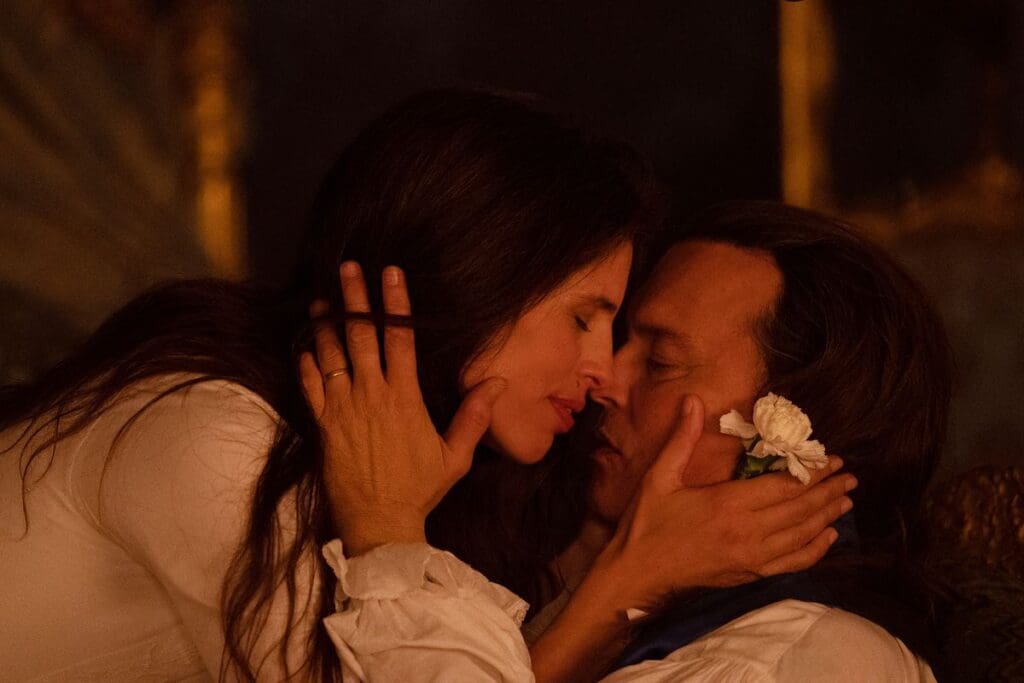 Although in some ways it resembles Barry Lyndon Kubrick and Dangerous ties from Frears, Jeanne du Barry – the king's favorite it doesn't seem destined to remain etched in the collective imagination in the same way as genre cornerstones like Marie Antoinette Sofia Coppola (who the director says also inspired her).
In terms of dialogue and soundtrack, more could have been done, of course. We'll take care of it scenography attention to detail: the palace has really been beautifully reconstructed in a workshop. Versailles, unfortunately, can only be filmed on Mondays, a day when it is closed to the public, and in very specific locations, including the Chapel Royal, the Hall of Hercules and the famous Hall of Mirrors.
Since this is a historical film set during the Age of Enlightenment, it is impossible not to notice costumes. Six dresses in particular can be considered "special" because they are the result of a collaboration between Jürgen Döring and the fashion house Chanel.
"While I was preparing for the film, I looked at a lot of material," explained the director. "Among my references were also some items from the Chanel collections created between the 80s and 90s. That's why I wanted to collaborate with Virginie Viard."
It's no secret that Karl Lagerfeld (the creative director of the house) was inspired several times by eighteenth-century fashion. "My intention was to describe the era without quoting paintings, but with a breath of fresh air," he added, "a modern look."
Regarding historical accuracy, which is often criticized, it must be said that the plot reflects the facts, but it should also be borne in mind that Jeanne du Barry this is not a documentary. And this is precisely its strength: despite the slow pace, the story is essentially fictional and partially adapted to take into account the problems of our time.
So overall this is an ambitious project. The courage of Maiwenn, who had to stick to the script and use the film to create her first costume film, is remarkable. Thus, managing a Hollywood star was not easy.
In fact, the director revealed that there were some misunderstandings during filming, likely due to different approaches to the work. "I realized that in the USA stars do not allow themselves to be led. They explain to the director how they will interpret the scene. And the director agrees," Tsai told the microphones. French premiere "But in France, the boss is the director. So, two takes were done for each scene, also taking into account his suggestions. But I also asked him to interpret my vision so that I could make choices during the editing stage. He was ready to do it."
A challenging and stimulating task also for Johnny Depp, who, after three years of absence, had to play his role entirely in French. The performance was greeted in Cannes with a standing ovation and seven minutes of applause.
The return (as king) of Johnny Depp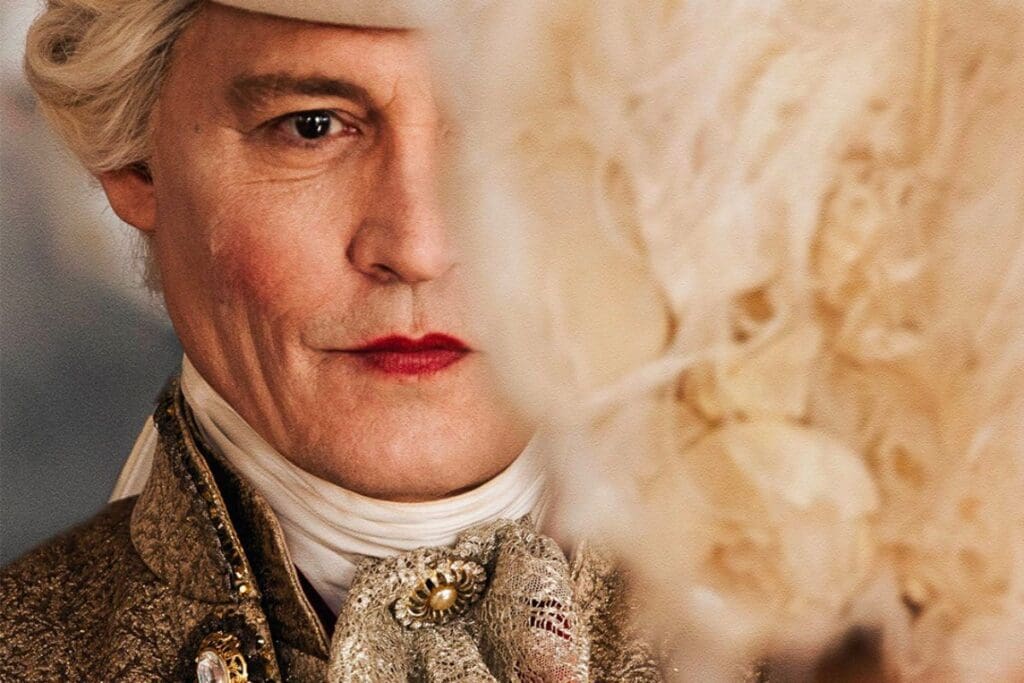 "To those who ask me about my return, I always answer that I never left," said Johnny Depp on the Croisette in Cannes, and yet it is with "Monte de Marche" that the American actor returns to the spotlight after that , as he was dropped from Hollywood after being accused of domestic violence by ex-wife Amber Heard. Like a phoenix rising from the ashes, Depp left behind divorce, media trials and courtrooms to be reborn as King Louis XV.
From Edward Scissorhands to Willy Wonka, from the Mad Hatter to Jack Sparrow. Over the years, Johnny Depp has taught us to see him as such eccentric characters that we wonder how he managed to step into the shoes of a sovereign so naturally.
Although this is ultimately a supporting role with few lines, it is through the unspoken that Depp manages to communicate: his gaze can be cold and sharp in institutional scenes and loving in the company of Jeanne.
Ultimately the portrait that Johnny Depp gives us Beloved This is an essential, human portrait of a king in decline who rediscovers his desire to live next to Joan, a free, brazen, proud and independent woman who amazes him precisely because in her he sees an opportunity to escape from royal power. protocols he had been subjected to since the age of five.
Latest posts by Tamara Santoro
(See all)