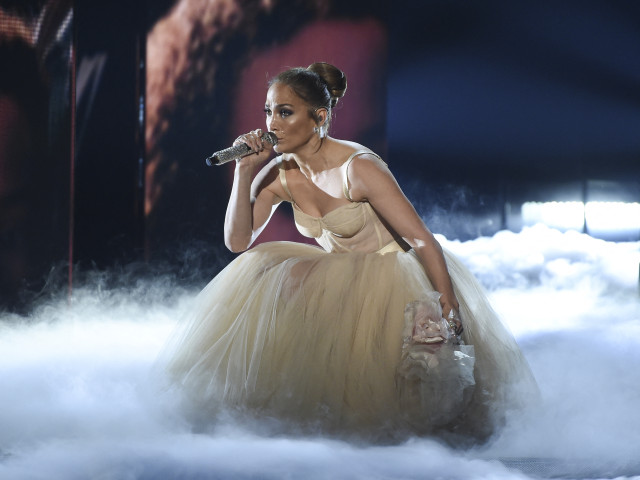 Jennifer Lopez performed at the American Music Awards 2021. The artist amazed everyone with her appearance, and her performance was totally and utterly spectacular this year.
Jennifer Lopez is certainly the most famous and appreciated artist from across the ocean. Both her music and her acting talent brought her the fame she now enjoys at all times. He likes to be the center of attention and does his best to please his fans when he has a concert.
Last night, Jennifer Lopez again had the opportunity to take the stage at the American Music Awards 2021. It seems that the artist was in the spotlight this year, after singing in a wedding dress, and finally threw the veil in the hall just like a bouquet, according to the Daily Mail.
Read also: Superb pictures from Jennifer Lopez's New York penthouse. He wants to sell it for $ 25 million
The artist started the show in an elegant dress, behind an orchestra and sang the song "On My Way", from the upcoming romantic comedy "Marry Me", in which she will play alongside Owen Wilson in the lead role. The 52-year-old singer managed to impress everyone when she quickly changed the stage and went from an elegant dress to a wedding dress. Her boyfriend, Ben Affleck, was not in the room with her, but he certainly watched the show at home. The artist made an impressive show, and in the end, to end properly, she threw her veil in public like a bouquet of flowers.
Jennifer Lopez does not rule out remarriage
The wedding dress show comes just days after J-Lo said on "Today" that he still believes in marriage.
"Would you like to hear the words Marry Me again in the future?", asked Kotb.
"I do not know. Yes, I believe. I mean, you know me. I'm a romantic, I've always been. I've been married a few times. "said Lopez, laughing.
Read also: Jennifer Lopez forgot her relationship with Alex Rodriguez. What a gesture the artist made
Jennifer Lopez has been married three times, to Ojani Noa from 1997–1998, then to Cris Judd from 2001–2003, and most recently to Marc Anthony, whom she married in 2004 and divorced in 2014. meet Ben Affleck. The two were previously engaged in 2002 but separated in 2004.
She and Affleck, 49, began seeing each other again last summer, when the couple traveled through Europe and later appeared on the red carpet. A source told People magazine that the two are in a rather serious relationship, and the two began to know each other's children. Affleck has three children with his ex-wife, Jennifer Garner: daughters Violet Anne, 15, and Seraphina Rose, 12, and son Samuel, 9, and Lopez shares twins Max and Emme, 13, with Anthony.
Photo gallery