While for many Jennifer Lopez's looks are a contrast to the new look of her daughter Emme, there is no point of comparison. The diva is a 52-year-old woman and will always be a glamor and haute couture reference, while her daughter continues to surprise by experimenting with new proposals typical of a teenager.
The singer turns the street into her private catwalk, with combinations and pieces that are inspiration and trend in fashion. And this has been confirmed once again in his last outing with his twins, Maximilian and Emme, the children who are already 13 years old and who procreated with Marc Anthony.
The young man wears classic and casual pieces, but it is his sister who remains in the fore with her androgynous appearance and style of dress, with which she makes it clear that she is no longer a girl and that her renewed version is not a matter of whim.
Walk Emme with her mother Jennifer Lopez
Jennifer Lopez is the most influential Latina in the international show business. And it is that success that captures the attention of his millions of fans who are attentive to Ben Affleck's girlfriend's every step.
The actress and singer was recently seen taking a walk with her children through the renowned Los Angeles shopping center, The Grove. He walked alongside Max, while Emme, one step further, separated from the group, detailed the Daily Mail.
She surprised by setting a trend for this fall season with a nude maxi dress, with which she looked very comfortable on her walk.
Accustomed to dazzle, People en Español magazine highlighted the accessory piece that the singer wore to elevate the tunic-style dress she used. It was a maxi cardigan from the Italian firm Brunello Cucinelli, which he has already shown off with other models.
The outfit is a fine luxury handicraft woven in wool crochet, worth nearly $ 4,000. He also added some Golden Goose brand sneakers and a very casual Valentino bag, with a red print and leather handles.

Although the interpreter usually steals the glances, Emme also manages to outshine her mother. And this time we could say that he did, by showing a different combination for his ride. She chose mom jeans, a white T-shirt and an oversized blue and white print shirt.
But this time her hair again caught the eye. The teenager who cut her long hair and dyed it a greenish blue, showed the last touches to her style.
As a result of the passage of time, the color loses its intensity, which Emme took advantage of to paint in other colors, obtaining greenish, turquoise blue and ash locks, renewing the tone of her curls and leaving them natural.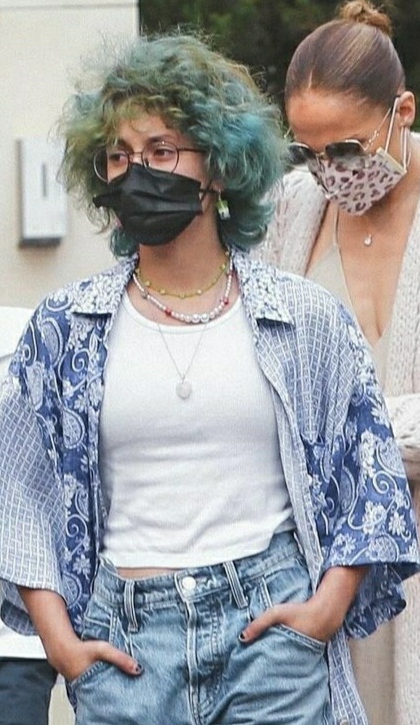 Certain of what she wants, the young woman was seen wearing glasses, several funky necklaces that are in fashion, with her painted nails and black rubber platform boots.
The trio shared quality moments outdoors and alone, without the presence of Ben Affleck and his children.
All about Jennifer Lopez
All about Famous