Showbiz
Los Palmeras made an important announcement after the controversy over Lionel Messi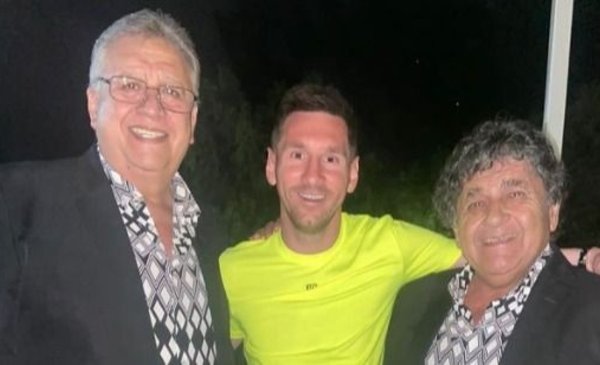 The Palmeras made an important announcement on their social networks officers after the party with Lionel Messi in Rosario which caused a stir because, after a few hours, "Leo" tested positive for coronavirus.
One of the cumbia bands most popular argentnas at a national level addressed his more than 300 thousand followers through the account of Instagram (@lospalmerasoficial). In one story, they did a key statement regarding the future of the artists.
After the controversy with Messi, Los Palmeras made an important announcement
In the "story" of Instagram, the musical group announced the new functions that they will do shortly after having taken a few days of vacation at the beginning of this 2022. On Saturday, January 15, they will perform in Santa Fe, in the so-called "Provincial Festival of the Sun."
While, on Sunday the 16th of the same month they will travel to the capital of Córdoba to play at the "Festival Bum Bum". Lastly, the monday january 17 they will stay in the same province and will be in the "National Dressage and Folklore Festival" of the city of Jesús María.
Los Palmeras continue on their way after the controversy over Lionel Messi.
What happened between Los Palmeras and Messi
The band and the captain of the Argentine National Team They were shown together in a exclusive party in Rosario for Christmas 2021, in a celebration that took place for the birthday of one of the nephews of "The flea".
Although there was a very good relationship there between all the protagonists and they even gave the player of PSG (Paris Saint-Germain), a few hours later The crack tested positive for coronavirus and many "10" fans pointed directly at the musicians.
Therefore, the artists were almost forced to clarify what had really happened and it was the singer Rubén "Cachito" Deicas who took the initiative the group's Twitter profile (@LosPalmeras_OK). there with some emoji in between, the vocalist showed the negative PCR of the members in the tests for the coronavirus.
"All of our negative swabs, folks. To many friends who cared…", posted Deicas ironically. Thus, he overturned the reports that indicated that they had infected Messi of the pandemic disease.