Showbiz
Matías Albornoz, drummer of Dios a la Reina: "Freddie is an icon and he likes it all over the world"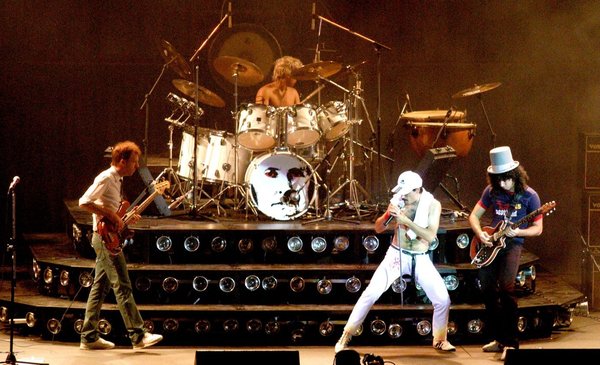 Dios Salve a la Reina will perform at the Gran Rex theater on February 4 and the drummer of the iconic Queen tribute band, Matías Albornoz, speaks with The Uncover Web about how they prepare for that date, what is the place that the group occupies today and makes some reflections on their more than 23 years of career.
How do you prepare for the date of the Great Rex?
– It's a show we've been doing since the last half of last year. We had it ready for before the pandemic and, since that tremendous cut came, we decided to leave it for when everything reopens. Luckily in the middle of last year we started touring and kept that show going. Dates in Argentina were pending, so we are going to keep this show during the first half of the year and then we will start preparing a new one for next year. It is a show inspired by the one at Wembley, where Freddie is seen with the yellow jacket and mustaches. A well-known image of him.
We do this project as a group. Support El Destape with a click here. Let's keep making history.
SUBSCRIBE TO THE UNCOVER
Have you ever suffered any prejudice for being a tribute band? Have any Queen fans criticized you?
– Actually, they are two things that go hand in hand, but they are different. For being a tribute band, yes, we have suffered a bit of prejudice that "they are not our own songs". But, when they see the show, that idea they had about tribute bands changes a little. Luckily, we have always had a good reception from the Queen fan public and we do it with great respect. So, being in all the details, the Queen fan thanks us. They receive us well, that's why the prejudice is on the side of those who don't know the band that well. We're here to demystify this thing about tribute bands not working very hard.
Dios Salve a la Reina was born in Argentina but over the years it has gained international significance.
As for the repertoire, it's obviously finite because they only play Queen songs. Was that a problem for you at some point?
– Thank God, Queen has a very wide catalog of songs, so we have to choose from and there is also the part that the fan wants to listen to certain songs and the common people want to listen to the most well-known ones. We can play around with mixing the biggest hits with some weirder songs for the fans who want to hear something different. That is, we can vary.
Clear. And do they play with the versions of the songs? Do they change some details in different shows or do they maintain the structures?
– We try to be as faithful as possible because we believe that whoever goes to see the band is excited to see the original band. If we changed that detail, that illusion would be lost, that magic that is generated.
And, as musicians, have you had the need to compose your own songs, your own repertoire?
– Yes, there are times when one wants to show what is theirs and what is born to each one. But, it is a band that works well everywhere. Queen is loved all over the world and we are so burdened by the year of traveling and shows that we dedicate all the time we have to the band and the Queen songs. There, when this loosens up a bit from so many shows, we have the possibility of facing something of our own, but for now that vision is not there.
And, in that case, would they split up or continue as a band?
– We get along so well, after more than twenty years, that I think that the day we decide to do something of our own, it will come out with all the influence of Queen and maybe we will choose each other again because we already know each other and tastes are very similar. Maybe we'll get back together and face it together, as a band. That is my point of view, someone else tells you "I want to do it on my own, I don't want to see them anymore. But I don't think so." (laughs)
Do you think that in Argentina there is a special rage for Queen and for Freddie or is it quite compatible with the rest of the countries?
– I see it quite the same in all countries. There are some that are a bit more rocky, others more ballad type songs. But, yes, I see that Freddie is an icon and is loved all over the world.
After the biopic, Bohemian RhapsodyDid you notice a new boom?
– Yes. What I saw is that the very young boys who didn't see Queen and that, out there, their parents didn't pass it on to them, through the film they discovered an impressive band and artist. It was seen in the public that came to see us that it was the first time I had seen such a band. Very young people were recruited and that affected the number of people that came and the demand.
Matías Albornoz has been a member of Dios Salve a la Reina since its inception.
Yes, that movie had a lot of repercussion. Everyone saw it.
– Clear. Very small, very young people discovered that and they loved it.
What is the balance that you can make today of the place that the band has, after more than 20 years of its beginning?
– I think we have reached a maturity and growth that allow us to enjoy the result. Because it's been 23 years of work and today we live it more relaxed, not with so much pressure. With experience, then the nerves and anxiety are gone. We live it happily.
You are in the band from the beginning, right?
– Yes. Look, at the beginning of last year we suffered the loss of the band's guitarist, due to an accident. And since 98 we were together. Although he had already left almost a year before the accident, everything was still fine and we kept in touch. He even came to some shows. But yes, I am one of those who come from the beginning. Only the guitarist is newer.
When did the band start having an international flight?
– And, that's where it started in 2004. After winning an award at the Cavern Club from Buenos Aires, so we went to play in Liverpool, where The Beatles came from. Producers of other events and other festivals saw us there. They call us for another festival later in Liverpool, in the same year, and a producer from Spain saw us there. And so the borders were opened. From there, we began to take that international course.
Finally, I'll make it difficult for you there, could you mention the three Queen songs that you most enjoy playing live?
– Well, without a doubt. Rhapsody, which is like the anthem, the Queen song. Because of the reaction of the people, because of what you experience on stage watching people sing and enjoying that song. I personally like songs that are complicated on the drums, I enjoy them because they entertain me and I like them. Another is Death on Two Legs. Too We Are the Champions, for the same reason: the accompaniment of the people.
And, since you've played in several countries, have you noticed that certain songs hit a lot in some places and not so much in others?
– Rhapsody hit everywhere. He is the workhorse of the gang. Later, there are other songs that can hit more in one country than in another. I Want to Break Free Y Radio Gaga are some of them. I dont know, Don't Stop Me Now it's also a song that generally hits pretty well everywhere. We will Rock You It is known worldwide, so people everywhere respond the same and accompany with the palms. I wouldn't be able to say exactly which songs are popular in each country, but I do know that those songs generate a response from the public everywhere.