Showbiz
Matteo Bocelli: "My songs are about love because without love we cannot go anywhere"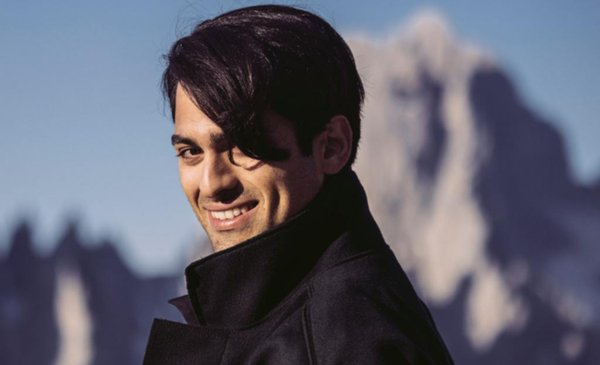 Bocelli: the surname distills, thanks to Andrea, music, evokes romantic, deep, operatic sounds, steeped in that Italian passion that we Argentines know so much about. But Andrea has an heir: Matteo, his son, has launched himself as a singer, a path, he affirms in dialogue with EL DIA, where the passion for music that he has felt since he was a child, when everyday life was spent listening to dad Andrea sing, could have shocked with the potential pressures he could feel for being the "son of". But "in the end, what prevailed is my great passion for music."
The musical life of Matteo, 24, began at the age of six, when he first sat down in front of the piano. And the music no longer let him go, learning to sing and entering the prestigious Lucca Conservatory, in Tuscany, to continue his studies. At that time, Matteo did not even think about what the public would think, if they would throw his last name in his face: at that time "I kept my voice for myself" and "didn't think too much" about the future, he confesses.
But four years ago, almost by chance, the music student became a professional singer. "In 2017 my father started working on his new album, an album of original songs. And this song that my father was brought up to was a very pop song, compared to what he was singing. It was a beautiful song, and I told Dad that even if it sounded a bit far from what he usually does, it would look great with his voice. And I proposed to him to make a demo, singing myself, to show him how it could be: when he heard my version, and when the label heard it, they thought it was a good idea for us to do the duo ", says the young Bocelli.
The song in question was "Fall on Me", which ended up not only being part of "Sì", Andrea's album, but was also part of the soundtrack to Disney's "The Nutcracker and the Four Kingdoms". Suddenly, Matteo's voice received 300 million views, and the young artist performed the song with his father at Madison Square Garden and the Hollywood Bowl.
"I wasn't expecting it, so… I was a little scared: I was throwing myself into a world where I knew a lot of pressure could come. But the love for music was more powerful ", explains Matteo, and laughs when he says that, from that moment on," everyone asks me if I feel pressure ".
But the young Bocelli is clear that "when you do something instinctively, because you like it, that problem doesn't affect you so much. When you have a passion that moves you, you don't have to be afraid, you just have to follow the love one has for music, and that's it ".
But also, says Matteo, being Andrea's son has been "a blessing, a pride. For me it has been fortunate to have the father I have, I have had the opportunity to learn a lot about singing, techniques, tricks ".
"My father", he says, "is the type of father who wants to transmit knowledge to his children, he always wanted us to study, to learn more and more. And, of course, music is part of his life. When we were kids he asked us if we wanted to learn piano, and we were already excited about it. But he never pushed us into anything. In fact, my brother is an engineer. And with me, who am in his field, either: he told me that it would be good for him to learn music, but he never pushed me to sing, to dedicate myself to this. Probably because he knew the good and the bad of a singing career ".
"In 'Solo' I wanted to write about a fragile aspect of my personality, a fragility has to do with the fact that since I was little, when I was four, five years old, I got used to seeing my father leave home"
Matteo bocelli
"ONLY"
The collaboration with dad paved the way for Matteo: suddenly, he signed with Capitol Records and began producing his first album. First, only as a performer, although "along the way it was a surprise to discover that I can also be a composer. Before, I wrote songs but I didn't develop them, I recorded ideas on my phone, but two years ago we started writing and we have already had about a hundred songs ".
Of those hundred, only a handful can be part of the upcoming album, and when choosing "you feel that all these songs are like children," he laughs. But the young Bocelli at least was able to choose his first single: "Solo" was published this month, although written two years ago in Milan, from an idea. "I wanted to write about a subject that I had never talked to anyone about, a fragile aspect of my personality: it is a song about loneliness," says Matteo. "This fragility has to do with the fact that since I was little, when I was four, five years old, I got used to seeing my father leave home. For such a small boy, these are delicate moments. Today I see myself in the same situation, traveling the world, alone, leaving my family and friends behind, these emotions return to the surface ".
So even though on the surface "Solo" seems like a song of longing for the beloved woman, it has layers and layers. Bocelli acknowledges that "my songs are always about love" because "life is made of love, and without love we cannot go anywhere", but explains that "this song seems to be focused on only one person, but in reality it can be the love for your better half, but also for your friends, your family, the people you care about. It is the love I feel when I am away from my country, the love I feel for all those I left behind ".
The song is sung in English, although "I have plans to sing in Italian: it is important that I keep my identity, that I do not forget where I come from," says Bocelli, and he also anticipates that he will sing in Spanish because "I feel close to him. In the networks I have many followers who speak Spanish, and they deserved a song in Spanish ".
Everything will appear on the album that will be released in mid-2022, which will move between pop and modern rhythms: "Solo" shows exuberant orchestral arrangements that endow Matteo's voice with drama, but on the album, he anticipates, there will be "songs that they sound deeper than solo, and others that sound higher, because that's another part of my personality: in some songs I can seem very serious, melancholic, but at the same time I'm a happy guy. I imagine that for many it will be unexpected, because perhaps they are expecting a more classical singer, but they will find many surprises ".
The classical line-up, however, remains below: "Many perceived a classical sound in my songs. And surely that's the way it is, that was my training, the music I have listened to since I was a child ", says the artist with an operatic training in this regard. And that necessarily has a great effect. Perhaps it is a peculiarity that my songs bring ".