The Osorno Health Service (SSO) calls for caution in eating meat during the National Day to avoid the spread of the disease.
This was explained by Víctor Parada, head of epidemiology at the SSO, who detailed that people can become infected by unknowingly ingesting parasite eggs.
This is the case with diseases such as echinococcosis and trichinellosis.
Hydatid disease is caused by parasites of the genus Echinococcus and can often be found in the feces of dogs that have, for example, eaten offal from animals such as sheep, goats or cattle that have been contaminated by these parasites.
Children are particularly susceptible to the virus when playing in the dirt or with pets. Among its symptoms, when hydatid disease is located in the liver, symptoms such as abdominal pain, nausea, and vomiting often occur. or chronic cough, chest pain, and difficulty breathing (located in the lungs).
In the province of Osorno, the highest number of cases of hydatid disease occurs in the commune of the same name (72 cases reported between 2017 and 2022).
The highest infection rate is in the commune of San Juan de la Costa, with 28.2 cases per 100,000 inhabitants per year, followed by the commune of Puyehue, with 24.1 new cases per 100,000 inhabitants per year.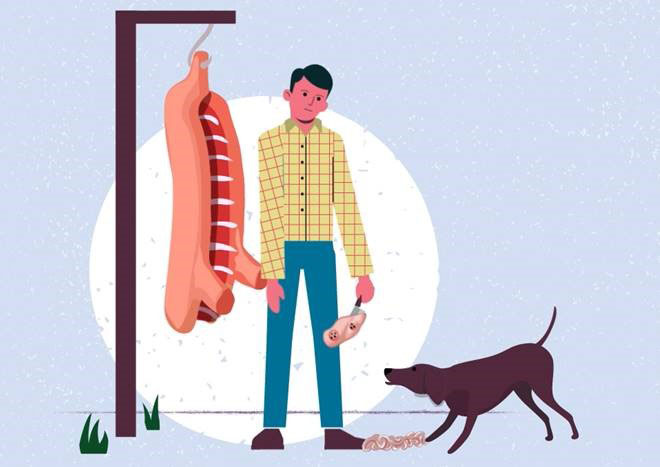 Trichinellosis
Trichinellosis is a parasite that inhabits the intestines and muscle tissue of various mammals, with the main source of infection in humans being products and by-products of pork and wild boar meat.
Victor Parada points out that the main thing to prevent this parasitic infection is to avoid eating such contaminated meat.
"The main precautions for people are: handle and cook food adequately, slaughter animals in appropriate places and with veterinary inspection, avoid feeding animals with garbage or the remains of raw meat, and never buy products from clandestine slaughterhouses, "He said.
Facing symptoms such as myalgia, conjunctivitis, fever, headache, eyelid inflammation, or changes in blood tests; People should receive specialized treatment from a doctor, while those who have been exposed to the consumption of contaminated meat can receive prophylactic prophylaxis with antiparasitic drugs, or if this is not possible, monitoring as medically indicated.
It is worth mentioning that between 2018 and 2021, a total of 30 cases of trichinellosis occurred in the province, mainly concentrated in the communities of San Juan de la Costa and Osorno.
If you are interested in receiving news published by Diario de Osorno, please register your email here
If you intend to use the content of our newspaper (text or simple data) in any media, blog or social network, please indicate the source, otherwise you will be committing a crime sanctioned by Intellectual Property Law No. 17,336. The above provisions do not apply to photos and videos, as their reproduction for informational purposes is completely prohibited.