World
Photos and video: a young woman attacked by a pit bull hopes that surgery will return her smile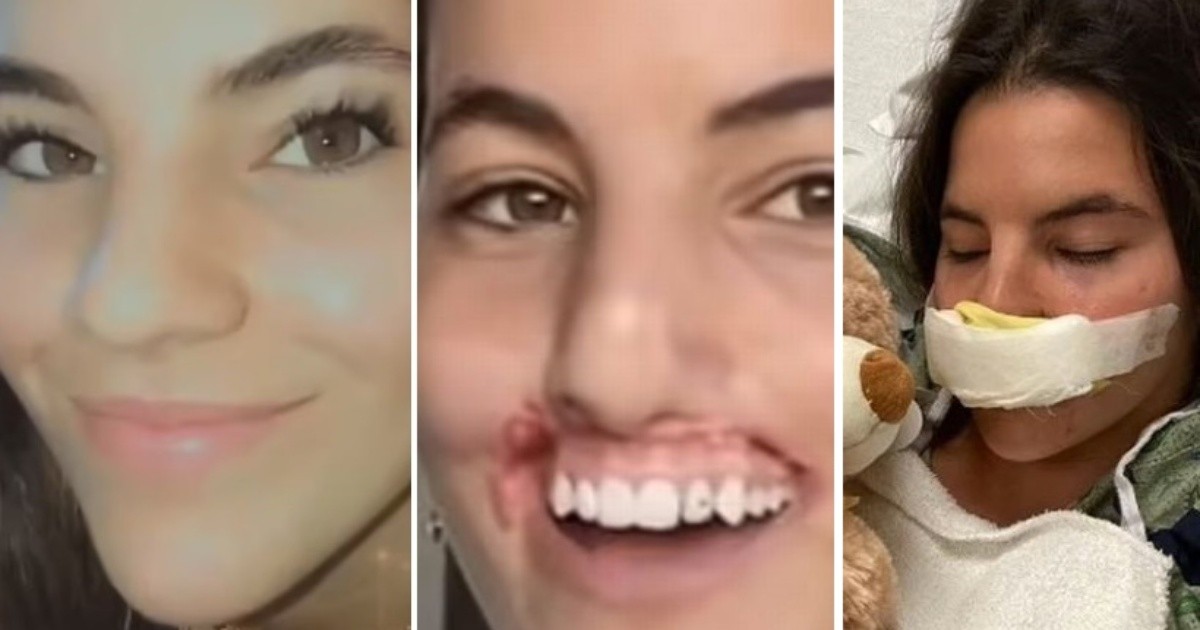 A dog tore off 22-year-old Brooklinn Khoury's entire upper lip and had to undergo a surgery to repair the damage after the savage attack.
The influencer's life-changing injury on November 3, 2020 occurred when she was ready to star in her first TV commercial, but Brooklinn refuses to accept the attack as the end of his career.
The 22-year-old from Mission Viejo, California, told her 15,000 YouTube subscribers that she was undergoing groundbreaking surgery to repair her upper lip that he lacked.
Brooklinn said she was excited: "I'm excited to have surgery to start healing again and work, but also I am very sad to have to stop my life again and go through the healing process. I feel like I'm a very active person, so for me to be out a bit hurts. "
"Coming out of surgery, I'm not going to be able to move my mouth at all, so I have to have a feeding tube up my nose. I have to follow a liquid diet. I have to be in the hospital for five days after surgery. It's going to be a lot, so I'll need all the prayers I can get, "he said.
Brooklinn explained that instead of restoring her lip to how it was, the results will be just the base thanks to a skin graft and an artery from your arm. He added that it took him a year to find a doctor who was up to it and said "they have to take a main artery and take the skin, fold it and put it in my mouth. The artery needs to supply blood, so they are going to cut some of my skin. neck and take the artery that is under my skin and connect it to my lip so it has blood flow to the new skin. "
The surgery was scheduled for November 17, but Brooklinn keeps her 73,000 Instagram followers waiting for how it went. Judging from a short clip inside a supermarket he shared on Tuesday, The model-turned-skater has now been released from the hospital.
As published Dailystar, complex procedure allegedly cost £ 300,000 and you will need multiple additional surgeries in the future.